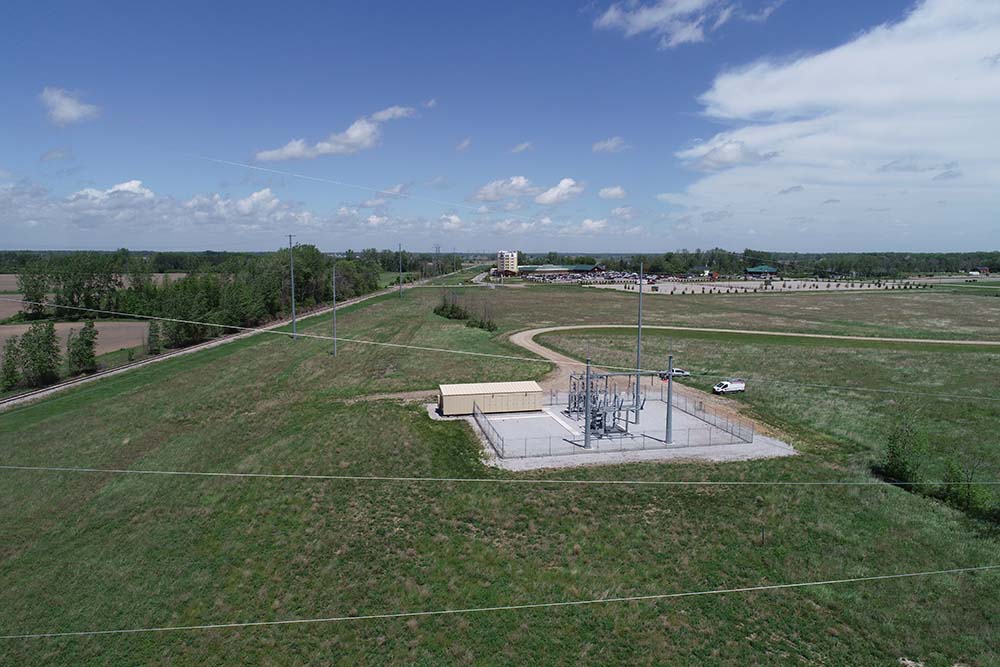 Details

By

ANDY BALASKOVITZ

Energy | Environment
MOUNT PLEASANT, Mich. — The Saginaw Chippewa Indian Tribe of Michigan is taking energy sovereignty to new levels after establishing its own utility to purchase power at wholesale prices to attract commercial and industrial developments onto tribally owned land.
Over the past few years, the tribe has built a power substation on tribal property in Saganing in the eastern Lower Peninsula of Michigan. The substation is connected to the nearby bulk power transmission system, allowing the tribe to service certain facilities through cheaper wholesale power purchases. The substation currently supports seven buildings, including the tribe's casino and hotel, a wastewater treatment plant and a commercial laundry facility.
However, the power connection and newly created tribal utility is positioned to do much more. Tribal economic development officials are targeting new industrial and commercial developments through the promise of cheaper electricity combined with tax advantages.
Following the COVID-19 pandemic that severely restricted casino gaming revenue, Saginaw Chippewa officials say the tribe's energy plan has emerged as a central economic development and diversification tool.
"We're using that as the driver of economic development: Getting cheap power and figuring out ways to monetize that," Kevin Blaser, business growth, development and energy specialist with Migizi Economic Development Co., said during a recent roundtable discussion with tribal economic developers across Michigan. Migizi is the Saginaw Chippewa Tribe's economic development arm. "We're really focusing on building the energy assets — not a lot of tribes have done that."
Indeed, the Saginaw Chippewa Tribe's entry into the energy space goes beyond building local generation such as solar panels to power tribal operations. Although the substation has been energized for less than two years, officials envision it as a draw for companies looking to relocate to tribal land.
Feds support development
The U.S. Department of Energy has invested more than $100 million since 2010 to support nearly 200 tribal energy projects, a "good chunk" of which include hardware and generation, said Lizana Pierce, senior engineer, project officer and deployment supervisor at the DOE's Office of Indian Energy. Interest is also growing in the type of tribal utility that the Saginaw Chippewa Tribe created, Pierce added.
"There's lots of interest in developing generation locally," Pierce told Tribal Business News. She added that interest in solar and battery storage to make up local "microgrids" is also growing in Indian Country.
According to the DOE, the Tohono O'odham Utility Authority created in 1970 by the Tohono O'odham Nation was one of the first tribally owned and operated electric utilities in the country.
"Twenty-five years later, TOUA has grown to a mature utility, but now it faces the possibility of low growth due to insufficient economic activity. This could find TOUA holding contracts for capacity it does not need," according to a 2010 report commissioned by the DOE.
The Navajo Tribal Utility Authority was established in January 1959 to address a lack of utility service on the Navajo Nation's 27,000-square-mile reservation. Other electric utility enterprises are operated by the Fort Mojave Indian Tribe, the Cow Creek band of Umpqua Tribe of Indians, the Ak-Chin Indian Community and the Gila River Indian Community.
The nonprofit Midwest Tribal Energy Resources Association (MTERA) — a coalition of member tribes across the Midwest — formed in 2014 to help tribes pursue self-sufficiency through energy.
How it works
After building the substation, the Saginaw Chippewa Tribe can make wholesale power purchases directly through the Midcontinent Independent System Operator (MISO), the regional grid operator that serves 15 states and Manitoba Province in Canada.
The tribe also worked closely with the Michigan Electric Transmission Co., a subsidiary of ITC Holdings Corp. that owns the transmission lines, to interconnect the Saginaw Chippewa Tribe's substation to the power grid.
ITC has roughly 240 customers, or "stakeholders," connected to its system in Michigan and Iowa, said Daryl Poprave, ITC's manager of stakeholder relations. Those 240 customers include utilities, electric cooperatives and independent power producers.
Poprave said the Saginaw Chippewa Tribe has created the only tribal utility authority in Michigan.
"It's very unique," he said. "They report to the federal government and aren't beholden to the state of Michigan's regulations. It streamlined a lot of the permitting process. … It is a job creator in a county that's very small and also statistically very poor."
While other tribal electricity generation projects may have to connect to the incumbent utility's distribution grid, the Saginaw Chippewa project operates independently.
"What we're doing is completely different," Blaser said. "We're bypassing the utilities and we're directly connected right to the bulk power system. Then we created our own tribal utility that allows us to sell power to non-tribal entities. It's what we're using as the tip of our economic development spear."
Poprave noted that connecting to the transmission grid opens opportunities for the tribe to build its own wind or solar projects in the future.
Blaser's role is to find potential customers to connect to the tribe's energy system within a designated area on tribal land targeted for industrial or commercial entities. The tribe may be able to deliver further economic benefits by buying equipment that it could then lease to potential companies and lumping wholesale power prices into the deal to realize the tribe's tax benefits.
The tribe also can help potential companies meet sustainability goals by contracting for power from a wind energy project in Iowa, Blaser said as an example.
"We can do a lot more in terms of helping these companies manage their power, hedge their power costs and reduce their power costs," Blaser said.
Diversification, creating a template
The COVID-19 pandemic underscored the need for tribes to diversify their revenue streams beyond casino gaming. The months-long shutdown of in-person casino gaming "increases the value of these economic development efforts," Blaser said. "Having a broader GDP that augments the gaming and entertainment side is really important."
Poprave said the Saginaw Chippewa Tribe's project may ultimately benefit other tribes in Michigan exploring a similar enterprise.
"Obviously, what happens when you do something like this for the first time is there might be some inefficiencies," Poprave said, adding that ITC worked closely with the tribe on operational safety.
The DOE's Pierce said financing, access to capital and tribal leadership turnover are also key barriers as tribes seek to operate in the energy space.
Poprave noted that, like most construction projects, tribal energy installations are "all about location, location, location," and being near energy infrastructure can help reduce costs.
"But it's really the will — the want to see you can own your energy future," Poprave said.
As one of the few tribes in the U.S. to create its own electric utilities, Saginaw Chippewa Tribe officials hope to offer a blueprint for others.
"Unlike gaming, we're not trying to compete for the same gaming patron," Blaser said of the tribe's energy enterprise. "It's less of a zero-sum game. … Those particular structures are ripe for collaboration."
The challenge now is articulating the economic benefits to potential customers given the relatively unique structure of the enterprise.
"We're operating with a white sheet of paper," Blaser said.
--
Andy Balaskovitz works as the managing editor of MiBiz, a regional business publication based in Grand Rapids, Mich. He also compiles the daily Midwest Energy News digest and previously served as a journalism fellow for Midwest Energy News from 2014-2020.