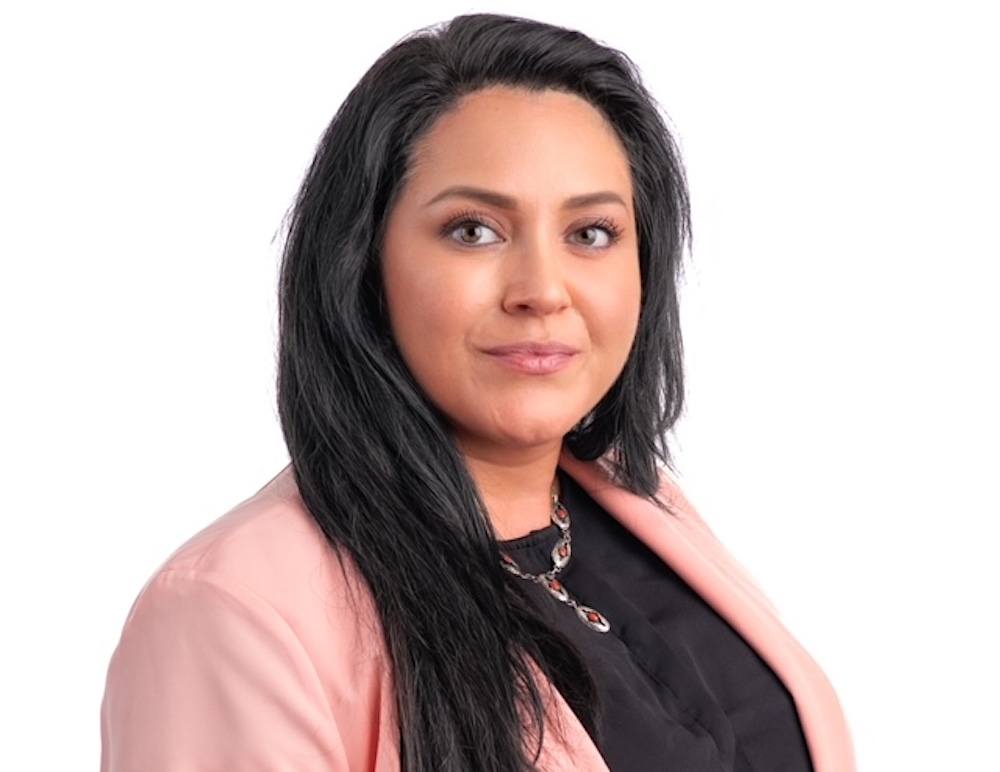 Details

Energy
Elizabeth Perez received two awards in September: one from the National Minority Supplier Development Council honoring her general contracting and consulting firm, San Diego-based GC Green Inc., and another from her tribe in recognition for her work in fighting climate change.
While Perez said she was honored to be named the Minority Veteran Owned Firm of the Year through the NMSDC, her tribe's recognition had special meaning for to her.
"My tribe … called me last week and said I was awarded an environmental leadership award. That came out of nowhere," Perez, a member of the North Fork Rancheria Mono Indians told Tribal Business News. "I'm very proud of this accomplishment."
A Navy combat veteran, Perez founded GC Green in 2010 to provide consultation and general contracting work on everything from solar installations to home weatherization. Her work went on to draw the attention of many organizations around the country, including former President Barack Obama, whose administration named her a Champion of Climate Change and Clean Energy Veteran in 2013.
She spoke with Tribal Business News about the NMSDC award, how microgrids can help tribes create economic growth, and getting in front of climate change.
(This interview has been edited for clarity and length.)
Never miss the biggest stories and breaking news about the tribal economy. Sign up to get our reporting sent straight to your inbox every Monday morning.
What drives GC Green?
We're a general contracting consulting firm that focuses on clean energy projects and consulting. That means really focusing on bringing energy efficiency opportunities to underserved communities.
I'm a Navy veteran. Because of my deployment, I look at it from an energy security standpoint. A lot of our wars involve oil, so I think both of my roles as a veteran and a Native and my upbringing led me to where I am today.
How does implementing clean energy figure into GC Green's work?
Your body is meant to operate a certain way. If it's not, you know something is wrong, and you go to the doctor. I think of us as energy doctors: We're trying to build healthier buildings. We look at how we can reduce energy load, save energy costs and help the environment. That also means things like workforce development and creating jobs for the future. Then, there's solar, upgrading thermostats, weatherization and insulation and fuel cells. Fast forward to where we're at, and that's a microgrid — power sources to wean ourselves off utilities.
What are some examples of the work GC Green performs?
One of our biggest highlights would be the Marine base Miramar, our first microgrid project. That was a 10-year project, and our role just phased out in 2020.
We were part of Energy Upgrade California, which was one of our first large contracts. We were part of a group of five instructors to train a new workforce. That program is still happening, with energy contractors across the state making energy improvements and producing energy-reducing reports for homeowners and commercial property owners. These contractors also help install clean energy, such as redundancies, backup batteries and insulation.
We also worked on pool pump upgrades through California Edison. If you've been to older or modern hotels, they have those units against the wall. We've been upgrading those from the 1980s and 1990s models to be more energy efficient.
Talk about how your company's niche in the energy sector has evolved these days.
We do a lot of consulting with California sub-utility programs, and we do energy efficiency surveys statewide with commercial property managers to ensure their units are working correctly. We were also a part of the San Diego port electrification project, switching their trucks to electric.
We also work with residential units and local mom-and-pop restaurants. We make sure they're applying for incentives to take advantage of state programs that financially incentivize them to upgrade. Our job is to help them get there, help them sign up, and then ensure that the installation is doing what it's supposed to.
How do you engage with tribes around energy?
We work with tribes to help them with their microgrids. Tribes in San Diego have already established these microgrids as private entities to become their own utilities. … I'd like to get these tribes to create a virtual power source and a larger utility and then sell it to consumers.
That can create resiliency for tribes, so when we have wildfires or climate disruptions, we don't have a loss of power. We can provide power for our own, which creates economic stability for our people.
We're continuing to push to get tribes onto microgrids so they can provide their own utilities. We'll write the grants, chase the incentives, and do the workforce development. With tribes, we ultimately want to get them where they're energy resilient, and there are so many opportunities for tribes right now.
In your experience, how effective are various energy incentives programs in Indian Country?
There are some flaws with it, but this is all new, right? For instance, people are running bots to reserve Electric Vehicle (incentives in California). So when that funding becomes available, the bots wipe it out in 10 minutes. That leaves underserved communities in the dust. Hopefully, in this next cycle, leadership can have something to eliminate that and make it so an actual human has to go in there and reserve it.
Tribes like mine don't have a lot of means. There's not a lot of staff on hand to look for incentives, but tribes in Southern California, where they have more resources, wipe these opportunities out quickly. Getting ahead of the game is key.
We're underserved and under-resourced for a reason. We can't set up bots and monitor these websites until the moment these offers go live. There needs to be some layer there to ensure the funding goes to those who need it.
How does climate change affect your thinking as a business owner?
Every contract we've taken since inception has to have meaning and purpose. It's great to make money, but we need to be able to say that we did good by our community, our people and tribal people.
One thing about a lot of tribes: We're front and center when it comes to climate. We have to be. We're dealing with the consequences. There was a wildfire just recently in North Fork. Twenty-eight homes were lost in this fire — that's generations of Native family keepsakes completely gone.
If you're talking about climate, we need to get in front of it. We've got to get to our cultural ways to fight climate and get ahead of it. I believe in seeing a challenge — even like these wildfires — and turning it into an opportunity. I'm trying to do that now.
What's ahead for you and GC Green in terms of clean energy work?
We're hoping to host the first Central Valley Tribal Energy meeting so we can get the tribes in the Central Valley together. We had a Southern California Tribal Energy summit that brought multiple state agencies under one roof to talk with tribes about being part of climate and energy security solutions, and that's what I want for tribes like mine.
It's more for the state being there and for people to unite and build together. We're hopefully going to schedule something in February or March, trying to bring tribal leaders together as a whole to be part of these solutions.
Want more news about the $130 billion tribal economy?
Tribal Business News publishes thoroughly reported and well-crafted stories about Native businesses and entrepreneurs, growth and expansion strategies, best practices, economic data, government policy and other relevant business news. Tribal Business News is required reading for tribal council members and leaders of Native businesses, as well as state and federal legislators, policymakers, economic developers, entrepreneurs, bankers, lawyers and anyone interested in doing business in Indian Country.
Sign up for our free newsletter to track Native business and the tribal economy. Or sign up for a premium digital subscription ($99/year or $10/month— cancel anytime) to gain full 24/7/365 access to our business news reporting. Megwetch.