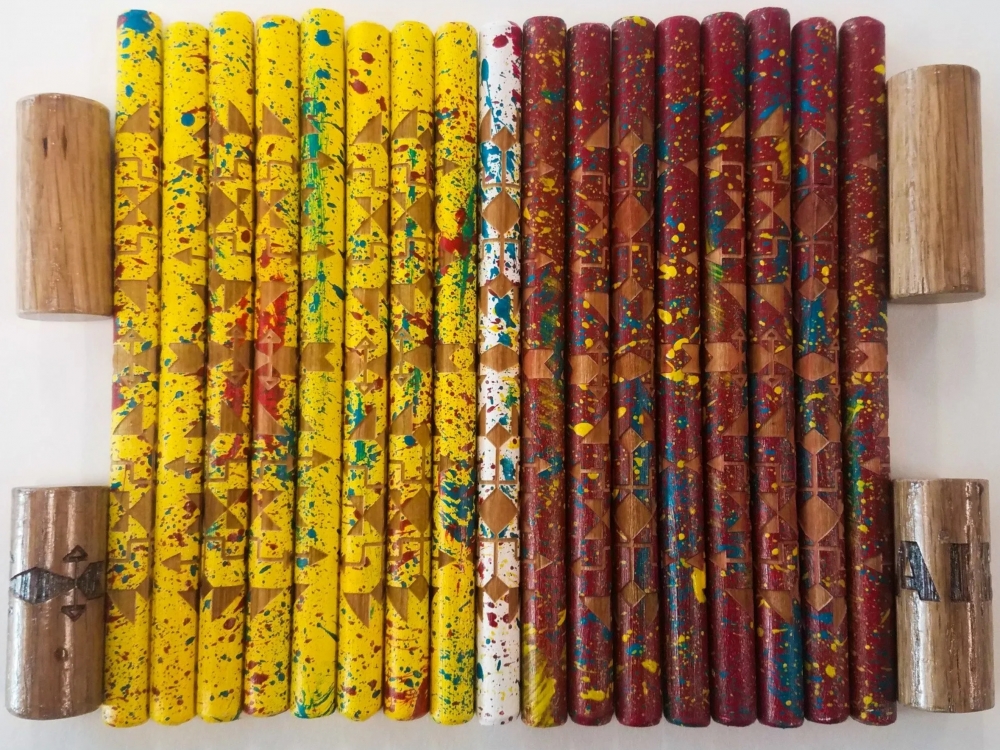 Details

Entrepreneurism
RAPID CITY, S.D. — Zane and Stephen Swan got a taste of entrepreneurship during late nights on the laser engraving machine, after working during the day at their full-time jobs.
The brothers became involved in their father's business, HeSapa Enterprises LLC, when he was still employed full-time as a school superintendent and principal. They'd come into the business after hours to work on laser engraving their own products.
Those late nights offered the Swans "a small taste" of what it meant to create your own job as an entrepreneur.
"We made the transition to want to grow our business after our dad got sick and that was his retirement from education," Zane Swan said. "Everyone scaled back on their previous jobs and we just jumped right on into it."
Swan called the move "probably one of the best decisions we made."
"You're working with your family and you're working with people that you love, and that's kind of what keeps us going," he said.
Based in Rapid City, South Dakota and founded in 2015, HeSapa Enterprises provides screen printing, engraving, embroidery, knitting, and sand carving services. The business started as a part-time venture for the Swan family under Walt Swan, Jr., and eventually expanded twice into the full-time, growing enterprise it is today.
Now the company is considering growing into another untapped market by producing caskets for fellow Native Americans.
ACQUISITION LEADS TO NEW MARKETS
The start of that growth came when Zane and Stephen's grandfather purchased a used laser engraving machine. With each subsequent expansion into screen printing, embroidery and sand carving, the company turned to Four Bands Community Fund, a Native community development financial institution (CDFI) based in Eagle Butte, for financial assistance.
Although HeSapa began solely as a laser-engraving business, frequent inquiries about other services pushed the family to consider an acquisition.
"We wanted to produce glassware that would be laser engraved, and we were really geared more toward the wholesale side of things in wanting to supply Native casinos in the area," Zane Swan said, noting Native arts store Prairie Edge also carried a line of HeSapa's dishware.
At a time when many people assumed the Swans were getting into the screen printing business anyway, the family acquired a local screen printing operation when the opportunity arose.
"With our dad being an educator and knowing all these contacts on the reservation, people asked if we did screenprinting and T-shirts and all that, and we didn't know if we were going to jump into that," Zane Swan said. "Eventually, another Native business approached us about buying them and that's when we jumped into it.
"One thing leads to another and you're printing T-shirts."
With the acquisition and subsequent expansion, HeSapa grew beyond just a family operation. The company now includes two non-family member employees, "and we do have plans on hiring more people and being able to provide more jobs within the community as well," Zane Swan said.
CULTURALLY MINDED
Eventually, the Swans hope to continue growing the business to the point where they could sell it to a tribe, so it perseveres and becomes a permanent source of jobs on the reservation.
"Our long term goal has always been to create industry on the reservation," Zane Swan said. "Our long term goal is to be able to grow this business that is a very profitable business and sell it to one of the local reservations so they can take over and create jobs for their people where there is a lack of jobs and there is a lack of opportunity to go to work."
Still, like many businesses, HeSapa has faced recent challenges because of the COVID-19 public health crisis, "especially in the earlier days, when a lot of the bigger suppliers and bigger production mills had shut down," Zane Swan said.
"We did find a little bit of trouble with stock inventory, and we still feel those effects today," he added. "They're getting better, fortunately, but we believe that it's a ripple effect and we don't know how long we'll feel those effects."
Throughout its rapid expansion, HeSapa endeavors to promote cultural revitalization through the company's connection to the Cheyenne River Sioux Tribe, of which the Swans are members.
"We try to use as many culturally appropriate designs. We try to avoid skeletons with headdresses or anything like that. Another bigger portion of the business is our language revitalization," Zane Swan said. "We have teachers and elders and people who are really fluent in the language. A lot of times we create our own orthographies for our own fonts.
"Our culture has affected how we do business in a very tremendous way."
NEW OPPORTUNITIES
That culture also helped the Swans identify another possible offshoot for the company: manufacturing culturally appropriate wooden caskets for fellow Native Americans. While the company worked with other Native vendors to build a couple of one-off caskets in the past, it sees the multi-million dollar burial market as another possible expansion, especially if it could access a Native preference under the Bureau of Indian Affairs, which assists with burial costs for members of federally recognized tribes. The company would also sell to funeral homes and tribal governments.
To Walt Swan Jr., the market also helps fulfill a cultural calling.
"If you're going to be buried, it should be culturally ingrained that you're going to offer something culturally appropriate," Walt Swan Jr. said during a recent business pitch event. "Our hope is that someday we're going to use the materials from the sacred Black Hills."
Currently, HeSapa is trying to secure investments to expand its existing 3,400-square-foot space to accommodate the additional manufacturing for the new venture.
Entering the market would add a Native-made option in a market dominated by large corporations, Walt Swan told Tribal Business News. He estimates the market for Native burials is more than $6 million annually.
"Before the European contact, we had to take care of ourselves in the passing of worlds. We had to take care of ourselves physically and spiritually. We had to bury the bodies or put them on scaffolding. We had to take care of ourselves," he said. "We should be taking care of our own. We shouldn't have to rely on a white funeral home to meet our needs — we should be able to meet our needs."