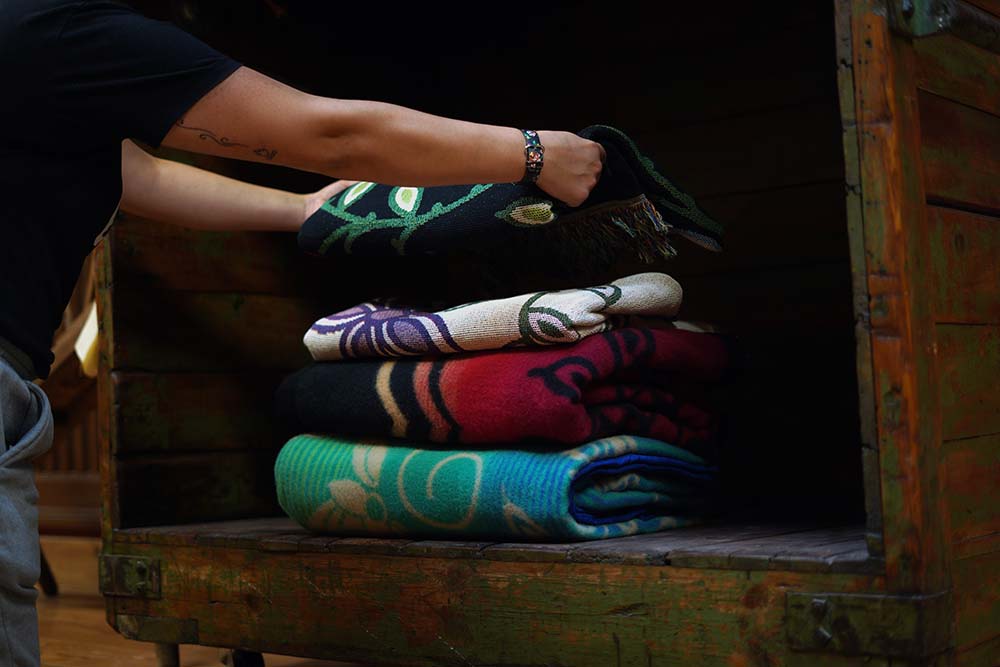 Details

Entrepreneurism
FOND DU LAC RESERVATION, Minn. — Sarah Howes smiles as she sits in a garage full of art supplies, excitedly discussing the mentorship that grew her art business from a side gig to full economic independence.
A member of the Fond du Lac Band of Lake Superior Chippewa, Howes started out selling her art as a way to make some extra money on the side alongside being a stay-at-home mom and community organizer. She credits Native entrepreneur Louie Gong, founder of Seattle-based Eighth Generation, with helping her transform her art into Heart Berry, a company selling blankets, jewelry, clothing, bags and more to customers across the country.
These days, Heart Berry has become Howes' full-time job, and she employs two other people to help her with shipping, social media and business management.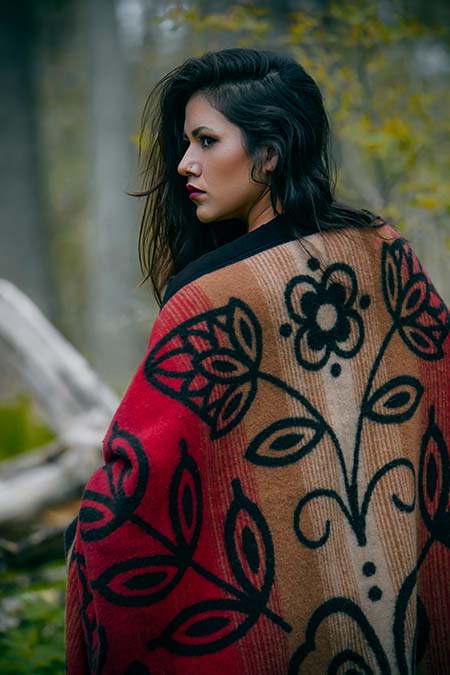 Courtesy photo.Howes founded the company on the central belief in the value of Native art made by Native people. She spoke with Tribal Business News about her belief in Native people as natural entrepreneurs, even if they don't see that themselves.
This interview was condensed for clarity and length.
How did Heart Berry get started?
Probably about six years ago now, I was doing custom, one-off work for people. Louie Gong was looking for someone who did florals. I did a lot of beadwork and quilts and regalia. A lot of that I wasn't really thinking about as a career. I need to make a little extra money. Louie contacted me through Facebook.
Were you familiar with Louie and Eighth Generation?
I already looked up to Louie because I admired his entrepreneurship. (His company) was such a cool example of how Native people could do business differently that was in line with our own value system. So when he sent that Facebook message, I was so excited. I skipped around the house. It was like, there were lots of Native artists but not a lot of Native business people. He said, 'Are you interested? I will mentor you.'
What was that mentorship like?
It was that mundane stuff — learning everything step by step, from how to take good pictures, to building my first website. I was doing beadwork, so it was taking the beadwork I was doing and translating it to pencil drawings, and then it was learning how to get that into Adobe Illustrator, how to turn those into digital files.
There were the mundane tasks, but also always talking about the future, investing in yourself. 'What are you learning? How are you learning?' I would ask, 'How do I do this?' He would ask, 'Did you try?'
It was a lot of pushing me and pushing me and pushing me to get out of my comfort zone. There was probably some tears on my part, but he really saw that when I do better, he's going to do better. We can support each other as Native people and all do better together.
Does Louie still play a role in Heart Berry today?
Louie continues to be a mentor of mine, and has just completely transformed my life, and probably my children's lives. He's probably changed a generation of entrepreneurs, really. It's opened up all of our eyes to what's possible. I never would have thought it would become a real business with a warehouse and employees — this is just really crazy.
How did you get started with art in the first place?
My mom is an artist. She beads and paints murals, and we always had art around us. She never cared that we made a mess, and that was always a constant part of our life. As a teenager I lost interest in it, but when I was about 23, I wanted to start dancing at powwows, and my family said, 'Well, you better learn to bead.' From there it was, 'I want this to happen, I want this to exist, so I'm going to learn how to do it, and I need to make some money, so I'm going to learn to make these.' I really believe in making things exist that don't.
What brought you to become an entrepreneur?
Initially, it was just survival. This is something a lot of Native people can connect with: You have to make a little money, you have to do something to get somewhere. That was what it was initially. I think we (Natives) just don't think of ourselves as entrepreneurs. It takes a leap to call yourself an entrepreneur when you sell wreaths seasonally every year.
The other part was my kids were four and seven, it was really being able to work around them. It was the flexibility of it that really initially drove me to it. … I get to work with people who I think are interesting, I get to hire people I think are talented and interesting, I get to create what I think should exist. It allows me to live in one path and one space, and live really authentically. That's all at this end of it; I don't think I could've seen that back then.
How has COVID-19 affected Heart Berry?
This structure I'm in right now — it's actually a garage — we built this in February because we have all this stuff planned for the year: pop ups, residencies. We were killing it and then March came and everything completely stopped. I'd already hired someone and convinced them to move up here and I felt like I needed to try to maintain that, and so we shifted what her responsibilities were to social media and marketing. That's really been great, because it looks so much better. I've promoted her because what started as social media is now (being a) business manager.
Having planned for growth and added staff, did you worry about how the company would weather the pandemic?
We're Native women, we're super adaptive. It's been scary and unsure, but I think that's how everybody feels. I believe in taking a situation and saying to myself, 'What am I going to do with this, even if it's totally the worst situation ever?'
As someone who has previously taught classes on cultural appropriation, what makes buying Native art from Native people important?
People love Native art. They want it, they think it's beautiful, but oftentimes they're buying fake Native art. That is not benefiting any Native person, and in a sense they're being fooled, really. It's coming from a non-Native company, or they pay a Native one time for that art and that Native never benefits from it again. As a culture, I think people are starting to think, 'How can I buy straight from the artist? How can I support a small business?' We are the alternative to cultural appropriation.
Also, it's about theft: We've been getting stolen from for hundreds of years. When you buy directly from a Native artist, you're paying the person who should be getting paid.
Have you run into any misconceptions about buying Native-made art or products?
There's been an interesting thing that's happened to me lately, where non-Native people have asked me if it's OK to have Heart Berry (products). Buying Native art from a Native artist is not cultural appropriation. That's really important for people, too.
What advice would you have for Native entrepreneurs or artists striking out on their own?
Find something you love to do and someone to pay you to do it. You're going to be doing a bunch of stuff you don't love to do, too. A big part of business is hauling boxes and folding stuff and doing taxes.
There's people who love details and accounting: Get those people on your team. Give other people opportunities to grow and try stuff they'd be good at. Always be learning, whether that's from YouTube or a class. That's been a super big part of my business.
Having a dream and a vision and believing it's possible — that's where Louie's clarity was really helpful for me. If you can find a mentor, I would suggest that. … Really follow that dream and that vision. If you don't follow your dreams, they're just going to keep you awake at night anyway.