MISSOULA, Mont. — The American Indigenous Business Leaders has launched a student advisory board to help steer the nonprofit in better assisting Indigenous business students.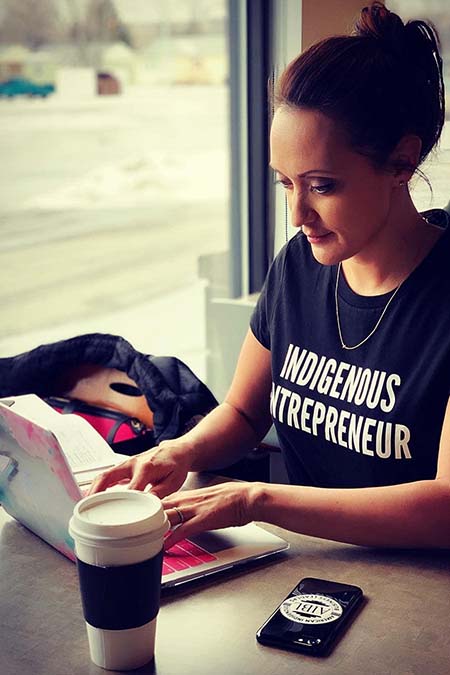 A total of 14 students spanning 11 tribes and nine states have joined the advisory board, which took shape in late January. The group chose students based on their past involvement with the organization and demonstrations of leadership within their communities, said AIBL Executive Director Prairie Bighorn-Blount.
AIBL is a chapter-based organization present in 30 universities across North America. Chapter members are eligible for scholarships, internships, networking opportunities and conferences. The group distributed more than $100,000 in scholarships in 2019, according to tax filings.
With the new advisory board, the organization hopes to receive guidance on how to tailor, modify and market its programming, Bighorn-Blount said.
"We created the SAB to serve as a guiding light for the organization that keeps us continually plugged in to the changing needs of our student body," Bighorn-Blount said. "We use the board to help design leadership initiatives, social media content and overall relativity of our programming.
"Since we serve students, it's imperative that we talk with them as we develop tools and programs to help them develop the kinds of careers they can be passionate about."
The board meets virtually with AIBL staff once a month to discuss the challenges that Indigenous business students face. That feedback will "empower" AIBL's assistance to stay relevant to its participants amid a "rapidly changing world."
Student advisory board member Jacob Crane of the Tsuu'tina Nation in Alberta, Canada said it was an honor to help guide AIBL's focus.
"It feels like I have a voice, like I can help give direction to folks coming up behind me," Crane said. "We just give feedback to the organization on what we as students and business owners really need to succeed in today's climate."
Those needs include financial support and advice, Crane said.
"I think Indigenous students need access to educational resources such as scholarships, so they actually pay to go to school and survive there. We also need financial resources so we can know how to budget," Crane said. "As a small business owner, I think it's also important to get advice on how to shape and build your business. That's really important for a young person."
Resources and support
Crane is a senior at Utah Valley University, where he's pursuing a bachelor's degree in business management. He's already started a consulting company in Alberta, and also formed a media production business in the United States.
Crane said resources like AIBL would have been helpful when he was starting out as a student.
"There wasn't something like this here when I was early on into university … so it was harder to navigate," Crane said. "I see AIBL as a navigating piece to help students get access to resources and support."
AIBL resources like seminars, consultation, and peer-to-peer support systems help prepare students for "leadership and life," Crane said.
"It helps to have that support. I think the graduation rate goes up tremendously when peers have other peers to talk to that are going through the same things they're facing," Crane said. "That's extremely important."
Native students are in dire need of assistance, according to an AIBL-compiled September 2020 report. Only 11 percent of Native Americans receive bachelor's degrees, while 6 percent obtain graduate-level degrees.
By contrast, none of the students who have completed AIBL's internship program have discontinued their studies, according to the report. A little more than 40 percent of those students graduated in 2020, and one-third of them plan to go on to graduate studies programs.
More than half of those students who have completed the cohort have gone on to serve their own tribal communities, according the AIBL report.
Bighorn-Blount said that building future business leaders in Native communities forms a central tenet of AIBL's mission.
"Being an Indigenous entrepreneur opens up a world of possibilities for talented students that like to think outside the box and are also looking to positively impact the economic environment in Indian Country," Bighorn-Blount said. "In my opinion, Indigenous entrepreneurs are a crucial link for healthy, thriving Native communities. It's my hope that AIBL will be a driving force that empowers Indigenous students to create beautiful careers and communities through the power of entrepreneurship."
Since you're here.
Doing business anywhere is a challenge, but it's even more challenging in Indian Country. Tribes and their citizens face unique obstacles as they try to build Native-owned enterprises: the patchwork of federal laws, bureaucratic red tape, limited access to capital and the fact that most people are unfamiliar with what's involved in operating a business in Indian Country.
We believe Tribal Business News can help remove some of those hurdles by highlighting what tribes and Indigenous business owners are doing to build the tribal economy. We're committed to bringing you thoroughly reported and well-crafted stories about Native entrepreneurs, M&A, expansions, best practices, economic data, government policy and other relevant business news. Our goal is to make Tribal Business News required reading for tribal council members and leaders of Native businesses, as well as state and federal legislators, policymakers, economic developers, entrepreneurs, bankers, lawyers and anyone interested in doing business in Indian Country.
Hopefully, you'll consider supporting Tribal Business News through a discounted subscription ($99/year — use coupon code "TBN21") or a donation to help fund our reporting. Sign up for our free weekly newsletter that comes out each Monday morning.
Megwetch for your continued support.