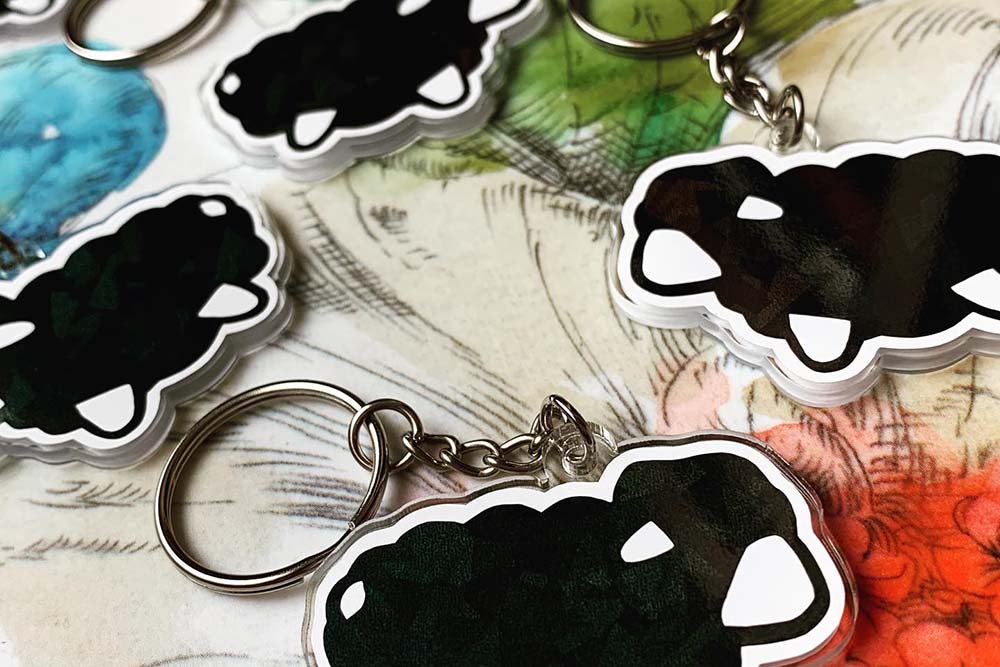 Details

Entrepreneurism
Salty Black Sheep Creations' COVID masks come with an extra layer of Navajo attitude.
Under the Navajo expletive Yaadilah, an eye-rolling woman with dramatic eyelashes says stay away without the wearer having to utter a word. That mask, along with stickers and accessories bearing sayings like "Indigenous AF" and "Wild Like my Rez Dogs" are the essence of Salty Black Sheep Creations, owned by Navajo entrepreneur Jay Stanley.
Stanley took one of her clan names, added a Y, and ended up with a perfectly personalized brand name.
"My first clan is Salt Black Sheep," said Stanley, who grew up on Navajo Nation in Kayenta, Ariz. and currently lives in Oregon. "Just growing up around my mom and all my aunties and my grandma, all the Salts I've known have been salty or sassy and blunt."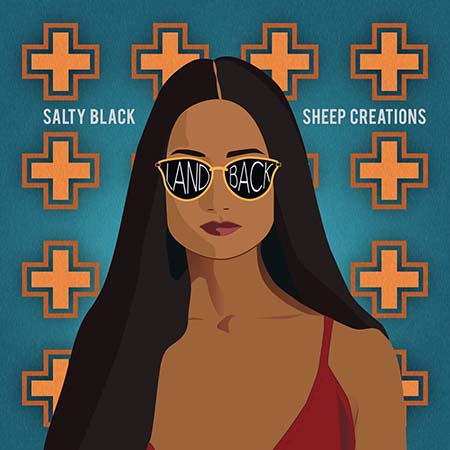 This piece of graphic art by Navajo entrepreneur Jay Stanley is featured on stickers from Stanley's company Salty Black Sheep Creations.Stanley pours her saltiness into playful, poppy and culturally cute stickers, keychains, jewelry, masks, totes, and, of course, an array of sheep merch that are hitting all the right notes in the current marketplace.
"People just resonated with what I was putting out there. I always try to think from the perspective of being Indigenous and trying to create spaces for us to feel proud," she said. "We can own a space without having to rely on mainstream society to provide that for us. It's always been my vision to provide those things for people to feel empowered."
The Salty Black Sheep aesthetic and attitude also appeal to Stanley's fellow Native entrepreneurs, and the brand's growing popularity has ignited a business within the business. Stanley is becoming a go-to graphic designer in the Native creative community.
"Several small businesses have reached out to me," Stanley said. "They want something that speaks to them and tells their story."
Navajo cosmetics entrepreneur Shi-Fawn Chee, owner of Blended Girl Cosmetics who was previously profiled in Tribal Business News, is a Salty Black Sheep fan and collaborator.
"Jay definitely knows the inside jokes of the Native community and integrates that into her art," Chee said. "She has a deep understanding of the art of our culture and she's able to do it in a stylish way."
Chee was so impressed with Stanley's style that she enlisted her to design Blended Girl's Resilient eyeshadow palette after she saw the logo Stanley made for Winston Paul, a Navajo-owned art and fashion brand. The pink and black palette bordered by Navajo rug designs was such a success that Stanley is currently designing another for Blended Girl.
"It was just so quick and easy to work with her. That's why I reached out to her again," Chee said. "She's just really awesome to work with."
FINDING SUCCESS AMID COVID
The beginnings of Salty Black Sheep can be traced back to 2014 when Stanley was tasked with making posters and shirts for a powwow.
"The Mother's Day powwow started it all," Stanley said. "I was trying to design something and I taught myself how to use Adobe Illustrator and how to do graphic art through YouTube and stuff."
Stanley, who has worked in both education and mental health, continued dabbling in graphic design until 2019 when she got pregnant, left her full-time job in mental health, and made Salty Black Sheep a permanent side business.
She said she wanted an avenue to use her creativity and make some extra cash while still being able to spend quality time with her child.
"All of the time and energy that I threw into my work previously was thrown into my design," she said.
Stanley noted that she's blessed to have a husband who works full time and provides most of the family's income. She said Salty Black Sheep allows the family to shore up their savings and have a little extra for treats like vacations.
Until July of last year, Stanley ran the whole Salty Black Sheep operation through Facebook and handled orders via spreadsheets. When the orders started to pile up, she knew she had to find a more efficient way to market and sell her merchandise.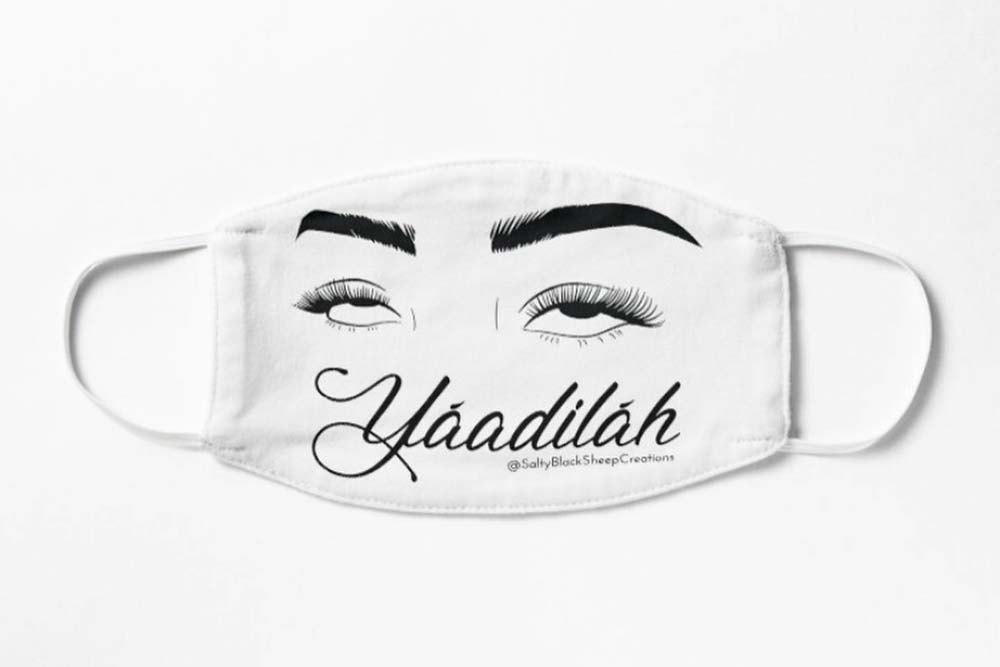 A stylish and snarky mask from Salty Black Sheep Creations, owned by Navajo entrepreneur Jay Stanley.
"It was definitely getting harder for me to keep up with my little Excel spreadsheet. It just got to the point where the Excel sheet wasn't cutting it because I had to make sure that things like everybody's email and home address was right and all of that stuff that just takes more time than it should."
To simplify the process, Stanley acquired her own Shopify website last July, which she said saves a lot of the time-consuming detail work because customers enter their own personal information. Another way she saves time and labor is by using the print-on-demand service Redbubble to transfer her artwork on to mugs, totes and more.
Launching a website at the height of the pandemic ended up being a boon for Salty Black Sheep.
"If anything, COVID brought more of an audience because more people had time on their hands to be on social media to be able to search through my inventory," she said.
As the business grows, Stanley, who manages every aspect of her operation, keeps her customers at top of mind.
"I'm only one person and I can only do so much, and I don't try to overload my plate," she said. "But I do try really hard to make sure my customers get what they need. I try to respond very quickly to any concerns or emails that people may send out."
She also listens carefully to their suggestions. As customers explored Salty Black Sheep's offerings, they began clamoring for jewelry versions of the charms on Stanley's keychains and other accessories. Stanley took their cue and went off in a new direction.
"It was never a goal to get into jewelry. I never would have thought I'd do jewelry, but I wanted to see if I could figure it out. I've been pretty crafty all my life," she said. "That's how the jewelry took off. I slowly got into earrings and then necklaces. The business transformed into a different thing."
CULTURAL REFLECTION
Stanley's customers were serious when they said they wanted jewelry.
Salty Black Sheep's pieces, which reflect elements of Navajo culture through an acrylic, iridescent, glittery and mirrored point of view, have become some of the company's top sellers. Stanley's iridescent Navajo wedding basket earrings came and went in a flash.
"The Navajo basket is a very popular design and a lot of people gravitate toward that design specifically," she said, noting the products quickly sold out.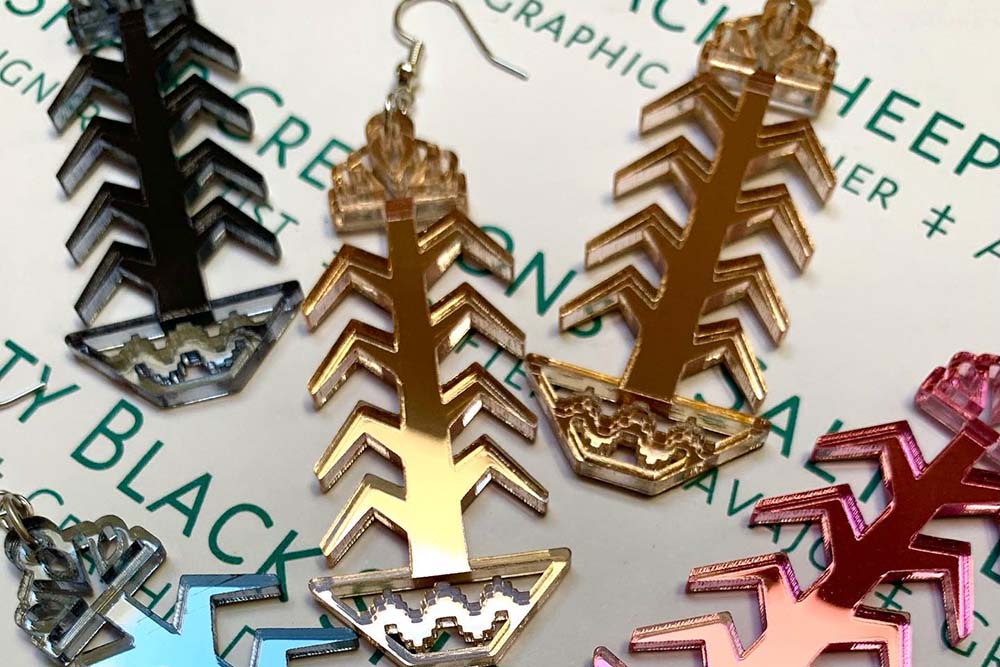 Tree of Life earrings from Salty Black Sheep Creations, owned by Navajo entrepreneur Jay Stanley.
Another traditional popular pair are Stanley's "Tree of Life" earrings. The angular corn stalks with baskets at the bottom are based on a Navajo rug design, Stanley said.
"Corn has a very significant meaning to us, and so that's why it's called the tree of life," she said. "It's a symbol all Navajo know. Corn is one of the staples of our culture. We don't just have corn to eat, we use it in our prayers, we use it in our offerings, we use it in a lot of different ways."
Whether it's a salty or straightforward cultural item, Stanley wants her work to inspire cultural communication and progress. One of her stickers stating Make America Honor Its Treaties Again exemplifies her greater purpose.
"That's just a spin off of Make America Great Again. It's a conversation piece in itself," she said. "I like to spark interest and make people think and start conversations."
As Salty Black Sheep continues to expand and attract new fans, Stanley is trying to stay grounded in why she quit her job and started a side business in the first place.
"I try to just take every day as it comes and try to enjoy my family, especially my son. He's not going to be this small forever," she said. "If it ever gets too stressful, I definitely try to slow down and not to let it consume me too much, because then it's not fun anymore."