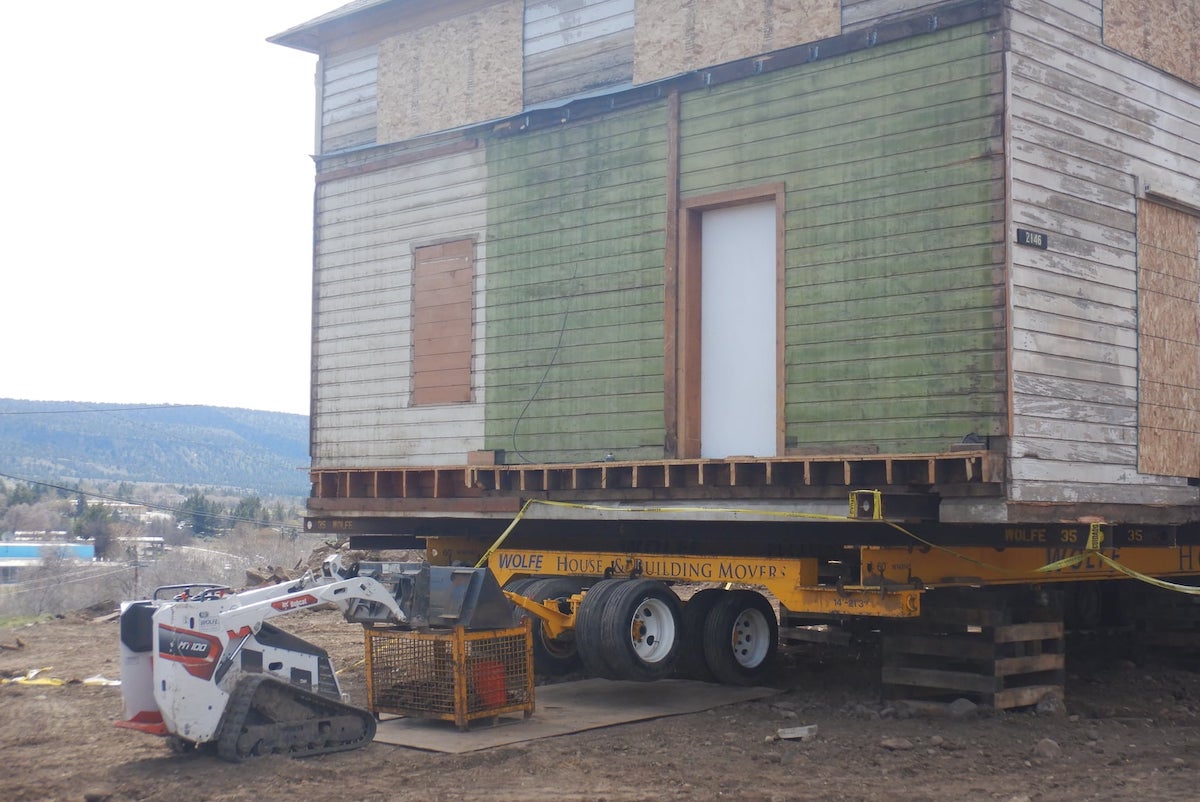 Details

Entrepreneurism
The Warm Springs Community Action Team's business incubator program is finally getting off the ground — quite literally, in fact.
The Warm Springs, Ore.-based nonprofit has lifted the incubator's future home, a well-loved community building called the Commissary that the organization is leasing from the Bureau of Indian Affairs, in preparation for its move to a new location.
Once the Commissary reaches its destination, the Community Action Team plans to renovate and revitalize the building for use as shared office space, retail storefronts and a coffee shop and deli, said General Manager Starla Green.
The facility figures into a grander scheme for the organization to use the building as a center to teach, support and build new Native-owned businesses from the ground up.
"For years, we haven't had any kind of financial or structural support for small businesses, not even space," Green told Tribal Business News. "The business incubator is going to help individuals and teach them how to get started."
Never miss the biggest stories and breaking news about the tribal economy. Sign up to get our reporting sent straight to your inbox every Monday morning.
Through the Commissary, WSCAT plans to offer members of the Confederated Tribes of Warm Springs training in everything from creating business plans to marketing their products online, as well as offer them space for their nascent businesses.
"We want to give them a desk to sit at. They may not even have access to that down here on the reservation," Green said. "That's something everyone needs: a place to set an office down that they wouldn't have access to otherwise."
WSCAT expects renovations to take around a year to complete. In the meantime, the nonprofit is seeking "every grant we can get our hands on," Green said.
One new potential federal funding source just started accepting grant applications. The Office of Indian Economic Development within the Bureau of Indian Affairs launched the first grant cycle for the Native American Business Incubators Program in mid March.
The grant will award between $100,000 and $300,000 annually over three-year terms to tribal governments, Native-led organizations and higher education institutions to aid those groups in establishing business incubators in tribal communities.
The grants draw from an overall pot of $2.5 million. OIED hopes to award between 10 and 15 grants total in this round of funding. Funds are aimed at establishing and operating incubator programs that help build and support Native entrepreneurs' businesses, navigating the complex processes of accessing capital, managing finances, and marketing their services or products.
"Entrepreneurship has a long history in Indian Country, and the Department of the Interior is proud to support businesses in Tribal communities," Assistant Secretary of Indian Affairs Bryan Newland said in a statement. "The Native American Business Incubators Program serves as an important tool for spurring economic growth and innovation in Native communities."
Grant applications are due June 17. Details on how to apply can be found on the Federal Register.
The Native American Business Incubators Program was established by a 2020 law sponsored by former Sen. Tom Udall, D-New Mexico, and Deb Haaland, the former New Mexico congresswoman who's now serving as Secretary of the Interior.
The act appropriated $5 million annually from 2020 to 2024 for the purpose of building and supporting Indigenous-led incubators.
"In the midst of a global pandemic and economic recession, Tribal communities need our help now more than ever," Haaland said in a statement just after the bill's passage in the House. "The Native American Business Incubators Program Act will ensure that future business owners in Indian Country can grow their enterprises and build strong vibrant economies."
Notably, the program does not limit awards to Native-led organizations. Non-tribal higher education institutions and non-Native private nonprofits can apply for funding for incubators, according to a statement from the BIA.
That follows concerns expressed in early 2021 by Native-led groups that potential grant funds could end up in the hands of non-Native who have different growth and profit motivations than Native communities, according to a prior Tribal Business News report.
As well, some within Native communities might harbor skepticism about incubators given the failure of various "War on Poverty" programs from the 1970s and '80s.
"Tribes did a lot of incubators across the country and virtually all of them failed," said Dave Tovey, executive director of Nixyáawii Community Financial Services, a Pendleton, Ore-based Native community development financial institution owned and operated by the Confederated Tribes of the Umatilla Indian Reservation.
For its part, Nixyáawii is in the process of building out a 14,000-square-foot incubator space for tribal members who are starting retail and crafts-based businesses.
"I think the world's changed," Tovey said, referring to improvements in the incubator model that have helped correct the failures of the past. "We're seeing up here in Lummi or Warm Springs, different tribes are being successful with their incubators. That itself is kind of inspiring for us."
For many tribes and Native-led organizations, including Warm Springs Community Action Team, accessing grant funding will be a key to their success with the incubator programs.
"Everything we do is all grant funded, so we're looking for that assistance," WSCAT's Green said. "That's what we're working on."
--
Tribal Business News managing editor Joe Boomgaard contributed to this report.