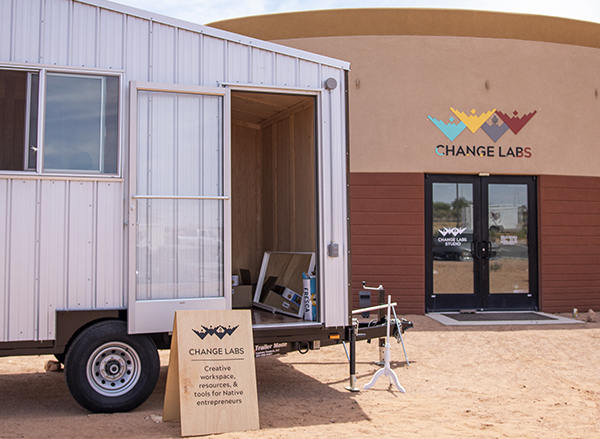 Details

Entrepreneurism
Change Labs, a Native-run nonprofit focused, has announced its new cohort of 12 Navajo and Hopi entrepreneurs for its business incubator program.
The Tuba City, Ariz-based organization said the current round of cohort members have founded design studios, fashion lines, and tech ideas they hope to take to the next level.
New cohort members include Albert Haskie, Sasha Begay, Ira Vandever, Marco Aviso, Delphina Begay, Nathaniel Brown, Daedra Dallas, Roddell Denetso, Sahar Khadjenoury, Mackenzi Navenma, Shaina Roanhorse, and Leander Thomas.
"I am immensely proud of the caliber of ideas represented in this new cohort of Native business owners," Ceceilia Tso, director of business incubation for Change Labs, told Tribal Business News. "We are always on the lookout for strong business owners who are up for solving problems and building our tribal economy by providing critical services and products for Navajo and Hopi Nation."
Haskie, one of the new cohort members, is the founder of Lukachukai, Ariz.-based Nyzhon Studios, where he is building a Navajo education program delivered through a smartphone application. He started the business a year ago in the rural town on Navajo Nation with two of his high school classmates. He's targeting a younger generation with his app.
"I've always seen the need for next generation technology and new ways to lead our people into teaching our own language and culture through technology," he said.
Begay, another cohort member, creates coffee mugs decorated with Navajo art and language through Twin Warrior Designs in Sweetwater, Ariz. She recently began experimenting with telling full stories of Navajo culture on her mugs. She said joining the cohort has given her an extra shot of motivation to her business past the small space she works in now.
"I have more drive in doing what I'm doing now and they give me a brighter idea of how I can expand from the small room that I'm in now and that there are possibilities in succeeding in something, even though it seems so little," she said. "So far with Change Labs, they give me hope."
Change Labs' Business Incubator program carries participants through six months of development, training, and refinement. Cohort members receive one-on-one training in business registration, tax preparation and financial reporting, virtual classes on networking and model planning, plus $2,000 in "cash services" such as brand development and legal support. Upon graduation, they are eligible for a loan of up to $10,000.
The goal is to take people past what is often the hardest step of business development, Change Labs Executive Director Heather Fleming told TBN in a prior story.
Native entrepreneurs frequently find themselves with solid ideas and business plans, but need guidance on how to build from there, honing the enterprise into something that meets their goals.
"A lot of people enroll with a strong idea, but their plan is not quite there yet, so we challenge them to think about their customer target, how much money they'll need to get started and how much to grow the business in five years, how they manage people and market their ideas," Fleming said. "Most of them are still in the planning phase, and they may not know what they don't know or what they need yet. We can help them think about what they need to be thinking about."
Change Labs launches its latest cohort amid a surge in funding and support for Native business incubators following the formation of the Indian Business Incubators Program under the Bureau of Indian Affairs. That program, created as a result of 2020's Native American Business Incubators Program Act, awarded $3 million to 10 organizations in 2022.
"I just think more support levels are needed. There are little to no other incubator programs that are based on tribal lands that are serving Native entrepreneurs," Fleming said. "We'd just like to see a lot more programs where someone can drive down the street and find a coworking space or get help getting a loan or advice."
Want more news about the $130 billion tribal economy?
Tribal Business News publishes thoroughly reported and well-crafted stories about Native businesses and entrepreneurs, growth and expansion strategies, best practices, economic data, government policy and other relevant business news. Tribal Business News is required reading for tribal council members and leaders of Native businesses, as well as state and federal legislators, policymakers, economic developers, entrepreneurs, bankers, lawyers and anyone interested in doing business in Indian Country.
Sign up for our free newsletter to track Native business and the tribal economy. Or sign up for a premium digital subscription ($99/year or $10/month— cancel anytime) to gain full 24/7/365 access to our business news reporting. Megwetch.