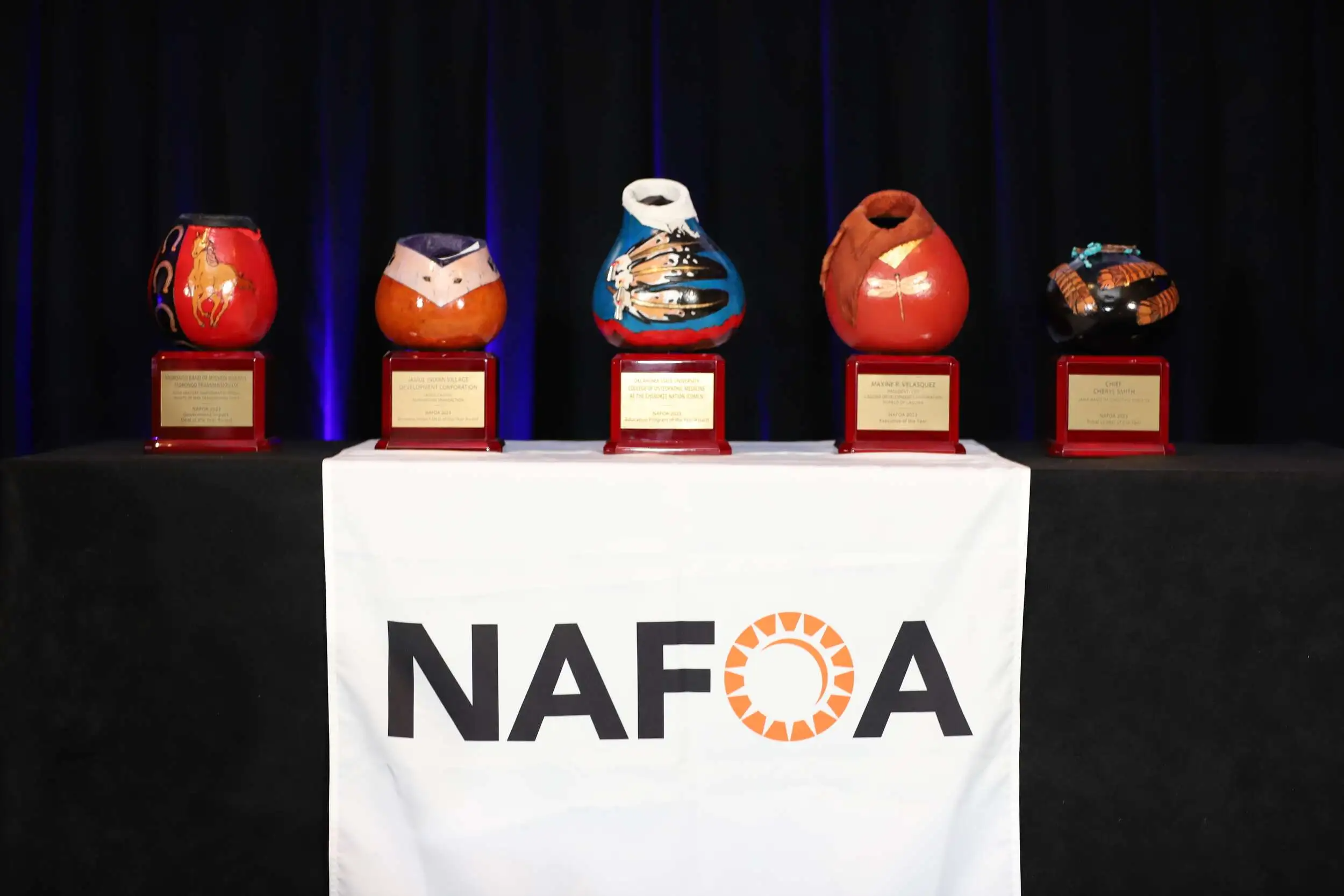 Details

By

Tribal Business News Staff

Finance
The Native American Financial Officer Association (NAFOA) has announced its 16th slate of Leadership Awards.

Since its inception in 1982, NAFOA has worked to advance the independence of Native communities by growing tribal economies and finance through policy advocacy, leadership development and training programs. Today, NAFOA is comprised of more than 155 member tribes across 26 states.
The association's 16th Annual Leadership Awards honor a range of tribes, executives, and business maneuvers crucial to developing economies in Indian Country.
Never miss the biggest stories and breaking news about the tribal economy. Sign up to get our reporting sent straight to your inbox every Monday morning.
The awards were announced at the 41st Annual NAFOA Conference in Washington D.C., in late April. Winners included:
The Morongo Band of Mission Indians, their subsidiary business Morongo Transmission LLC, and the law firm Jenner and Block secured the

Government

Impact Deal of the Year Award

owing to newly negotiated transmission rates for power lines across the tribe's reservation. The power lines were upgraded in an $800 million project that will have a "significant effect on California's transmission infrastructure buildout," per a NAFOA statement, and the deal secures a revenue stream for the Morongo Band for the next 30 years thanks to an annual revenue requirement on the investment.
The Jamul Indian Village of California, took home the

2023

Business Impact Deal of the Year

by refinancing debt related to their casino under the Jamul Indian Village Development Corporation. The tribe refinanced $130 million of an outstanding $400 million in debt, completed through Western Alliance Bank and a lender group including Nevada State Bank, Columbia Bank, and CIT. The maneuver - which leveraged the casino's performance to pull high-interest debt into low-interest debt - reduced the tribe's interest rate burden by over $30 million annually. NAFOA praised the deal's structure and impact, which could serve as a model for other tribes seeking similar deals.
The College of Osteopathic Medicine at the Cherokee Nation (COMCN,) took home NAFOA's Education Program of the Year Award. COMCN was established in 2021 through a partnership with Oklahoma State University in a bid to train more Native American doctors, who represent less than 1 percent of medical students nationwide. The Nation invested $40 million in the 84,000-square-foot facility in support of a 54-student inaugural class, expected to graduate in May 2024.
President and CEO of Laguna Development Corporation Maxine R. Velasquez from the Pueblo of Laguna Indian Reservation, who took home the NAFOA

Executive of the Year Award. Velasquez served as the lead negotiator on a deal to sell Laguna Development Corporation's Ellis Park Racing and Gaming Facility to a national operator in 2022, leading to a 305 percent return on investment, per a NAFOA statement. Prior to her work with the Development Corporation, Velasquez served as the tribe's in-house general counsel, in addition to representing tribes and their business entities in private practice for 20 years.
Chief B. Cheryl Smith of the Jena Band of Choctaw Indians, who received NAFOA's

Tribal Leader of the Year Award

thanks to 50 years of service and leadership. Smith has overseen the tribe's economic growth from her beginnings as a tribal council member from 1975 to 1998, a stint as chief from 1998 (when the tribe received federal recognition) to 2002, and a second tenure as chief from 2010 to 2022, when she retired from public service. Smith led efforts to diversify and strengthen the tribe's economy through a widening range of businesses and revenue generators, which in turn has supported expanded support and services for tribal members.