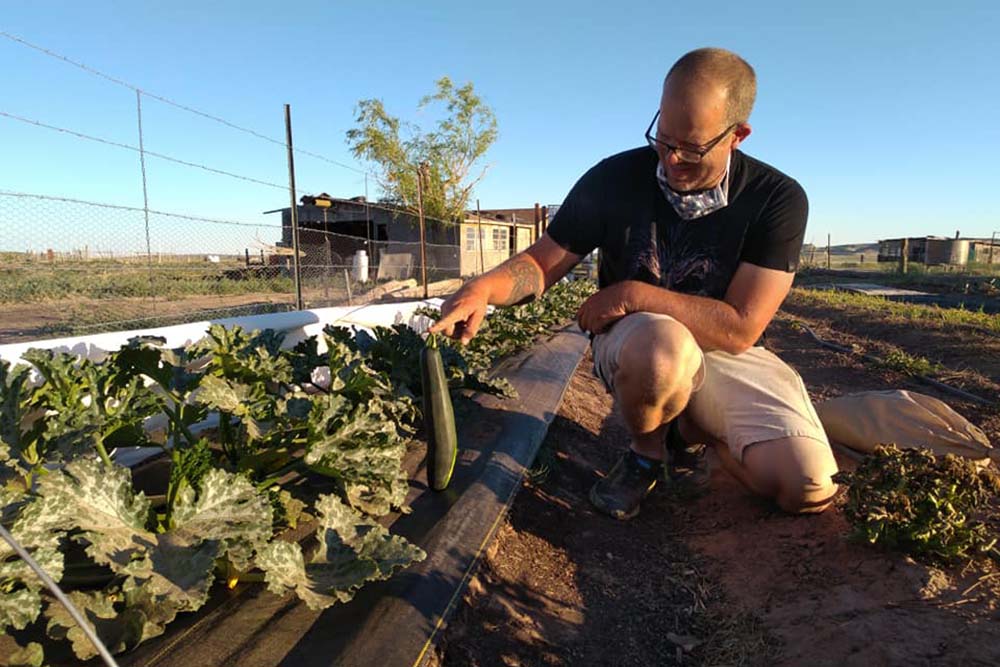 Details

Food/Agriculture
DILKON, Ariz. — As Cherilyn Yazzie grew disillusioned with her career in social work and public health, she channeled her efforts into starting a new company that could better feed her mind, and others.
Her prior work involved implementing health programs for youth and nutrition education, skills she transitioned into launching Dilkon, Ariz.-based Coffee Pot Farms LLC, which she started with her husband Mike Hester in 2018.
The 1-acre market farm on the Navajo Reservation grows a range of produce from mustard greens to tomatoes to carrots and lettuce, and affords the Yazzies the freedom to be their own bosses. It's a far cry from operating within the strict confines of grant restrictions in her previous career.
"My social work and public health work have been rewarding but it was also frustrating because you have to work within the grant fund's allowable and unallowable activities," Yazzie told Tribal Business News. "It comes with many rules, regulations and boundaries. You are placed in a box and I think a lot of the time you are wearing blinders that limit your perspective."
Those blinders came off as soon as she launched Coffee Pot Farms, which also allows her to be part of the solution in addressing the need for improved nutrition in Navajo communities, a major issue for many of her fellow tribal members.
"In my public health program, I was educated on nutrition and why it was important to get your veggies but I was being hypocritical," Yazzie said. "I didn't fully understand the situation that our reservation has 13 grocery stores and a lot of the gas stations have seven options to fresh produce, usually iceberg lettuce, tomato, onions, bags of potatoes, oranges, apples and very ripe bananas."
Meeting that need, even if it meant starting off small while doing it, inspired Yazzie and her husband to leverage their savings to start their farm.
"What spurred me to risk my insurance, the paycheck and the retirement plan was that I saw there was a real need to get access to quality produce for our Navajo children and the families," she said.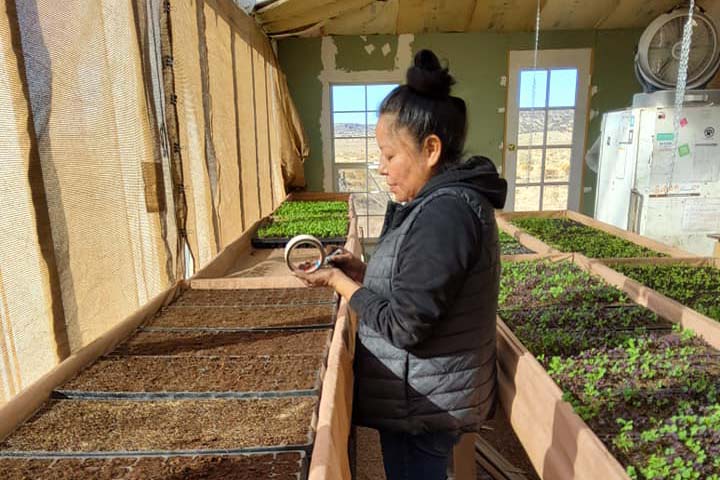 An intern works at Coffee Pot Farms. (Courtesy photo)
The couple worked to continue meeting that need even through the onset of COVID-19, which ravaged the Navajo Nation and forced lockdowns through most of 2020. More than 30,000 members of the tribe have been infected, according to a report from sister publication Native News Online.
The pandemic also took a toll on Navajo businesses. Navajo casinos have remained closed for a year, costing the tribe $11 million a month, and its farming enterprise has dealt with economic shock because of a pandemic-related slowdown in the dairy industry, according to prior Tribal Business News reports.
As a result of the lockdowns and for their own safety, Coffee Pot Farms had to adjust its business model, which up to that point relied on farmers markets and on-site workshops to deliver their goods and services.
Yazzie said the business pivoted in three ways: getting into e-commerce, providing home delivery services, and expanding its range of offerings to grow year-round produce.
"This has meant that we took many online webinars and Zoom classes to understand what it takes to schedule, communicate with customers, learn delivery logistics and acquire additional equipment and materials such as the internet, website marketing, and knowledge needed to get our business online," Yazzie said.
Growing and learning
There's a light at the end of the tunnel: Based on the vaccinations Navajo Nation had administered as of early March and declining case numbers, the tribal government began a "soft reopening" on March 15.
With an eye toward the future as the tribe slowly returns to normalcy, Yazzie has big plans to grow Coffee Pot Farms.
"We are not currently a big company or farm. We don't have acres and acres to work with, we don't have unlimited access to water. But I want to see Coffee Pot Farms grow more food in more communities," Yazzie said. "The opportunities I see are setting up or starting satellite farms, doing farm tours, getting into farm consulting work. We want to apply to take out more land and grow on more acres of land. We want to have a large community supported agriculture program and be able to deliver throughout parts of the nation."
Moreover, Yazzie and her husband want to help encourage and teach others to grow food, expanding the network of producers on the reservation and thereby increasing access to healthy produce.
"Mike and I don't come from an agricultural background but we learned how to grow food," Yazzie said. "It can be done."
Of course, the couple faces the same hurdles that challenge many Native farmers: getting capital to access more land and more water. For example, obtaining credit without fee land as a collateral — trust land isn't typically used — can make for a uniquely difficult situation for tribal members on reservations, according to a May 2019 Government Accountability Office study.
The most immediate step Yazzie wants to take is raising the capital, either through credit or grants, to drill a new well for the farm so the farm has enough water to scale up production.
'Still have a lot of work to do'
Ultimately, Yazzie's goal is one of preservation and tradition.
"As farmers we grow quality vegetables for our Navajo families, inspiring them to be healthy and feel connected to their ancestors and descendants," Yazzie said. "The long-term goal for our farm is to get healthy food to our communities so that families are healthy enough to continue to speak their languages, to celebrate elderhood, and to continue to have ceremonies, and be able to pass on traditional knowledge. We need our bodies to be healthy so we can make it to our future generations."
Yazzie's model and work ethic have helped provide that opportunity for her and her husband, and she thinks it could work for other aspiring Native entrepreneurs, too. She recommends they build networks of like-minded and experienced colleagues, and to dive in and explore their passions and ideas.
"I think the pandemic has all taught us that we don't need someone telling us what needs to get done. We are smart, we are resilient, we come from strong ancestors that had super-focused prayers. We are in challenging times, but this is the best time to solve problems," Yazzie said. "Being a Native entrepreneur is tough, hard, and requires resourcefulness but I won't go back to a full-time job where you're working to fix someone else's problems."
Yazzie believes that, working together, Navajo entrepreneurs could help lift up the tribe and preserve the traditions that have served them so well for generations.
"We still have a lot to fight for. We still have a lot to appreciate. We still have a lot to respect. We still have a lot to be thankful for," Yazzie said. "And we still have a lot of work to do."
--
EDITOR'S NOTE: This story has been updated to correct Mike Hester's last name.
Want more news about the $130 billion tribal economy?
Tribal Business News publishes thoroughly reported and well-crafted stories about Native businesses and entrepreneurs, growth and expansion strategies, best practices, economic data, government policy and other relevant business news. Tribal Business News is required reading for tribal council members and leaders of Native businesses, as well as state and federal legislators, policymakers, economic developers, entrepreneurs, bankers, lawyers and anyone interested in doing business in Indian Country.
Sign up for our free newsletter to track Native business and the tribal economy. Or sign up for a premium digital subscription ($99/year or $10/month— cancel anytime) to gain full 24/7/365 access to our business news reporting. Megwetch.