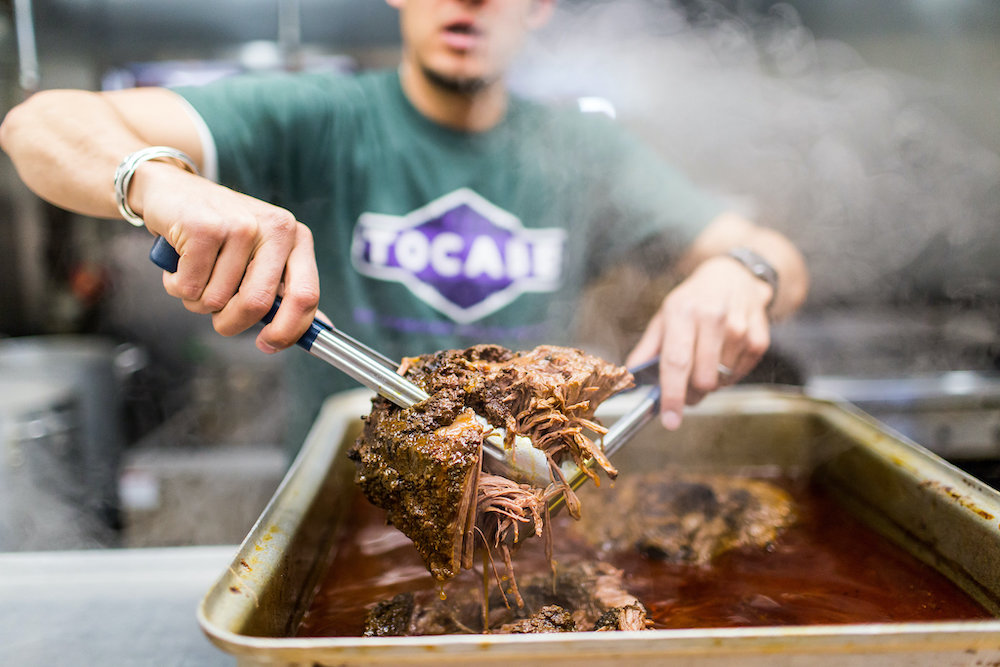 Details

Food | Agriculture
Ben Jacobs wants to revamp the culinary landscape by incorporating Indigenous cuisine and traditional ingredients into the fast-growing ready-made meals industry.
Jacobs, a member of the Osage Nation and co-founder of Tocabe Indigenous Marketplace, believes the move can help expand his Denver-based business and, by extension, the market for his suppliers' Indigenous ingredients.
The company introduced Harvest Meals, a line of ready-made, direct-to-consumer meals, this month. Priced between $11 and $16, the ready-made meals — with names like Bison Posu Bowl, Wild Rice Jambalaya, and Blue Corn Mush — can be shipped throughout the lower 48 states and include a medley of ingredients sourced from local and Indigenous partners. Among these ingredients are wheat berries, prickly pear cactus and tepary beans, a legume that's been grown in the southwestern U.S. since pre-Columbian times.
"It was really an extension of all the work we were doing coming out of COVID with our marketplace launch," Jacobs said. "Other than giving people accessibility to ingredients, we wanted to provide access to quick, convenient, all Indigenous-based meals. We know what we do well, and one of those things is sourcing and distributing food, but also providing fully prepared food."
Harvest Meals pushes them further into the ready-made meals industry, which has seen significant growth in the wake of COVID-19, per research published by industry analyst Grand View Research.
Never miss the biggest stories and breaking news about the tribal economy. Sign up to get our reporting sent straight to your inbox every Monday morning.
In 2021, the market stood at roughly $144 billion, with a projected compound annual growth rate of 5.3% between 2022 and 2030. The report attributes the growth initially to COVID and then a demand for better ingredients and speedier delivery that has pushed businesses like Tocabe to enter the market.
The market makes sense for Tocabe, which can leverage its access to traditional foods, including many that are tailor-made for the pre-made meal business.
"Many of our traditional ingredients have stability in terms of shelf life: dried corn, dried beans, wild rice," Jacobs said. "But sometimes it's difficult to prepare a full meal with all of those ingredients, so we wanted to make it simple for people to have a healthy meal in a few minutes."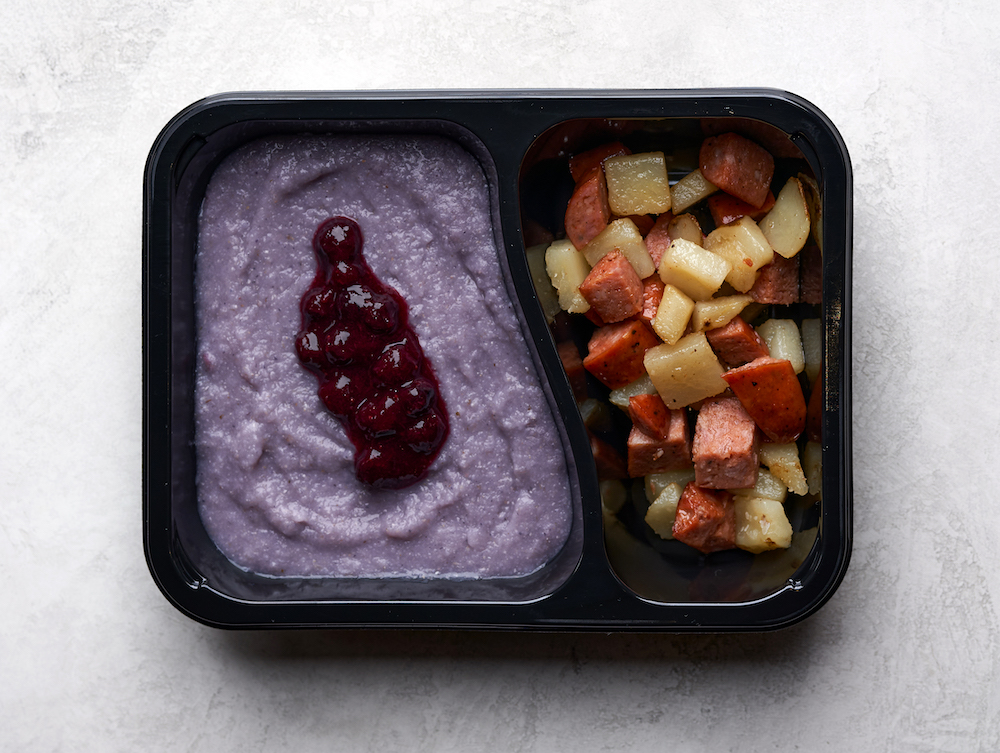 Blue Corn Mush, a velvety porridge topped with sweet wojapi and paired with bison sausage and breakfast hash, is one of the new ready-made meals launched by Tocabe Indigenous Marketplace. (Courtesy photo)
The Harvest Meals initiative not only marks a new venture for Tocabe Marketplace, but also opens doors for their partners, many of which are tribal or Native-owned enterprises specializing in traditional food products. Among these partners is Jayme Murray, the general manager of the Cheyenne River Sioux Bison Authority Corporation in Ziebach County, S.D.
Murray told Tribal Business News that Harvest Meals has significantly increased demand for his bison products, offering an additional channel for distributing food products from his 2,000-head herd.
"It's really helped to boost our sales, and get new projects going," Murray said. The new business from Tocabe, along with a new project with the USDA, spurred an expansion project to build another processing facility to meet growing demand, Murray said.
Building those partnerships has become a core part of Tocabe's business model, Jacobs said. The company uses bison from multiple sources, as well as cornmeal from the Ute Mountain Ute Tribe and wild rice from the Red Lake Nation.
While initially Tocabe's goal was to provide dry goods through their enterprises, those partnerships have grown to include suppliers like Sakari Farms, an Inupiaq-owned tribal farm based in Bend, Ore. that provides sauces for some of Tocabe's products. And in August, Tocabe and Red Lake's economic development arm also came together to buy a stake in an Alaska-based seafood business.
"It's about always continuing to work with different producers who have a broader reach with their products," Jacobs said. "It's about providing Indigenous food items to as many people as we can."
Jacobs, alongside co-founder Matt Chandra, launched Tocabe Indigenous Marketplace in June 2021. The company began as a pair of restaurants, one of which was transformed into a production warehouse to support the launch of Harvest Meals. The company's dry goods market has also been expanded to include deli meats and butcher services. Between the market, restaurant, and prep warehouse, the company employs about 38 people, Jacobs said.
The development of Harvest Meals took two years as the company sorted through logistics and built partnerships, Jacobs said. Today, the business operates on three fronts: their Denver restaurant, an online store specializing in dry goods, and the new ready-made meals.
"It's really (been about) building on that supply chain and developing that Native chain on a larger scale, so we had all the ingredients on hand to develop the meals, and there was a lot of internal logistics figuring out how to make and distribute the food," Jacobs said. "Now our partners have three avenues for each of the products we sell for them. We can provide that product through these multiple avenues to broaden their reach."