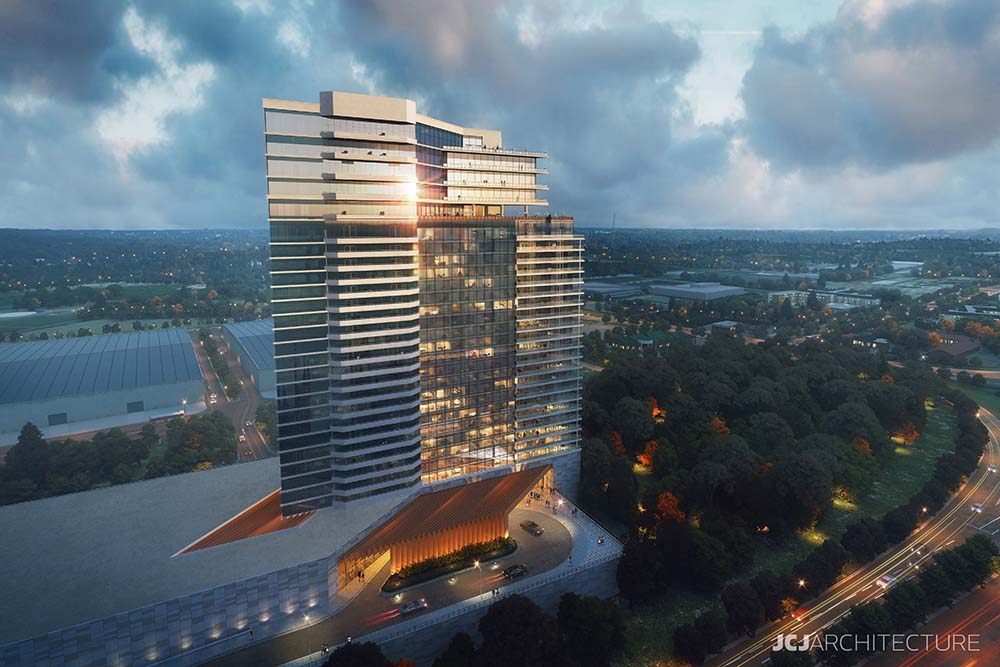 Details

Gaming
Both Native American tribal candidates have been eliminated for the running for building a casino in Richmond, Va.
The city announced in late February that it solicited six proposals for consideration. Three of those proposals were eliminated by Wednesday night, according to the mayor's office.
The two tribal entities in contention for the casino opportunity were the Alabama-based Poarch Band of Creek Indians' Wind Creek Hospitality enterprise and the Virginia-based Pamunkey Indian Tribe, who were struck from the running alongside Golden Nugget Hotels and Casinos.
Pamunkey Chief Robert Gray expressed disappointment in the decision, saying that the tribe's quick elimination indicated a decision had been made already.
"The timing of the decision, which comes before the public comment period has even concluded, seriously undermines confidence in the selection process and suggests a predetermined outcome has been reached," Gray said in a statement. "The timing of this decision also suggests that public and community input will not be seriously considered in this process."
Gray noted that Richmond did not lend the Pamunkey Tribe a preference recognizing the tribe's ancestral presence in the region. Virginia state law includes such a preference as an option in a municipality's decision making, Gray said.
"The Pamunkey Indian Tribe submitted the only 100% minority-owned, Virginia-based proposal," Gray stated. "We were shocked to learn of our early dismissal from a process occurring in our native region and state, particularly in light of the fact that the tribe was one of the first entities — if not the first — to talk to the city about gaming before commercial gaming was legalized in the commonwealth."
Wind Creek Hospitality released a statement expressing similar disappointment in its dismissal from the process.
It reads, in part: "We are disappointed to learn that Wind Creek Hospitality will not be considered for the Richmond casino project. We strongly believe that Wind Creek sets itself apart from other operators by not only building casino resorts, but by building up the communities our properties are located within. We wish the best of luck to the other operators and to the city of Richmond as they continue through the selection process."
In a Wednesday night statement, Richmond Mayor Levar Stoney's office attributed the three eliminations to "factors such as lack of site control, concerns about the feasibility of financial projections, lack of organizational experience and/or deficiency of the proposal."
Notably, the Pamunkey Tribe has ownership of two parcels of land totalling just over 24 acres that comprised its proposed site just off of Interstate 95. The tribe purchased that land in 2019.
The three contenders still in the running for Richmond's casino proposal are from casino management firm Bally's, media conglomerate Urban One, and gaming company The Cordish Companies.
A panel of city employees and Richmond City Council members will advance one proposal for recommendation to the City Council this summer. Voters will weigh in on the proposal via referendum on the November ballot, according to a Virginia Business report.
While the Pamunkey Tribe's efforts in Richmond have been stopped, work continues on a tribal casino in Norfolk, Va., where voters overwhelmingly passed a referendum in support of the tribe's operation in November last year.
A groundbreaking for that casino is planned this spring, but an official date has not yet been announced.
Both the Norfolk and Richmond casinos were part of a tribal plan to meet the needs of Pamunkey tribal members.
"It means better health care, more educational opportunities, better housing, things the tribe and its members have long gone without," said tribal spokesman Jay Smith told Tribal Business News for a previous report. "Their reservation still doesn't have high-speed internet that's reliable. By venturing into business and economic development opportunities, it's going to address many of those issues."
Since you're here.
Doing business anywhere is a challenge, but it's even more challenging in Indian Country. Tribes and their citizens face unique obstacles as they try to build Native-owned enterprises: the patchwork of federal laws, bureaucratic red tape, limited access to capital and the fact that most people are unfamiliar with what's involved in operating a business in Indian Country.
We believe Tribal Business News can help remove some of those hurdles by highlighting what tribes and Indigenous business owners are doing to build the tribal economy. We're committed to bringing you thoroughly reported and well-crafted stories about Native entrepreneurs, M&A, expansions, best practices, economic data, government policy and other relevant business news. Our goal is to make Tribal Business News required reading for tribal council members and leaders of Native businesses, as well as state and federal legislators, policymakers, economic developers, entrepreneurs, bankers, lawyers and anyone interested in doing business in Indian Country.
Hopefully, you'll consider supporting Tribal Business News through a discounted subscription ($99/year — use coupon code "TBN21") or a donation to help fund our reporting. Sign up for our free weekly newsletter that comes out each Monday morning.
Megwetch for your continued support.