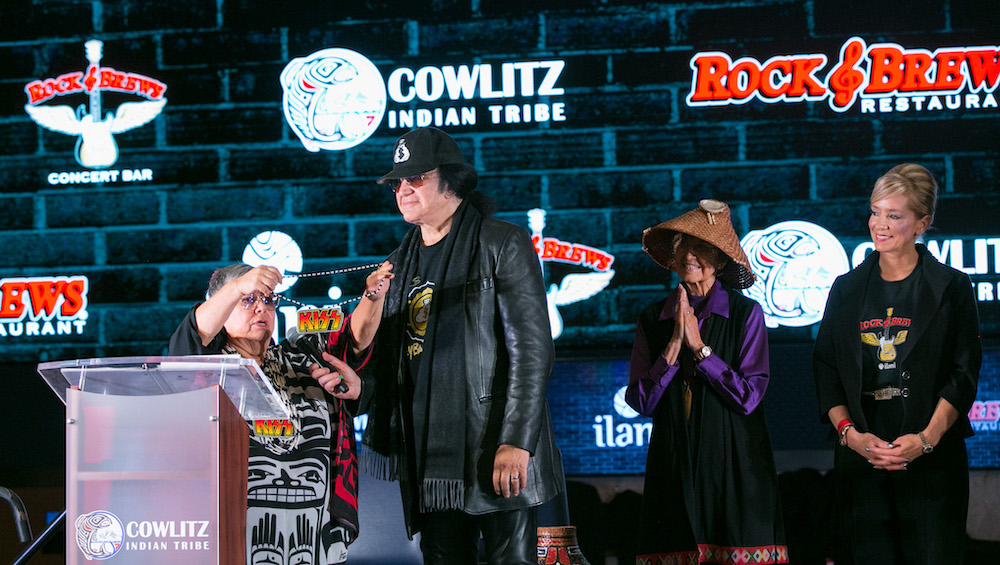 Details

Gaming
As the ilani casino looks to reignite its vibrancy, the tribally owned gaming facility is turning up the volume with a classic-rock twist.
Owned by the Cowlitz Indian Tribe, the southwest Washington casino has teamed up with Rock and Brews, a franchise restaurant concept that's the brainchild of legends Gene Simmons and Paul Stanley of the iconic rock band KISS. With the maneuver, ilani joins a growing list of tribal casinos that are betting on star power and alternative entertainment options to pull in customers and keep them coming back.
"At times when a door count might be growing slightly, stagnant, or fluctuating after COVID, we're finding that casinos are looking for new ways to get new customers into their facilities," Adam Goldberg, CEO of Rock and Brews, told Tribal Business News. Celebrity-driven brands like Rock and Brews bring that new customer base in and creates frequency for them to come back more often, he said.
While Native gaming has hit record highs in the years following COVID-19 shutdowns, topping $40.9 billion in 2022, the recovery has been uneven, per prior Tribal Business News reporting. A struggling labor market, the threat of recession, and lingering COVID-19 restrictions have held back Indian gaming in some regions of the country, writes trade publication Indian Gaming.
Never miss the biggest stories and breaking news about the tribal economy. Sign up to get our reporting sent straight to your inbox every Monday morning.
Brick-and-mortar casinos are also under pressure from new competition as sports-betting and corporate-owned gaming become more prevalent, generating billions in revenue in every state where it's been legalized, especially when it's available via mobile markets.
Celebrity deals like a partnership with Rock and Brews can help offset those threats, pulling in customers who may not otherwise visit casinos, or who don't fit traditional casino demographics, according to Kara Fox-LaRose, president and general manager of ilani. The same strategy drove ilani's push to open a Michael Jordan's Steak House in partnership with the Mohegan Tribe in 2017.
When completed, the new Rock and Brews will encompass a family restaurant, bar, and 1,000-seat concert hall. Those amenities will expand the entertainment options at the casino and draw in customers from neighboring communities like Portland, Oregon, that might not typically consider the casino, Fox-LaRose said.
"What can happen with casinos is that often, the community may not feel relevant to all consumers, so we're focused on not being just a casino. We're making sure to include entertainment and special events to attract various guests," Fox-LaRose said. "I think when we think about the sustainability and evolution of the gaming market, it's important to diversify your business model and to keep people interested in what you're offering."
Other tribes have taken the same view, but attacked the opportunity in different ways. In 2021, the Little River Band of Chippewa Indians struck up a franchising partnership with Wahlburgers, a chain co-founded by actor Mark Wahlberg with his brothers, celebrity chef Paul and rapper/actor Donnie.
Eugene Magnuson, general manager of the tribe's economic investment arm, Little River Holdings LLC, said the partnership allowed the tribe to broker franchise deals between Wahlburgers and other tribes. The tribe can also build Wahlburgers restaurants on their own land, such as a planned installation in an upcoming real estate development called the Gateway Project in Manistee, Michigan.
"It's working out nicely," Magnuson said. "Right now as of this date, we have seven restaurants that will be opening up next year. We have had numerous conversations with tribes, so things are starting to pick up."
These partnerships attach celebrity names and branding, as well as associated standards of service, to existing establishments, driving casino recognition out into new demographics. For Wahlburgers, Little River Band Holdings saw that Mark Wahlberger's name resonated with female customers, pulling in a traditionally less active demographic, Magnuson said.
"I know a lot of casinos spend a lot of dollars trying to attract that demographic, and if they put in a Wahlburgers, they could pull more of those people in," Magnuson said. "It's a marketing tool that tribes can use."
For Rock and Brews, the marketing pull is KISS and the associated culture of rock and roll. That brings an "energy" that spurs casino visitors to play more games, Goldberg said. The deal with ilani has been a year in the making following a Rock and Brews event at the Potawatomi Casino and Resort owned by the Forest County Potawatomi.
The Cowlitz tribe's late chairman David Barnett, who was a big fan of KISS, attended that groundbreaking and expressed interest in bringing a similar deal to ilani - then began laying the groundwork for that deal before he passed in May 2022. Bringing the deal to life has therefore been one part financial decision, one part memorial, Cowlitz Chairwoman Patty Kinswa-Gaiser said.
"When he went to the other side, I vowed that he would carry that dream forward. This was a big dream of his, not only because he loved those guys, but because he knew it was a good business venture for us," Kinswa-Gaiser said. "He loved the KISS guys, but his first goal was always to make things better for tribal members, so that was another reason … it will be a great revenue generating business."
Fox-LaRose echoed the sentiment, calling Barnett's vision for the deal a part of ilani's dedication to delivering quality entertainment.
"Whether or not you listen to KISS music or were a fan, you certainly know who they are, so they're certainly marketing geniuses, so it's exciting for us to partner with them," Fox-LaRose said. "Our former chairman was a visionary and driving force behind keeping up quality entertainment as part of our business model."
Goldberg recalled traveling with Barnett to other Rock and Brews restaurants ahead of signing a former deal for a location at ilani. The crowning moment of that time together, Goldberg recalled, was surprising Barnett with a dinner with KISS frontman and bassist Simmons.
"Gene Simmons walked in the room and you saw this incredibly powerful man (Barnett) turn into a young teenager with his rock and roll idol coming through the door to sit and have dinner with him," Goldberg said. "It was probably one of the most incredible moments I can remember."
The ilani location will make five total restaurants established in Native casinos across the country, according to Goldberg. That includes the recent installation at the Potawatomi Casino and Resort, as well as older in the Kaw Nation's Braman Casino, the San Manuel Band of Mission Indians' Yaamava Resort and Casino, and the Paskenta Band of Nomlaki Indians' Rolling Hills Casino.
All completed restaurants have been successful so far, creating more foot traffic in the gaming establishments the restaurants are supporting, Goldberg added. The success stories have been enough to give tribal partnerships a "big role" in Rock and Brews' business strategy moving forward.
"The commonality is the more people we bring in, the better the casino does, and the better we do," Goldberg said. "We're having such a good time working in Indian Country and seeing the benefit of our partnerships. Watching how these casinos benefit from our rock and roll brand is very rewarding."