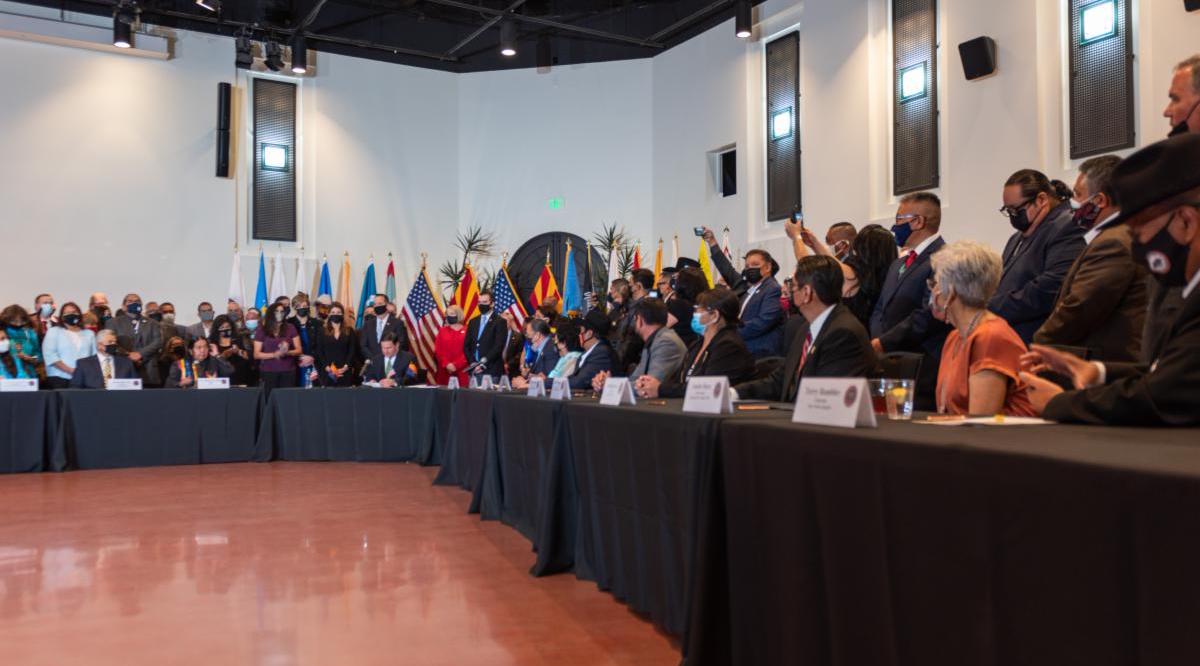 Details

By

Rob Capriccioso

Gaming
Sports-betting enthusiasm abounds in Arizona, where tribes are leading the way in the new gaming market that launched this month.
"It's been all over social media. I dropped my kid off at school last week and saw a cool ad that said, 'Get paid in a snap' with a football player,'" Derrick Beetso, director of the Indian Gaming and Self Governance Programs at Sandra Day O'Connor College of Law at Arizona State University, said during a recent webinar hosted by his program.
"The excitement is not only with our community, but also with all of our current patrons, especially the younger demographic" added Diandra Benally, the general counsel of the Fort McDowell Yavapai Nation, who moderated the session.
For a state that hasn't seen much new on the gaming front in years, tribes are again at the forefront, hoping to tap into an emerging market and reap profits to benefit their citizens and communities.
Meanwhile, the state hopes to capture its share to help balance and even grow its budget. By contrast, when Republican Gov. Doug Ducey was elected in 2015 and soon started renegotiating tribal compacts — originally signed in 2003 — the state had a $1 billion-dollar deficit.
Marketing for sports betting went live in the Grand Canyon State on Aug. 28, and patrons were able to open accounts on that same day. By the go-live date of Sept. 9, patrons had created 271,000 new sports-betting accounts. During the ensuing opening weekend, the state logged more than 6.1 million transactions.
Only New Jersey, Pennsylvania and Michigan had more transactions during that time period, according to Ted Vogt, director of the Arizona Department of Gaming and previously a Republican legislator in the Arizona state House.
"We leap-frogged much more established jurisdictions during that opening weekend," Vogt said, telling participants on the webinar that more stats would be released at the end of the month.
Through its collaboration with tribes, the state wants to stay on top of emerging technological advances in the gaming industry, especially involving mobile offerings, according to Vogt.
"This is primarily a technology industry right now, and there's going to be a lot of innovation that we're not even thinking about, and we want to have rules that will allow innovation to come from the state of Arizona," Vogt said.
Greater interest than anticipated
After five years of negotiating new compacts and companion legislation to legalize them, several tribal communities in Arizona are hoping that the ability to legally conduct mobile and physical sports betting will pay off for generations.
There are 22 tribes in Arizona, and the state granted 10 of them off-reservation sports-betting licenses under the plan. Six of the 10 are currently engaging (and sharing revenues with) commercial outlets to offer their products.
Sixteen tribes in total applied for licenses, which some state and tribal officials said was more than expected. However, some tribes are obviously not happy with how the process turned out. The Yavapai-Prescott Indian Tribe, for instance, recently unsuccessfully sued Gov. Ducey, arguing that H.B. 2772, the bill he signed into law in April that paved the way for sports betting, fantasy sports and other gaming elements, violated the state's Voter Protection Act. Maricopa County Superior Court Judge James Smith disagreed and allowed the activities to proceed this month. More litigation is expected.
"If there's lessons to be learned, if there's a way to get all of the tribes involved, that may be a better model," Stephen Hart, an Indian gaming-focused partner with Arizona-based Lewis Roca Rothgerber Christie LLP who helped negotiate the deal, said during the webinar.
"We actually didn't believe that there were more than 10 tribes in Arizona that were interested in mobile sports betting, but ultimately there proved to be a much greater interest than that," said Hart, who previously worked for the state during its 2003 compact negotiations with tribes.
One reason Hart suspects that more tribes than anticipated applied for licenses stems from the "groundswell of commercial gaming entities" getting involved in the market "to partner with tribes, willing to cover the costs more."
SuperBook Sports, Unibet Arizona, Churchill Downs, Golden Nugget, Digital Gaming and Wynn Resorts are among the entities working with tribes in Arizona thus far.
Hart, who represents the Navajo Nation Gaming Enterprise, noted that there are currently five states with statewide mobile betting offered by tribes: Connecticut, Michigan, Colorado, Florida, and now Arizona.
Arizona tribes, Hart said, decided to work with state officials to try to follow what he called the "Michigan model." Under that model, licensed tribes in Arizona now operate under compacts that allow on-reservation mobile and brick-and-mortar sports betting. At the same time, these tribes are allowed to offer statewide mobile sports betting to patrons beyond Indian lands, but the betting is not rooted in Indian Gaming Regulatory Act compact-sanction wagering. Instead, it is sanctioned through state law.
The compacts also require tribes with casinos to contribute a percentage of their gaming revenue each year to the state, and to cities, towns, and counties.
"If there is a downside to it, it's this idea of state payments and state licensing: Where does that take us?" Hart asked.
Revenue sharing questions
On that point, Amanda Sampson Lomayesva, general counsel at Casino Del Sol Resort of the Pascua Yaqui Tribe, noted that IGRA limits the circumstances under which a tribe can make direct payments to the state. She further explained that tribal exclusivity, which is the exclusive right of tribes to operate types of Class III games and gaming devices, plays a large part in the Department of the Interior's analysis for whether revenue-sharing payments are allowable to the state under IGRA.
"How is tribal exclusivity protected in the 2021 amended compact?" Lomayesva asked. "The short answer is that the 2021 amended compact and the (state's) 2021 gaming act work together to narrowly tailor the expansion of state-licensed non-tribal gaming."
Lomayesva said that under IGRA, revenue-sharing provisions in a state compact are reviewed by the Interior Department very closely to determine whether a tribe has received meaningful concessions from a state for any of the payments that go beyond the state's cost of regulating Class III gaming. For revenue sharing to be legal, the state must give the tribe meaningful concessions, meaning that tribes must receive substantial economic benefit in their compact, which is largely achieved through exclusivity.
"In terms of meaningful concessions, the 2021 compact expanded on the games that are exclusive to tribes," Lomayesva explained. "Blackjack, jackpot poker, baccarat, roulette, craps, sicbo, pai gow and dealer-controlled electronic poker games are all included in the 2021 compact. These games are all exclusive to tribes under the compact."
Lomayesva further said that only five tribes under the compact still pay in the same "tiered mechanism" that was in the 2003 compact for revenue sharing. The remainder of the tribes pay a lower, flat-rate of 0.75 percent of net win. Previously, all tribes with casinos paid 1 percent to 8 percent of their Class III net winnings to the state.
"This expansion of exclusive gaming and the decrease in the revenue sharing for the majority of tribes works together with the 2021 gaming act expansion of non-exclusive games," Lomayesva said.
The Department of the Interior approved the 2021 compact amendments in May after 38 days of review, and that approval was based on an analysis of the concessions the state made in combination with the economic benefits the tribes received under the agreement.
One part of the so-called Michigan model that Arizona tribes could not achieve was securing a license for all tribes in the state, as Michigan has done for all 12 of its federally-recognized tribes.
Hart said Gov. Ducey's office did not want to go above six licenses initially, but it ultimately settled on 10.
Vogt did not address why all tribes in the state could not receive a license, but he said that the governor wanted to see that the "unique character of Arizona was preserved" and "did not want to see a Vegas Strip-style gaming situation" show up in the state. He also believed that gaming should primarily be done where it already is: on tribal lands. For off-reservation betting, the governor wanted "limited bet wagering operator licenses," Vogt said. Finally, the governor wanted to make sure that no tribe under the amended compact became "worse off" than they were under the previous one.
"Those were the main guidelines the governor put out there, then of course, the Supreme Court (in 2018) struck down the federal ban on sports betting, so that kind of came into play. The governor wanted to find a way to make that legal in the state of Arizona but wanted all of the negotiations about betting in the state of Arizona, or gambling in the state of Arizona, completed through the big construct of these tribal negotiations," Vogt added.
More than sports
Michael Ehlerman, a lawyer for the Tohono O'odham Nation and its lead negotiator on the tribal-state gaming compact amendments, said that the compacts ended up positioning Arizona and its tribes to become a "trailblazer" in the industry.
"There are jurisdictions where they close the bets when a game begins, there are very limited wagering options, and Arizona approached this as a very open model," Ehlerman said during the webinar. "There are parlay bets. There's nearly unlimited bets in the games, which is very appealing to people. You can actually place a much greater range of bets in Arizona than you can in Las Vegas. That's a pretty big deal."
"There are non-gaming tribes in Arizona who earned off-reservation event wagering licenses," Ehlerman added. "They successfully competed, and that's kind of exciting in itself. These are tribes that simply do not have markets, or are not able to operate their own gaming on their lands, but they can now, or they can through a partner."
As for what to expect on this front for Arizona-based tribes in the future, Vogt said that the governor's office did not want to preclude betting on events other than sports through these negotiations.
"It is broader than just sports," Vogt said. "These bets will have to get approved (by the Arizona Department of Gaming), but if you look at Vegas, during the Super Bowl, people bet on a wide array of things — who's going to sing the National Anthem, how long the National Anthem is going to take. People can bet on the Oscars.
"There's just sort of an understanding that this could grow, and there will be a wider range of events for Arizonans to bet on, other than just professional and college sports."
--
EDITOR'S NOTE: This story has been updated from its original version.