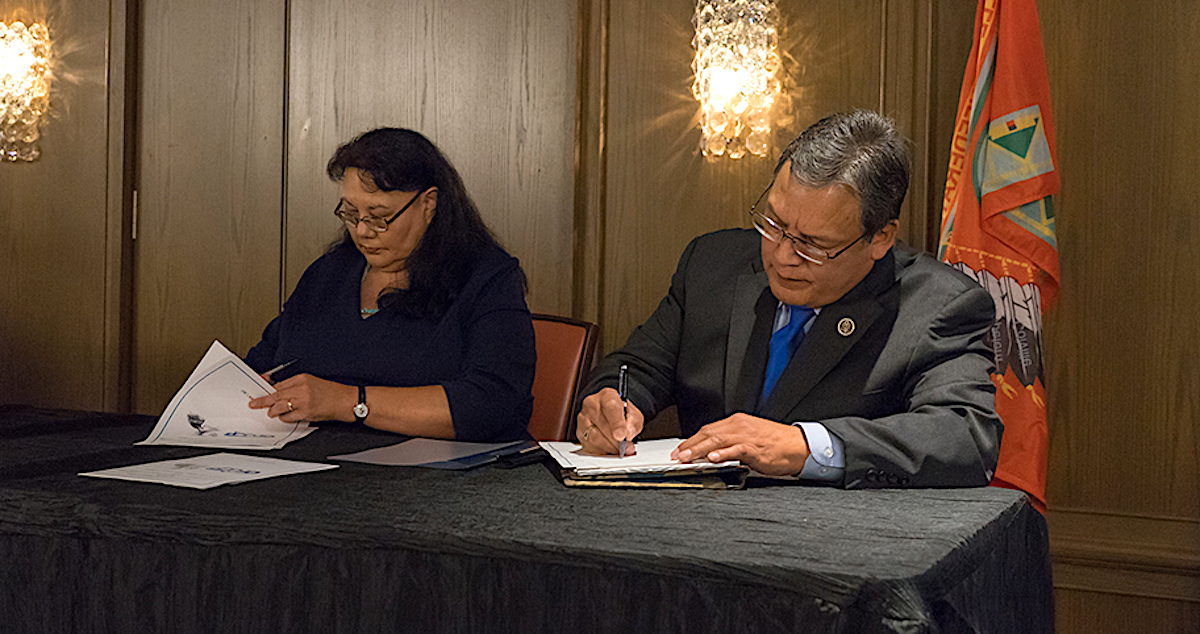 Details

By

Rob Capriccioso

Economic Development
WASHINGTON — Without any formal announcement, Theresa Lujan snuck in under the radar back in early October as the new tribal liaison at the U.S. Department of Labor.
However, her work is not part of the permanent position; rather, she's on a temporary detail.
"I'm responsible for being the liaison between the department and all its agencies and the tribal nations," she explained in a recent interview with Tribal Business News. "I also participate in many work groups that have an emphasis on the tribal communities. So, I participate on the White House Council for Native American Affairs Work Group, the Tribal Treaty Rights Work Group and various other groups where we discuss implications for tribal nations in relation to our specific departments."
After nearly 30 years of advocating from within the department for the permanent creation of such a position — as well as a dedicated Office of Tribal Affairs — to be established at Labor, one gets the feeling that Lujan is keeping her eye on bigger prizes hopefully to come.
Lujan started out at Labor as a secretary and worked her way up to become the director of the Indian and Native American Employment Rights Programs and later as director of the Indian and Native American Employment Rights Programs in the Office of Federal Contract Compliance Programs. Her Native heritage includes Chiricahua and Mescalero Apache, and Picuris Pueblo.
She knows all too well that career staffers at Labor who focus on tribal issues often get pulled in and out of discussions and high-level meetings that have tangential relations to their main work obligations. Without top-level focus, it can sometimes be difficult to maintain strong tribal relations and consultations, as tribes have complained about the agency in the past.
That reality continues to prove to her the necessity for greater Native inclusion at higher levels of Labor, as she said during a June 16 meeting of the department's Native American Employment and Training Council.
"We need to have a subject matter expert in DOL in the Office of Congressional and Intergovernmental Affairs to help us navigate through so many of these different programs and to bring together all of these different groups, like the National Congress of American Indians," Lujan said at the time. "That was one of the things that came out from our tribal consultation with the tribal leaders, and we really need the secretary to act on that."
In a recent interview with Tribal Business News, Lujan talked more about what's going on inside Labor in a variety of tribal areas, including Secretary Marty Walsh's renewed commitment to Indian Country.
Tribes have long advocated for an Office of Tribal Affairs at the Department of Labor. I bothered you and the press office in June about that issue, as tribal leaders had for a long time been asking for an Office of Tribal Affairs at a high level within Labor, fully staffed and funded. Does your new position mean that something's happening on that front?
In the short period of time that I have served in this role, I believe that the department recognizes the need to have a tribal liaison, and I know that it is something on leadership's radar. I'm looking forward to helping in a search to fill this position in a more permanent role, and, just to let you know, I actually advocated to the Office of Congressional and Intergovernmental Affairs to join them on a detail. It was because I saw a need, and I'm very passionate about the mission of the department, and I'm very passionate about working with our tribal communities. When I saw that need, I put my hand up and said, 'Here's how I can help.' And so that's how I made my way into this role.
When you say the department is looking to establish a permanent liaison position, that doesn't sound like an entire office with a staff, but rather one person who might end up having a lot of things on their plate. Is the department considering creating an office or not?
At this point, I couldn't say. That's a question for our leadership to respond to.
Before going on this detail, you had been the director of the Office of Federal Contract Compliance Programs, as well as the director of the Indian and Native American Employment Rights Programs. Have you done anything else at Labor?
I've been with the Department of Labor for 27 years. I started out as a secretary. Then, I became a compliance officer and I did that work for 15 years. Then, I was promoted to assistant district director in Phoenix. About a year after my promotion, I was asked by one of the OFCCP directors if I would be interested in establishing the Indian and Native American Employment Rights Program and working with the tribal employment rights organizations and other organizations that have a focus on civil rights and equal employment opportunity. I was very happy and honored that they asked me, and so I transitioned over in 2013 and helped to create the program. This is my first detail that I've taken in the 27 years, and so it's been a wonderful career in the department.
From your experience, is it difficult for Labor staffers to address the number of tribal needs the agency confronts?
I think that the difference that I see, particularly in the Department of Labor than with other agencies, is that we deal with the workforce. We deal with workforce development, job training, helping individuals in career paths, and this includes seniors, veterans, individuals with disabilities. We help so many people through all of our programs, and we have established a tribal consultation workgroup within the department. We had our first meeting (in early November), and the staff is just so energized to be able to participate and to do more engagement with the tribes.
I would have to say that, through the guidance that we're going to give as the tribal liaison and through our Office of Congressional and Intergovernmental Affairs, we'll be able to help our staff with a better understanding of tribal consultation, tribal engagement, having listening sessions, doing collaborative partnerships. We'll be able to help them with that and to help them based on the tribal needs, as well as the needs within the regions. As you heard during the Tribal Nations Summit, Secretary Walsh said he recognizes or acknowledges that it varies from tribe to tribe, and that's what our workgroup wants to focus on because it's not a one-size-fits-all for the tribes. That's how we want to engage with them. We want to know what their needs are so that we can make sure that the programs that we do have within the Department of Labor can fulfill those needs of the tribes.
During the White House Tribal Nations Summit, Secretary Walsh discussed Labor's commitment to supporting Native entrepreneurs on economic development and technical assistance, as well as workforce development. What does that mean? How do you focus on all of those complex areas and do a good job of meeting diverse tribal needs?
The Department of Labor wants tribes to know that those who need assistance with their business or economic needs, they can reach out to us. We can provide technical assistance and tools to any new and growing businesses and we can also help business owners who need their employees trained so that we're investing in their workforce. We can also help strengthen the workforce through job training and career support. But we have to know what the needs are of that specific tribe. So, we want them to reach out to us. I always (say), 'We are your Department of Labor.' We want you to reach out to us and let us know what you need help with in this area and then we can look at our various agencies.
For example … we have a very, very good registered apprentice program. We want tribes to reach out and we want to give them our Registered Apprenticeship 101 training to let them know what the apprenticeship program is about, how they can partner with the local community colleges, or even the tribal colleges and universities that are in their area and develop the program that this fits the needs of the tribe.
We do provide grant funding in a number of different areas. But, there's this training and support that is even more valuable to the tribal nations. We have two specific programs for youth. One program, a pre-apprenticeship program, gives youth 16 to 24 who left high school without a diploma the opportunity to transform their lives while earning a high school diploma or GED and preparing for the next steps in a career. Then we have our Youth Connections Program, and it's also a youth employment program serving youth 14 to 24 who face barriers to education, training and employment.
We want to start with the youth, but we also want to help veterans. We have the Veterans Employment and Training Services. We have our Office of Disability and Employment policy. For those new businesses, we have a great section on the Section 8(a) businesses that have been certified through Small Business Administration. Now that they're entering into the federal contracting realm, they need to know — if they don't already know — about the Office of Federal Contract Compliance Program and their obligations as a federal contractor to ensure that employees and applicants are not discriminated against, as well as what their affirmative action obligations are based on the dollar threshold of the contract that they hold.
With the programs that we have, we can help businesses. We can help those looking for work, those who want to transition into new work. There's a lot of opportunity. We just need to know which program best fits what the tribes need.
A few federal agencies received major infusions of pandemic relief funding that is directed to tribes, and some of that is focused on economic development and areas where some tribes could need a lot of technical assistance. Even though the money isn't coming into Labor directly, are tribes going to be able to contact the department for technical assistance to deploy funding for broadband or a workforce development project?
Luckily, Secretary Walsh is a member of the president's implementation task force on the Infrastructure, Investment, and Jobs Act and so he's definitely committed the Department of Labor to making sure that good jobs are available for Native Americans on an equitable basis. That includes, again, providing that technical assistance to the tribes because in listening to the Tribal Nations Summit, the tribes spoke about building their infrastructures. It takes a lot of money to have these projects even get started. It's design. It's looking at locations of where this is going to be. So, while all of that is happening, the job training could be taking place.
So, yes, we encourage tribes to reach out to us.
The bipartisan infrastructure deal includes provisions related to workforce development in transportation, communication and energy industries. Is Labor getting any money from that bill directly or is it going to other agencies?
I know that the act includes an investment of $13 billion in tribal communities. But it's my understanding that the Build Back Better Act, once it gets through the Senate, that that is where the actual dollars will come in. That's where our equity is. That's where the dollars are going to come into the Department of Labor.
Can you detail that at all? The House has obviously already passed their version of Build Back Better. Do you know a dollar amount that Labor would be getting for tribal issues under the House plan so far?
No, I do not know that number at this time. I do know that it'll include investments in child care and health care and it'll include investments in climate change that would be crucial to tribal communities, and that'll include renewable energy jobs. It'll include investments, of course, in the rural broadband, and it'll include access to information and technology, which is very important as tribes build on their economies. But I don't have the dollar amount in front of me.
Will any of the funds be set aside for tribes versus a situation where tribes are going to have to apply along with all the other entities that would apply for certain programs?
I'm not sure. I would have to get back with you on that.
What is happening on Labor's consultation front in trying to fulfill Executive Order 13175: On Consultation and Coordination with Indian Tribal Governments? You mentioned earlier the new consultation workgroup, which sounds like an exciting development. Are there other things happening at Labor on the consultation front?
We are working on drafting the tribal consultation policy that will eventually be published in the Federal Register. That will involve tribal consultation. We had our tribal consultation session back on April 14th. We had our tribal consultation session in partnership with the Equal Employment Opportunity Commission. We asked for tribes to provide us with feedback on our plan going forward with tribal consultation. They did provide us with their feedback and comments, and we incorporated those into our progress report.
So now what we're doing with our workgroup is we're determining what policies and guidance for potential proposed rulemaking have tribal implications where we would need to have tribal consultation. Offices are very interested in also having tribal engagement to focus on their specific programs. If we wait for tribes to reach out to us, that's one way. But if we reach out to our tribal leaders and tribal representatives, then we can let them know what programs we have, and then they'll have a better understanding of what the Department of Labor has to offer for them.
The American Indian Population and Labor Force Report obviously involves tribal employment statistics. It was last posted on the Department of the Interior's website in 2013. Labor has since since been tasked with doing the report. What is the status of that report?
The report is currently under review. Through the Employment and Training Administration, I've actually recommended if we could have a tribal consultation once the report is complete. I'm waiting to hear back as far as timeframes, but I don't have a timeframe right now. I just know that it's under review.
Tribal leaders have said they have issues with Labor's relationship with the National Labor Relations Board and that federal body's position on union authority within sovereign tribal jurisdiction. Do you understand tribal leaders' sovereign concerns on that issue?
I do, but I can't comment on that at this time.
How are you going to measure that you have done good work on this detail? What is your personal measure on how you will have done a positive job?
My personal measure is quality over quantity, meaning I want to build good quality relationships with the tribes. I want them to know that we are here to assist them with their workforce, not only workforce development and job training needs, but needs for their tribal communities as a whole: helping with veterans, helping with seniors, helping with individuals with disabilities, helping business enterprises that are new or existing government contractors, helping better understand our wage and hour laws. I want to be able to build these relationships and to be able to have some measurable results that we've had a positive impact on the tribal communities.
Secretary Walsh seems like he is engaging with Indian Country. We both noted his recent appearance at the summit. He's been meeting with tribal leaders. I know he's visited a couple of tribes. Do you feel like his understanding of Indian Country is expanding and evolving and he's really engaging?
Yes, I do. We look forward to having him do more in person and virtual engagement with our tribes. I'm looking forward to keeping up with his engagement calendar and whenever there are opportunities during his travel for him to incorporate time with our tribal leaders, we definitely want to add that onto the calendar and to make the recommendations to his staff the importance of meeting with the tribes.
This interview has been edited and condensed for clarity.
--
EDITOR'S NOTE: This story has been updated for its original form to note that Lujan was director of the Indian and Native American Employment Rights Programs within the Office of Federal Contract Compliance Programs. A prior version indicated she was director of the OFCCP.