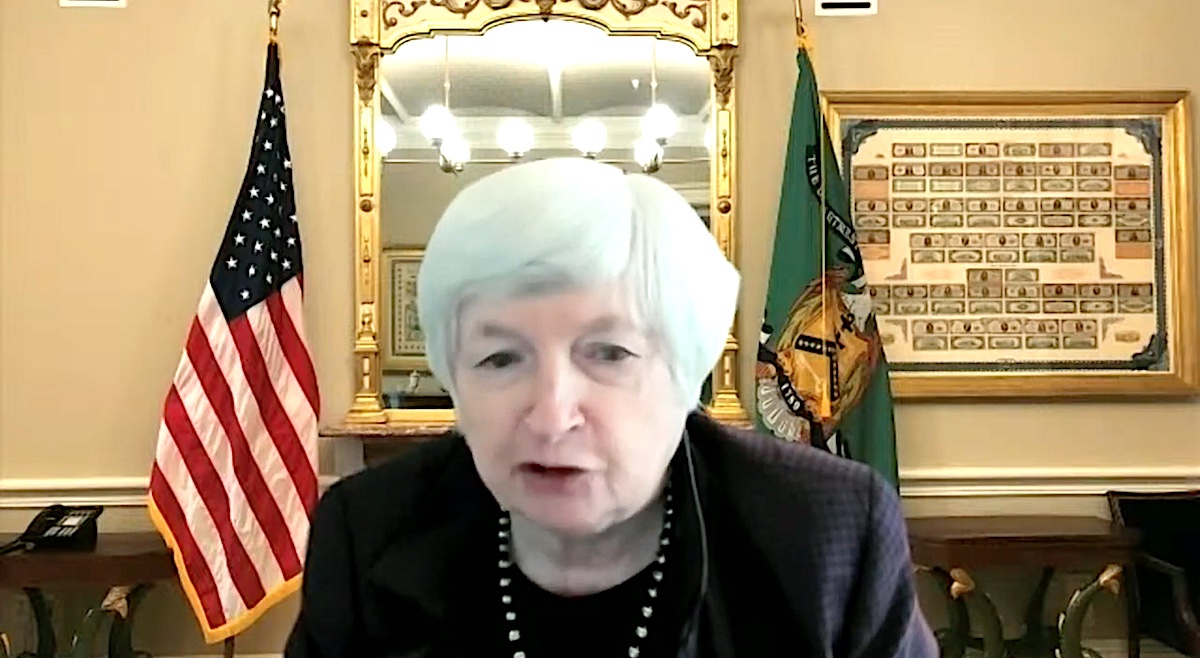 Details

By

Rob Capriccioso

Sovereignty
WASHINGTON — Tribes proved victorious in taking on the White House and the U.S. Department of the Treasury over federal pandemic relief compliance rules related to civil rights law and tribal sovereignty.
Tribal leaders were pleased to learn at the beginning of the White House Tribal Nations Summit on Nov. 15 that the White House was forcing Treasury to halt a portion of the agency's recently released compliance rules. The controversial rules mandated tribes that comply with Title VI of the Civil Rights Act with their spending related to American Relief Plan Act monies received this year.
But in an announcement sent to tribal leaders on the summit's launch day, Treasury announced it was standing down after much tribal criticism.
"The Department (has) clarified that the award terms do not impose antidiscrimination requirements on tribes beyond what would otherwise apply under federal law," Treasury officials wrote in a letter to tribal leaders. "Treasury is amending its reporting requirements with respect to the recovery programs to reflect this clarification. Tribal governments will not be required to certify civil rights compliance for Treasury's pandemic programs."
Treasury's action followed heated arguments within the Biden administration that involved questions over whether the agency truly understands — and wants to understand — tribal sovereignty, according to federal and tribal officials.
Treasury Secretary Janet Yellen admitted when she spoke at the summit that the agency has not previously had a strong relationship with tribes, and she vowed to do more consultation.
Yellen so far has not established an Office of Tribal Affairs, as many tribal and legislative officials have been urging her to do. Instead, she said a team was already in place at Treasury dealing with tribal affairs.
However, that existing team oversaw inequitable tribal formula distributions and compliance rules that have drawn criticism of the Biden administration from tribes and researchers.
Internal deliberations shared with Tribal Business News indicate that top administration officials have pressed Treasury leadership to realize that its actions related to compliance rules and inequities in distributions to disadvantaged tribes are undermining the White House's ability to sell the ARPA funding as a net win for Indian Country. Treasury's actions on compliance and formula distributions could also have put the administration in legal jeopardy, some tribal and federal officials believe, which remains to be seen.
Many compliance rules issued by Treasury related to CARES Act and ARPA pandemic relief funding have been viewed by tribes as paternalistic and overly burdensome, as well as more suited to states and localities, since they tend not to take tribal sovereignty into account.
Tribes have long argued that they are not legally required to follow the Civil Rights Act because of a combination of federal and Indian law, the intent of the U.S. Congress and tribal sovereign immunity. If they were automatically required to follow it because of federal regulations, a litany of tribally unique issues — like Indian preference in hiring and reservation housing assistance, employment practices and related issues — could be on shaky legal ground. Tribal sovereignty, in essence, could be weakened.
Victoria Kitcheyan, chairwoman of the Winnebago Tribe of Nebraska, led the way in highlighting the civil rights compliance issues to the administration. She argued in a Sept. 27 letter to the White House that Treasury's decision to require tribes to sign a form created by the U.S. Office of Management and Budget that provided assurance of compliance with Title VI was an imposition that "violates our sovereignty." She addressed potential legal concerns as well.
Kitcheyan told Tribal Business News in an October interview that her goal was to have Treasury rescind the form.
"Tribes certainly do not want to have to find out in court that we are in legal trouble by filling out that form," she said, noting that if tribes had not completed the form, they would have been in jeopardy of not receiving ARPA funding. Yet, because most chose to fill out the form, the federal government in effect forced tribes to put their sovereignty on the line.
When Kitcheyan spoke during the portion of President Joe Biden's first Native summit focused on Indian Country and COVID-19, tension in the room was palpable, even given the virtual nature of the event.
"Make them uncomfortable," Kitcheyan said in her opening remarks, paraphrasing the words of the late-Frank LaMere, a well-respected Democratic Winnebago political activist who walked on in 2019. She went on to explain why prayer was important in starting Indian meetings to honor ancestors and to help make discussions go well. The White House did not stream the prayer portion during the first day of the summit, a misstep that did not sit well with some tribal citizens. However, the second day's opening prayer was streamed live.
Kitcheyan did not end up talking about ARPA civil rights compliance rules during the portion of the meeting the White House invited her to moderate, but her overarching message of holding truth to power was clear. By the time she spoke, Treasury had already revoked its earlier civil rights compliance rules that had proven bothersome to her and to other tribal leaders. She did not gloat over that fact, instead focusing on the next obstacles in helping Indian Country overcome related to COVID-19, including the need for improved broadband infrastructure and lawful federal research involving tribes.
Other tribal leaders, including Mark Macarro, first vice president of the National Congress of American Indians, did directly raise the matter during the summit.
"There's been a number of developing legal issues here so far in this administration," said Macarro, chairman of the Pechanga Band of Luiseño Indians. "Treasury resolved one just recently regarding the applicability of civil rights."
"The underpinning of economic development for tribes takes place on the foundation of tribal sovereignty, and we've had many fruitful discussions with various agencies on these issues," Macarro added. "So, while we appreciate the diligence of these efforts so far, I need to recommend — strongly urge — the appointment of a tribal legal adviser in the Attorney General's office of the Department of Justice."
Macarro said that such an appointment in the administration's legal leadership would "streamline the learning curve for many who are unfamiliar with the legal foundations of tribal sovereignty."
Gene Sperling, senior adviser to the president and ARPA coordinator within the Biden administration, said during the summit that many governments — including states, localities and tribes — are feeling "overwhelmed" by the implementation of some rules involving ARPA funds.
"When we consult, we don't consult for just that sake," Sperling said regarding that issue. "We listen, and we ask, 'Are the rules we have — however right or well-intentioned they are — are they actually serving the purposes that we want?'"
"We listened about whether it was really necessary for tribal governments to need to prove compliance to certain civil rights laws that would just slow down assistance and not serve the purposes that those laws were intended for," Sperling said, noting the White House's decision to overrule Treasury's regulations.