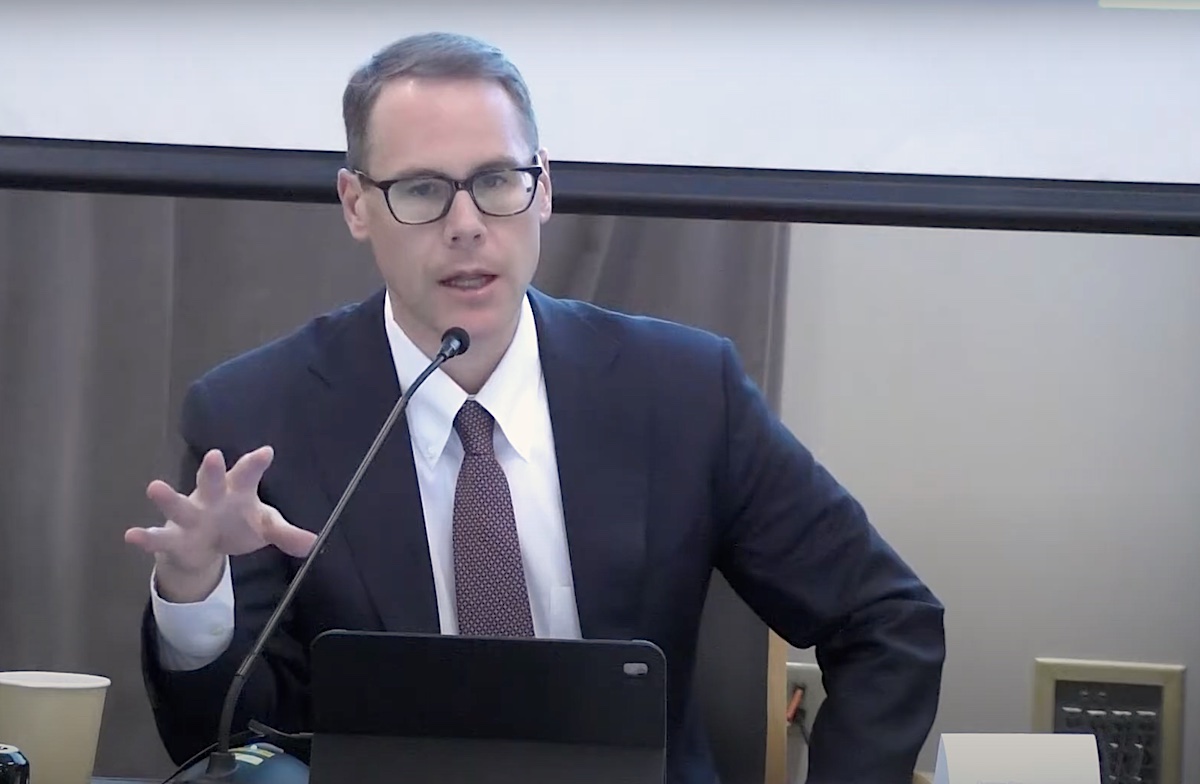 Details

By

Rob Capriccioso

Economic Development
Casey Lozar is in demand.
The vice president at the Federal Reserve Bank of Minneapolis and director of the Center for Indian Country Development since 2018, Lozar took on a detail at the U.S. Department of the Treasury as a special adviser last spring and summer. His objective was to help the $20 billion tribal American Rescue Plan Act distribution process run smoothly after the department's well-publicized CARES Act-related snafus and related litigation.
During webinars and consultations with tribes, Treasury many times relied on him to be one of its main public faces in explaining to tribal leaders what the department was doing.
Whether Lozar and other Treasury officials made ARPA distributions run better is being judged by tribes, federal legislators, researchers and the Government Accountability Office.
Lozar's mission continues, with the Federal Reserve Board this month naming him as its 2021 recipient of the Janet L. Yellen Award for Excellence in Community Development.
"His work as director of CICD, and while on rotation to the U.S. Treasury, has elevated Indian Country issues across the System and nationally," according to a statement issued Nov. 10 by the Federal Reserve Bank of Minneapolis. "With his deep knowledge of Native nations, Lozar worked with U.S. Treasury staff to ensure that $20 billion of the Coronavirus State and Local Fiscal Recovery Funds were allocated to tribal governments across the country."
Lozar, a citizen of the Confederated Salish and Kootenai Tribes, had since been called before the Senate Committee on Indian Affairs to explain not only what the Center does, but also how the Indian Country economy can make strides.
The first answer is easier: "The Center is a research institute that really uses our expertise at the Fed to conduct action-oriented applied research on critical economic questions that may impact tribal economies and tribal governments," Lozar told Tribal Business News in a recent interview. "We've been doing this work for two, maybe three decades at the Minneapolis Fed, working in partnership with tribal communities on a number of different topics of interest to tribal leaders in tribal governments."
The answer to the second question is more complicated, but there are plenty of areas of potential improvement to consider, some of which Lozar discussed in our interview.
What he would not talk about was his service at Treasury and what role he had in any decisions related to the controversial tribal ARPA funding formulas. A condensed version of his interview with Tribal Business News follows.
One thing you said during a recent Senate Committee on Indian Affairs roundtable discussion is that you really want to be looking at what you can be doing to shore up infrastructure in Indian Country over the next 20 to 30 years. What does that mean?
There's incredible heterogeneity across the tribal nations in the United States, and so economic infrastructure needs and priorities are going to vary by region, certainly by tribe. In terms of articulating what that may look like in 20 or 30 years, I don't know if anyone has the answer to that.
One of the things as it relates to infrastructure, particularly public infrastructure: The ability to access financing is really critical to invest in the high-cost developments that are needed in Indian economic infrastructure.
Certainly as we know — I don't think we're going to get in much detail — but the American Rescue Plan, the CARES Act and the infrastructure bill are all providing historic levels of funding that will allow tribes, for the first time, to really invest significant resources in the infrastructure needs that tribal governments see as a top priority. That is absolutely critical, and I think there's an opportunity in front of our tribal leaders to really think about, certainly, mitigating the impacts of this pandemic, but (also) thinking beyond the next four or five years. What are the investments that are needed that we can use these funds now that will create the economic ecosystem and the infrastructure systems for tribal economies, both from a tribal enterprise perspective, but certainly from the tribal private sector? (What is) needed to create the types of opportunities, the entrepreneurial expansion that will allow for the job creation, increasing intergenerational wealth? I think these resources from the federal government are really key in that.
But we certainly know that there's infrastructure needs well beyond the funds that are being invested through CARES and through ARPA. Really identifying ways in which tribal governments can raise predictable revenues to invest in infrastructure or to expand financing opportunities to invest in economic infrastructure is really a primary priority for the Center, as we look at research, as we look at policy engagement.
Let's talk about the heterogeneous nature of tribes. When we're talking about these federal investments, we know that issues of inequity in tribal communities have been a big deal. When you get to talking about inequities within Indian Country, is it difficult to provide solid information to policymakers when there are so many different tribes with so many different levels of economic progress?
That's a great question, and there's no easy answer to that question. I think one of the reasons the Center exists is because there is a dearth of economic data, a dearth of data in general in Indian Country. It certainly makes it difficult to be able to come to conclusions across Indian Country, but it is particularly challenging to come to some economic assessments when you get down to regional levels, or even individual tribal levels. Certainly, to better understand infrastructure and economic stability, there needs to be more investment in data. If you look at a lot of the national surveys, there's certainly undersampling of Native American populations, which does make it difficult to take some of the data that is available through national surveys and to supplant that across tribal areas.
But I would say that our research team does some creative approaches to taking available data and mapping it across specific tribal areas, either based on land or based on population measures, to try to get a sense of the effect that Native Americans are experiencing, or tribal areas, which may be associated with a tribal nation. To be able to really have a deep understanding of the regional effects or the tribal government effects, investing in additional data is going to be absolutely key right over these next 10 years or so.
Through my reporting, I've had people tell me they wish that the CICD could be doing more research related to the numbers and statistics that they feel the U.S. Census Bureau should be doing a better job at collecting and analyzing, based on issues like tribal poverty, income and health insurance. Do you have the capability and an interest in that responsibility?
I think we have an interest in partnering with really any entity that is collecting data or has available data that they may want to share with CICD to conduct some applied research or do some data analysis.
(The American Community Survey) and Census Bureau and a number of the other national surveys are collecting data. And you're right: There needs to be higher quality data that is more specific and responsive to individual tribal governments that will allow for better analysis. And not just across Indian Country, but that will align with the lived experience within tribal nations. It's absolutely something that we're interested in partnering with others on.
We have in the past partnered with some tribal nations on some local survey work. I can think of a recent project one of my colleagues did here at CICD that looked at the potential of a bank branch opening on a tribal nation that didn't have access to a branch. We conducted some research to understand the potential effects of that branch coming to that community, what the community's perspectives were on that, what tribal government leaders' perspectives were on that.
Our research has gone from some work at the tribal government level, the tribal community level, all the way to looking at national figures and figuring out the creative ways to apply this incomplete data that exists in Indian Country to make it meaningful for not only policymakers, but certainly meaningful for tribal leaders as they're making decisions locally to take care of their communities.
It sounds like tribal leaders have been looking to you for two to three decades, but have you noticed policymakers turning to you more since the onset of the pandemic?
That's a good question, I don't know if a comparison would be fair between now and years past. I can certainly say that we've conducted a few CICD surveys that really looked at the effects on revenue and staffing with tribal enterprises and tribal government, real-time surveys, to try to get a sense of how Indian Country was faring. We certainly have had a lot of individuals and policymakers turn to that data. We've written recently on the PPP program where we analyze that program (and) that's led to questions by policymakers as it relates to our findings. Generally, we are hearing more from the tribal policymakers and non-tribal policymakers as we expand the volume of our research and the timeliness of our research.
Having a research mission is one thing, but do you worry about being seen as advocating for Indian Country?
Our role is to do applied research and analyze data and to share our perspectives. We've always prided ourselves in making sure that there's a wide readership of our research and our assessments. … When we have convenings or we have webinars, (we ensure) we're bringing all interested parties to be able to learn and interact and ask questions and continue to provide that deeper understanding of economic development in Indian Country and continue in our independence as the Federal Reserve.
There's so much growth and potential on the Native CDFI front. Do you think over the next 20 years that you will still be talking about the importance of Native CDFIs?
Our Native CDFIs are very important to the story of Indian Country. Twenty years ago or so, there were just a handful of Native CDFIs, and now there are over 70. Really, the key characteristic of a Native CDFI is their staff leadership and their boards are living and are embedded in the community. (They) have a very close understanding of the movement and the levers in the local economy, but also in the financial and the lending economy. They do an incredible job of meeting their community and their community members where they're at. That means dedicating resources to that level of training and education that are critical to do things like improve credit scores to prepare them to access a bank (loan) or start a bank account, to think about savings plans, to prepare to own a home. Those are really, really critical in terms of being at the epicenter of tribal communities and understanding how they work and what their needs are.
In 2017, the Center did a survey of Native CDFIs and there were a couple areas that were the biggest challenges for Native CDFIs. The number one challenge is access to funding or capital pools to be able to do the types of consumer and mortgage lending that their communities were wanting. I think that continues to be a challenge for Native CDFIs. There's a limited amount of resources that Native CDFIs receive outside of, for example, Treasury's Native American CDFI Assistance Fund. Being able to diversify the revenues to grow the capital pool for lending and services will be critical in seeing how big of an effect that Native CDFIs will have in our tribal communities over the next 20 years.
In a recent CICD paper you co-wrote, you said policy solutions to the challenges of dual taxation in Indian Country are in sight and that an upcoming paper from the Center will outline possible solutions. Can you give us a preview?
Certainly taxation in Indian Country is very complex. … There's a dearth of data as it relates to taxation's effects in Indian Country and the opportunities that may exist to expand tribal taxation, opportunities that exist in continuing to improve things like longer standing tribal state-tax compacts, to really understand how they are working, how they are negotiated, what the outcomes are to those compacts on both local and regional economies. This is a new area for the Center that is certainly going to require developing and accessing new data to really understand the role of taxation in the country now and what the role could be in the future.
You wrote that it isn't known how many tribes even tax at the moment, so even that basic baseline is missing, right?
That is correct, and I think that to the degree that the Center for Indian Country Development can help to tell the story (we will). A more comprehensive story of taxation's effects in Indian Country, we'd like to be able to do that. Because it is a critical revenue source for other governments, and it's a characteristic of tribal governance and self-determination that hasn't been leveraged as much as it's been leveraged with state and local and federal governments.
Better understanding why and understanding how that could be a policy tool in the future is really important to having those predictable revenues to be able to take out financing for investment projects, or to invest directly into the public goods that improve economic wellbeing for tribal families and communities.
Will you be tracking what the new bipartisan infrastructure deal and its implementation means for Indian Country?
We are certainly tracking critical legislation to do a number of different things, but primarily to identify if there are research questions that may be helpful to understanding improvisation for regions or individual tribes or Indian Country in general. We'll certainly keep an eye on that as well as other policies that are moving forward to see, with our small team, if there's an opportunity for us to engage from a research perspective.
Same goes for the Build Back Better reconciliation plan?
Yes. We'll have to assess that as well. I think it's probably important to know that, as we ask these big research questions, those questions that are unanswered, oftentimes there are longer tales to that research. We are trying to keep our eye on what it looks like in five years, what it looks like in 10 years to 20 years. That's how we prioritize the types of questions that we hear are important in Indian Country.
The Center worked for a short time under the Obama administration, then during the Trump administration, and now during the Biden administration for a small chunk here. Were some administrations more open to your research or to work with you than others?
We have developed growing relationships over the last many years with folks within different federal agencies, as well as changing leadership in tribal governments. We pride ourselves in working as effectively as we can in developing partnerships with really the eyes on finding ways in which we can contribute to the economic discussions in a good way. That's something that is particularly important to the Federal Reserve, the Minneapolis Fed and the Center for Indian Country Development.
Are you able to talk about your time working on detail at Treasury during the ARPA tribal allocation process?
No. That's not something that I'm going to be talking about. I just really wanted to focus on providing insights on what the Center is and what we're doing.
Given the increased attention to the disparities in Indian Country and the infusion of funding in recent months, can anyone make the case that the pandemic has a silver lining for tribes?
Well, I would never say it was a good thing knowing that we've lost thousands of individuals and really important folks from our communities and our elders and speakers. The one thing that the pandemic has done in Indian Country is that it's widened the lens of folks who are thinking about Indian Country and the ways in which there are opportunities and levers that can be pulled to improve conditions, and to improve the statistics where often Indian Country is on the wrong side of the statistics. More folks around the country — stakeholders, decision makers — were able to get a view into Indian Country that maybe they hadn't had and realized the importance of making investments and providing technical assistance to be able to allow for that economic stability, but maybe more importantly to assist in helping tribes reach their full economic potential.
The tribes that have a head start have had a really big head start in some cases, and the tribes that are behind are really behind in some cases. Are disadvantaged tribes ever going to be able to catch up?
Every tribal government has an opportunity to write their economic narrative, their economic story. You can see examples of that across Indian Country. Some smaller tribal governments have been able to make some critical economic development decisions, some larger ones, some with small land-bases, larger populations, smaller populations, etc. There are stories of success all around the country, stories of resilience, of innovation. From the Center's perspective, if we can provide research and analysis that is helpful for decision makers at the tribal state and federal level to be able to support economic development of tribes that have a wide variety of experiences, then I think the Center has done a good job, and that's what we'll continue to strive to do.
How long do you personally think you'll be at the Center and the Minneapolis Fed?
It's a funny question. I absolutely love working at the Center for Indian Country Development and being able to work with the data and that intersection of data and tribal engagement and policy. It's just a wonderful place to work, a wonderful place to be.
--
This interview has been edited and condensed for clarity.