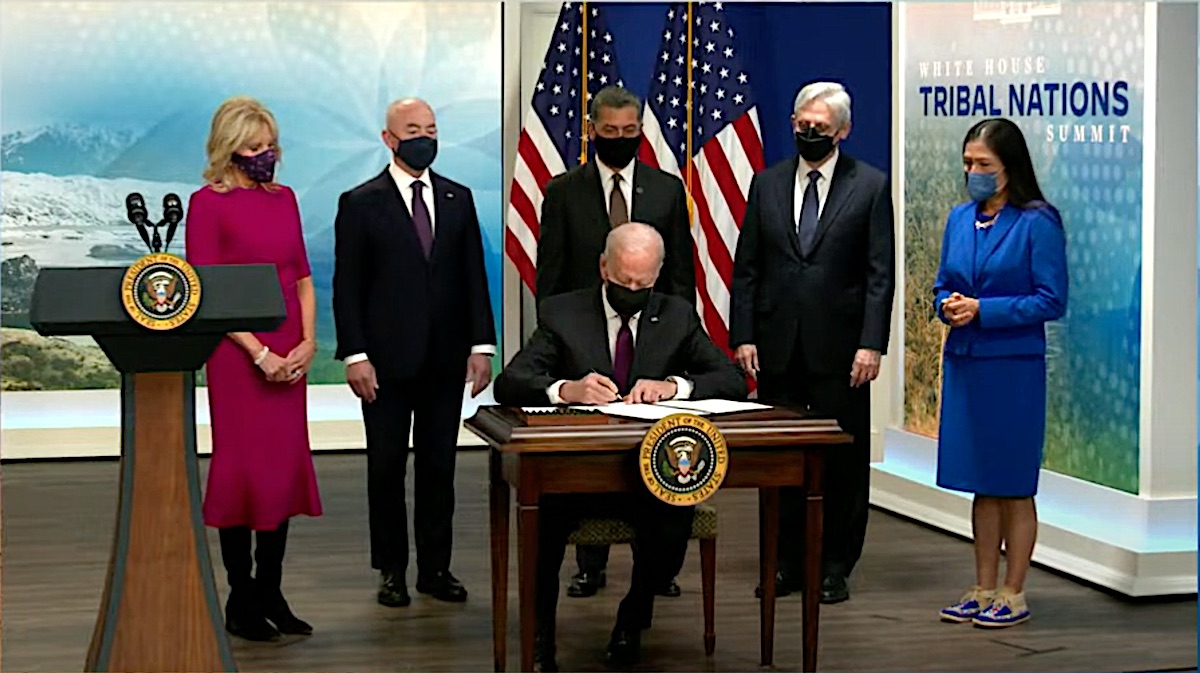 Details

By

Rob Capriccioso

Economic Development
WASHINGTON — After the Biden administration was widely criticized over bungled tribal consultations related to tribal pandemic relief funding, the Department of the Interior is announcing a new plan for consultation that some hope will provide a model across federal agencies for how to do it right.
Interior's announcement comes as part of the White House Tribal Nations Summit, the first such large-scale meeting of tribal leaders — albeit a virtual one due to the ongoing pandemic — since the end of the Obama administration.
The department is forming what is to be called a Secretary's Tribal Advisory Committee (STAC), which is intended to create a mechanism for tribal leaders to engage in routine and robust conversations directly with Interior Secretary Deb Haaland.
The committee will meet at least twice a year, and tribal leaders from each of the 12 Bureau of Indian Affairs service areas will be invited to serve on it. Members will serve for two years in a staggered fashion and will not be paid.
According to the department, the new committee will strengthen the department's nation-to-nation relationship with federally recognized tribes. It is intended to provide an outlet to gather and share information and recommendations about programs and funding that affect tribes across the department.
"Tribes need a seat at the decision making table before policies are made that impact their communities. The creation of this new Tribal Advisory Committee is a timely and much-needed development that will ensure Tribal leaders can engage at the highest levels of the Department on the issues that matter most to their people," Interior Secretary Deb Haaland said in a statement. "I look forward to continued engagement with Indigenous communities and ensuring that we honor and strengthen our nation-to-nation relationships with Tribal leaders."
Assistant Secretary of Indian Affairs Bryan Newland added: "The establishment of a STAC and planned consultation process improvements at Interior are welcome additions to the ways we connect and communicate with Tribal leaders and address their priorities. Their input is vital to improving how we respond to the needs of their communities through the many programs Interior administers."
Further, Interior officials announced that they will be holding tribal consultations about the department's updated tribal consultation policy, which currently is in draft form.
Officials say the overarching goal of the policy is to provide early, pre-decisional and transparent consultation to tribes before federal decisions are made. Interior staff will be required to undergo training before doing consultation, and Interior plans to codify the committee so that future secretaries will be able to use it as well.
The efforts come as part of Interior's implementation of President Joe Biden's January "Memorandum on Tribal Consultation and Strengthening Nation-to-Nation Relationships."
Federal model needed
According to administration officials, there is a great need to establish a federal model for seeking tribal consensus and listening to tribal voices, as was illustrated during the billions of dollars in pandemic relief distributions by the U.S. Department of the Treasury under both the CARES Act and the American Rescue Plan Act.
Some in the Biden administration feel that Treasury would have done a better job at releasing the funds to tribes in an equitable fashion if the department had done better tribal consultation and had Congress required Treasury to collaborate with Interior on distributing the billions of dollars.
Interior has long had a relationship with tribes — although far from a perfect one — while Treasury has had comparatively little interaction.
A report by the Government Accountability Office released at the end of October confirmed problems with Treasury's consultations with tribes during CARES Act distributions. It also found that Interior tended to have a smoother time in working with tribes on distributing the portion of tribal pandemic funds for which it was responsible.
"Treasury's formula for allocating some of the funds used certain population data without consulting with tribes about the data's limitations," according to the report. "Consultation could have allowed Treasury to address affected tribes' concerns prior to making payments — avoiding subsequent litigation and delayed payments to these tribes."
The GAO report further recommended that Treasury "update its tribal consultation policy to consult with tribes on data the agency is considering for use in decisions that have tribal implications."
Similar action at Treasury unlikely
While Interior is working to beef up its consultation profile, Treasury officials have yet to take action on that front.
Many tribal leaders and federal legislators have called for Treasury to establish an Office of Tribal Affairs to help address ongoing concerns, as well as the burdens the department has placed on tribes via unfair distributions and ongoing compliance rules that appear more suited to states and localities.
But a senior administration official told Tribal Business News that Treasury will not announce the creation of such an office as part of the Tribal Nations Summit, as many tribal leaders had hoped.
The official also said that Biden himself will not address Treasury's tribal COVID-19 relief distribution issues during the meeting.
"No, the president, he will not be talking about that," the senior administration official said. "I don't believe that there will be any announcement around an office, but it is something that we are aware of, and the tribes have definitely raised it. I know there is a lot of focus being put on that and how best to deal with tribal issues within the Treasury Department."
Treasury Secretary Janet Yellen is scheduled to appear on day two of the summit on Nov. 16 in the afternoon, and tribal leaders will be closely listening for any announcements she may have to share.
More presidential actions related to tribes, as well as tribal economic development initiatives and infrastructure announcements are expected to be detailed released as part of the summit, which Tribal Business News will continue to follow.