WASHINGTON — Senate and House lawmakers on both sides of the aisle are speaking out against the Treasury Department's formulas for allocating $20 billion in American Rescue Plan Act funding to tribes.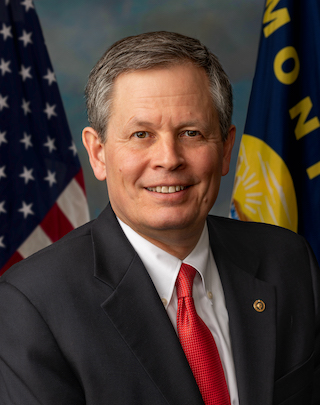 The formulas resulted in wildly divergent amounts of funding being distributed to tribes this year, with some of the most needy tribes receiving the least amount of funds and some of the richest receiving the most funds per tribal citizen.
After the Harvard Project on American Indian Economic Development issued a report earlier this month that lambasted the formulas and called for Treasury to create an Office of Tribal Affairs, several lawmakers publicly expressed their frustrations.
A sample of their ire comes from Sen. Steve Daines, a Republican from Montana, who told Tribal Business News that he is seeking answers.
"President Biden and the Democrats have failed Indian Country with the implementation of the Democrats' partisan spending bill from March," Daines said. "With 574 federally recognized tribes and villages, it is shameful to see 40 percent of these funds go to only 2 percent of the population."
Daines was part of a group of bipartisan senators who earlier this fall urged Treasury Secretary Janet Yellen to establish an Office of Tribal Affairs in an effort to strengthen the Department's relationship with tribal nations and provide more in-house expertise on matters affecting Indian Country.
The senators have not heard back from Treasury on whether it will proceed with such an office, although department officials have promised a forthcoming response.
Alaska Republican Sen. Lisa Murkowski, vice chair of the Senate Committee on Indian Affairs, is also unhappy, according to her spokeswoman Jacqueline Bisille.
"Sen. Murkowski understands that tribal consultation is a critical component of the federal government's fulfillment of its trust and treaty responsibilities to tribes," Bisille told Tribal Business News. "She has long believed that tribes have a right to be at the table when decisions are being made that will impact tribes, especially when those decisions involve funding to tribal communities.
"The senator supports the establishment of a tribal affairs office in the Treasury Department and introduced an amendment to ARPA that would have created such an office. Although that amendment, like many other amendments offered by senators during the process, did not receive a vote, she believes that creating the office is needed and well supported by tribes.
Added Bisille: "We have heard from tribal leaders both praise over Treasury's work done to accommodate such an overwhelming mandate by Congress in administering CARES and ARPA funds, and concern that the department's processes warrant additional capacity and infrastructure to assist tribes with technical assistance, especially as Indian Country contemplates uses for and spends down COVID funding distributions."
Roy Loewenstein, a spokesman for Democratic Sen. Jon Tester, of Montana, told Tribal Business News that Tester "will continue holding the federal government accountable to ensure … resources reach the folks who need it most, and that our economy rebounds as quickly as possible."
U.S. Rep. Teresa Leger Fernandez, D-N.M, told Tribal Business News that she worked hard to secure funding for Native American communities in ARPA, so the situation highlighted by the Harvard report is especially bothersome.
"The report's findings that the distribution of ARPA funds is inconsistent with Treasury's own goals of providing funding to individuals and communities with the greatest need are troubling," said Leger Fernandez, who chairs the Subcommittee for Indigenous Peoples in the House.
"I intend to follow up with Treasury to ensure that it is equitably distributing federal funding and minimizing inequities throughout Indian Country," Leger Fernandez added. "As we move to invest funds to address housing, infrastructure, health care, and climate resilience, we must ensure that each federal agency engages in meaningful consultation with tribes — the trust responsibility demands nothing less."
Congressman Don Young, R-Alaska, the ranking chair of the Subcommittee for Indigenous Peoples, said that he welcomes the Harvard report, its findings and recommendations.
"This oversight is important, but let's be clear: It should have never gotten to this point," Young told Tribal Business News. "Last year, we witnessed the Treasury Department botch the rollout of CARES Act money for tribes. Their delay continues to disadvantage Alaska Natives, who are pushing to spend CARES funds against a year-end deadline that I am working very hard to extend.
"If Treasury couldn't roll out CARES funds properly, why did we expect them to do it any differently for the American Rescue Plan's tribal funding?" Young asked. "As ranking member of the Subcommittee for Indigenous Peoples, I take my oversight role very seriously, but it is also the subcommittee and full Natural Resources Committee's job to make sure legislation is working for Indigenous people across the country. The American Rescue Plan was a purely partisan bill. House Democrats had no interest in negotiating with Republicans. The fact is, countless Indigenous people in Republican-held districts didn't get a say in the American Rescue Plan's relief funding, formulas, or the lack thereof.
"We should also recognize that the American Rescue Plan was an entirely leadership-driven bill. How can members of the Indigenous People's Subcommittee provide expertise and input if legislative items like this are drafted exclusively in Democratic leadership offices and not through regular order? Although we may have our differences, my Democratic committee colleagues should be trusted by leadership to move legislation within their purview."
Young added: "I continue pushing Treasury to be more transparent surrounding funding formulas for the CARES Act and the American Rescue Plan. However, a lack of transparency continues to keep these numbers from the public. The COVID-19 pandemic hit Alaska Natives and Indigenous people across the country hard. Relief funds must be disbursed equitably.
"The bottom line is Treasury continues to show a lack of understanding of Indian Country. Agencies must improve communication with one another and consult with people with expertise. In this situation, Treasury should be working with the Bureau of Indian Affairs, all Tribes, and Native organizations to tailor relief funding equitably. To that end, a permanent Office of Tribal Affairs within Treasury merits consideration.
"At the end of the day, our country's Native people need this funding; bureaucracy must not get in the way."
Young pledged he would seek "answers from Treasury and take action to ensure that tribes get the support they need to bounce back from this pandemic."
Want more news about the $130 billion tribal economy?
Tribal Business News publishes thoroughly reported and well-crafted stories about Native businesses and entrepreneurs, growth and expansion strategies, best practices, economic data, government policy and other relevant business news. Tribal Business News is required reading for tribal council members and leaders of Native businesses, as well as state and federal legislators, policymakers, economic developers, entrepreneurs, bankers, lawyers and anyone interested in doing business in Indian Country.
Sign up for our free newsletter to track Native business and the tribal economy. Or sign up for a discounted subscription ($99/year — use coupon code "TBN21") to gain full 24/7/365 access to our business news reporting. Megwetch.