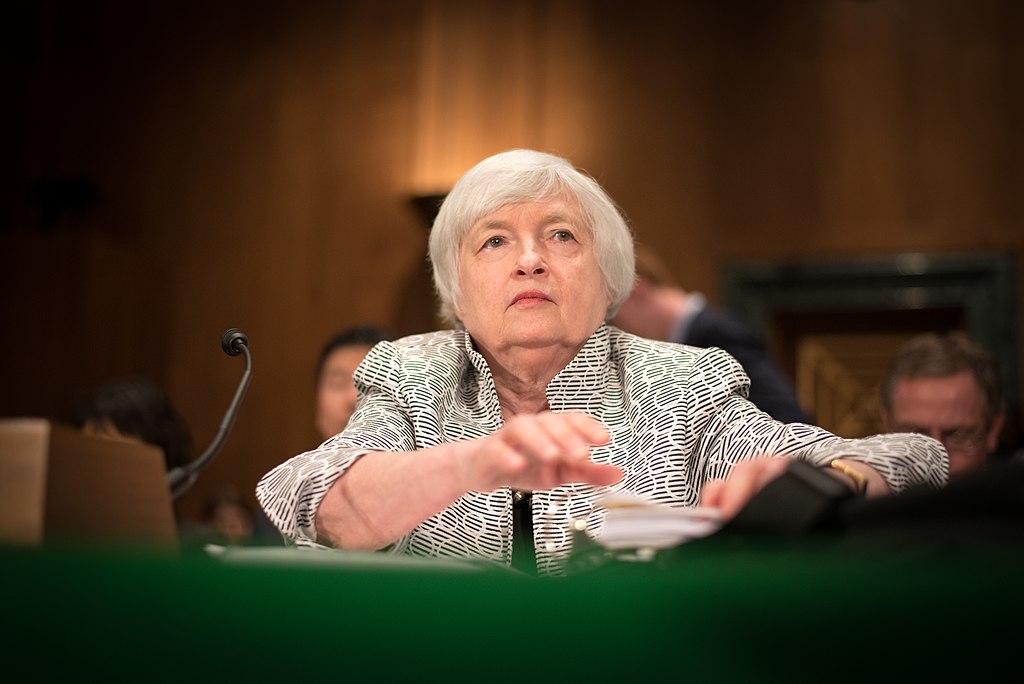 Details

Economic Development
WASHINGTON — A group of U.S. senators has written a letter to Treasury Secretary Janet Yellen urging her to quickly establish an Office of Tribal Affairs at the U.S. Department of the Treasury.
"The recent tribal consultations and interactions between Treasury and tribal nations underscore the need for sufficient, dedicated, in-house expertise at Treasury on tribal policy matters," five senators wrote in a Sept. 29 letter. "The establishment of such an office has support from Indian Country and would improve Treasury's ability to fulfill its trust responsibilities to respect the nation-to-nation relationship between the federal government and tribal nations."
The letter was penned by Democratic Sens. Elizabeth Warren of Massachusetts; Ron Wyden and Jeff Merkley, both of Oregon; and Alex Padilla of California. Montana Republican Sen. Steve Daines also signed on, making the letter a bipartisan request. He closely watched over the pandemic relief distributions and was a top advocate in Congress for tribes to receive COVID-related aid during the Trump administration.
The senators' recommendation comes as a result of deep legislative and tribal concerns about the equity of disbursements of pandemic relief funding to tribes and claims of a lack of consultation raised by tribal leaders during Treasury's distribution process this past summer.
[RELATED: Tribes say Treasury's American Rescue Plan employment-based formula creates inequity]
Some wealthier tribes received exceptionally large payments in the hundreds of millions of dollars under a portion of the American Rescue Plan Act's Treasury-created formula that tied disbursements to tribally-reported labor force numbers.
Tribes with larger employee bases received multiple millions more dollars than many smaller, less wealthy tribes, suggesting Treasury should have deliberated the formulas more fully, according to lawmakers.
[RELATED: $6.65 BILLION AT STAKE: Senators urge Treasury Department to address tribal inequity issues in American Rescue Plan]
The senators touched on that issue in their letter, writing: "The recent historic appropriation of federal funding for Tribal governments via the Treasury Department has the potential to be transformative and life-altering, which places a great responsibility on the Department to ensure that this consequential funding is allocated fairly while guaranteeing that subsequent regulations are reflective of the realities that tribal nations face."
In the pursuit of fairness, Treasury officials did consider changing the employee-based portion of their formula after intense pressure from some tribal leaders, lawyers, lobbyists and legislators, according to people familiar with the internal deliberations of the department.
But Treasury officials decided to keep the formula largely as-is when wealthier tribes threatened to sue if changes were made after the initial formula was publicly announced. Treasury did add a $1 million minimum baseline for all tribes under the employee-based portion of the plan, but it did not institute a cap on the amount any one tribe could receive, as many tribes were advocating.
[RELATED: Tribes alarmed by Treasury Department's handling of $20B American Rescue Plan funds]
Treasury faced multiple tribal lawsuits after its CARES Act distributions during the Trump administration, and department officials did not want to go through similar litigation during the Biden administration, sources familiar with the thinking inside the department have told Tribal Business News.
These sources also say that political appointees in particular wanted to frame the distributions as a crowning achievement of the Biden administration for tribes, but they perhaps did not fully understand the consequences and optics.
The steadfast decision indeed left poorer tribes struggling during a time when the Biden White House was promoting equity, according to several tribal leaders who raised alarm bells with Treasury officials, and which Tribal Business News has previously covered in depth.
Legislators, including Democratic friends of the administration, did not look kindly on Treasury's decision to not hold more consultations with tribes to more fully comprehend the problems it was creating.
Sen. Wyden, chair of the U.S. Senate Committee on Finance, told Tribal Business News in August that for Treasury "to make sure those investments are delivered equitably demands more engagement with tribes."
In their current letter, the senators said that Treasury's attention to tribal matters is lacking.
"The recent work of Treasury during the COVID-19 pandemic has shown that the Department requires a more formalized body to interact with tribal nations," the senators wrote. "Treasury needs a sufficient number of permanent personnel who can help improve the Department's tribal consultation process, strengthen the Department's relationship with tribes, and provide more inhouse expertise on matters affecting tribal nations."
The legislators expect Treasury to deal with tribes on many more issues in the near future and beyond, including on tax and finance, economic development, capital needs, and trade policy, according to their letter.
The current Treasury Tribal Advisory Committee formed in 2014 is insufficient to address all of the topics, the legislators wrote, adding, "this body is not a substitute for a dedicated Office of Tribal Affairs." In fact, they said that such an office with dedicated staff "would likely help coordinate" the committee's work.
"President Fawn Sharp of the National Congress of American Indians has testified that 'an Office of Tribal Affairs is critically needed within Treasury to address tribal economic development, tax, and capital needs; integrate tribal nations within Treasury policy making; and facilitate tribal consultations.'" the senators wrote in the letter.
"Recent events have confirmed President Sharp's statement. Concerns about Treasury's interactions with tribal nations regarding pandemic relief funding were also voiced during the last administration."
The senators pointed to President Joe Biden's January Memorandum on Tribal Consultations and Strengthening Nation-to-Nation Relationships as yet another reason for Treasury to establish an Office of Tribal Affairs.
"Although the pandemic has underscored the urgency of Treasury having proper in-house capacity to address tribal issues appropriately, this need existed before the pandemic and before this administration, and, absent institutional changes at the Department, it will continue to exist after the pandemic and after this administration," the senators added. "Therefore, we urge the Department of the Treasury to establish an Office of Tribal Affairs."
The senators are requesting a response from Sec. Yellen by Oct. 13. Treasury officials did not immediately respond to requests for comment by press time.
Tribal and congressional officials said Sen. Warren is pursuing legislation that would call for the creation of such an office if Treasury does not proceed with one on its own.
Want more news about the $130 billion tribal economy?
Tribal Business News publishes thoroughly reported and well-crafted stories about Native businesses and entrepreneurs, growth and expansion strategies, best practices, economic data, government policy and other relevant business news. Tribal Business News is required reading for tribal council members and leaders of Native businesses, as well as state and federal legislators, policymakers, economic developers, entrepreneurs, bankers, lawyers and anyone interested in doing business in Indian Country.
Sign up for our free newsletter to track Native business and the tribal economy. Or sign up for a discounted subscription ($99/year — use coupon code "TBN21") to gain full 24/7/365 access to our business news reporting. Megwetch.