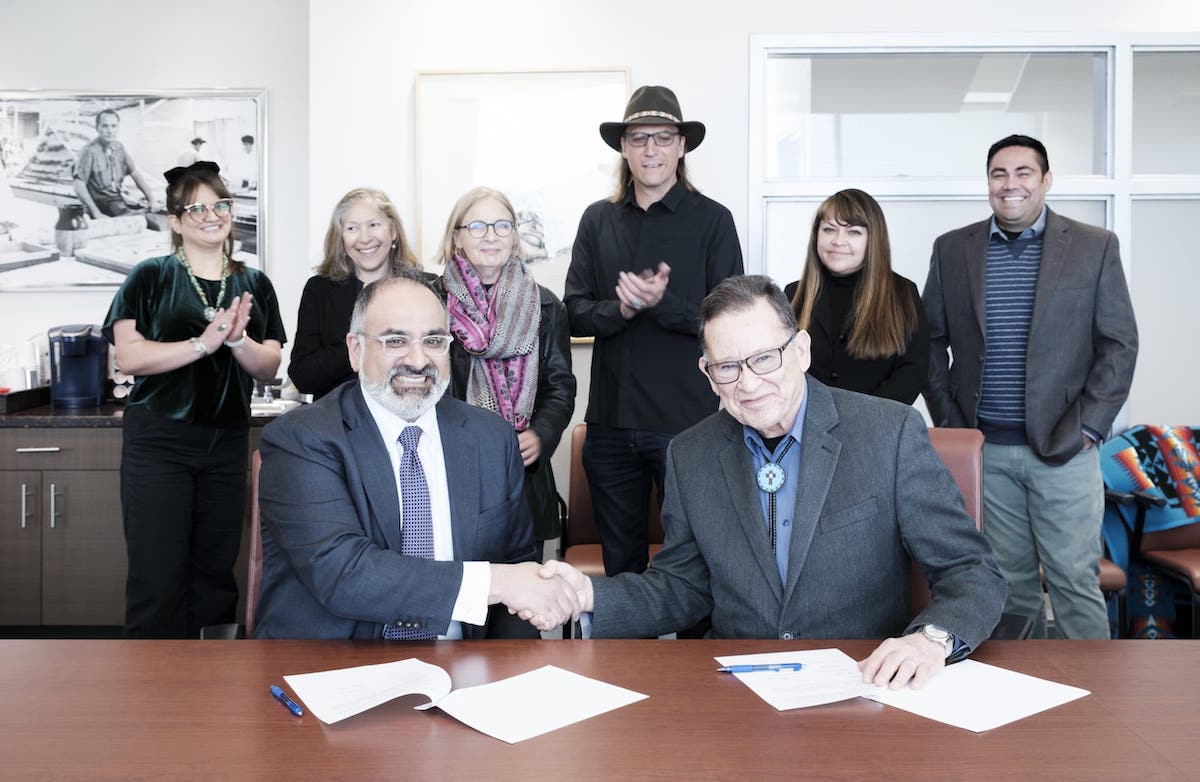 Details

Higher Education
VALENCIA, Calif. — In his role at the California Institute of the Arts, Chad Hamill has embarked on a process of "Indigenization" that aims to elevate Indigenous programming, faculty and students at the renowned professional arts institution.
That move is appropriate given the school's presence on unceded land from the Fernandeno Tataviam Band of Mission Indians, who frequently visit the campus to share their culture, said Hamill, the president's fellow of Indigenous arts and expression at CalArts.
"Last November, they came to campus and offered a blessing, birdsongs, and stories, shared some stories with the community," Hamill, a member of the Spokane Tribe, told Tribal Business News. "Just a few weeks back, they were on campus again and in this case they left time for Q&A. These visits are designed to give the CalArts community a deeper sense of where they are."
Never miss the biggest stories and breaking news about the tribal economy. Sign up to get our reporting sent straight to your inbox every Monday morning.
The Fernandeno Tataviam tribe also launched a burgeoning partnership with CalArts, enabling tribal students to study film and art through one of the school's programs, the youth-focused Community Arts Partnership.
"Last summer, (Community Arts Partnership) started working with the Fernandeno Tataviam Band of Mission Indians, and it went so well that they requested a yearlong program. We're working with that yearlong program now, working with young people to give them the tools to become filmmakers," Hamill said. "This is the first time (CalArts) worked directly with a Native community. There's so much interest in those students that they're talking about applying to CalArts."
Another step in the "Indigenization" of CalArts took shape in the signing of a memorandum of understanding with the Santa Fe, N.M.-based Institute of American Indian Arts, paving the way for faculty exchanges, shared residencies, joint degree programs, and eventually student transfers in both directions.
IAIA will help "guide" those indigenizing efforts while improving its students' access to art technology and job opportunities through CalArts' ties to the film, animation and music industries.
"As a school that has been in existence for sixty years, IAIA has built connections with many institutions interested in Indigenous arts and artists," IAIA Academic Dean Felipe Colón said in a statement. "IAIA has long had informal community connections with CalArts through our students, alumni, and faculty. Through this partnership, we will build a reciprocal and collaborative relationship for the future."
IAIA identified potential areas of cooperation in programs in cinematic arts, creative writing and museum studies. There's also potential for joint public engagements, like performances, seminars, symposia and conferences.
"As an Indigenous institution, we believe that Indigenous ideas and values are not exclusively Indigenous," Colón (Laguna Pueblo) said. "Indigenous people have a lot to teach the world. By exposing more of who we are to the students at CalArts, they will learn Indigenous values, practices, and in some cases, techniques that they can impart in their work, their practice, and their consciousness as artists."
While the partnership with IAIA has definite goals, CalArts President and CEO Ravi Rajan called the agreement "exploratory" as the schools figure out how to meet the respective needs of each member.
"If we force some issue here, it isn't likely to last," Rajan said. "This is something we want to establish and make sure it stays for a long time."
A diversifying perspective
Reaching both Indigenous students and non-Indigenous students with a Native perspective forms an important goal for CalArts, Hamill said. Reaching Native students can bring them to the school, while reaching non-Native students can provide a point of view many of them have not encountered before.
"We're engaging in what I refer to as a curricular intervention," Hamill said. "I've been teaching for roughly 25 years, and the common refrain I hear from non-Native students is, without fail: 'How is it I know so little?'"
Non-Indigenous students often enter classes with no knowledge of colonial history, ranging from ignored or violated treaties to the horrors of residential schools, he said.
In response, Hamill started teaching a class called "Indigenous Aesthetics: The Art of Resistance" that blends Indigenous art with discussions of Native history.
"This is particularly important for non-Native students who have gotten very little of Native history and a sense of contemporary Native communities," he said.
That's why the IAIA partnership is so crucial, according to Hamill: To provide the Indigenous perspective, CalArts needs more visiting Indigenous artists, more permanent Indigenous faculty, and more Indigenous-centered curricula.
"It's really important to combat or counter that erasure. To do that, we bring Indigenous and Native content directly not just into the classroom but into the studio, into performance venues. One of the best ways we can do that is by bringing Native artists to CalArts," Hamill said. "That's what 'Indigenization' means."