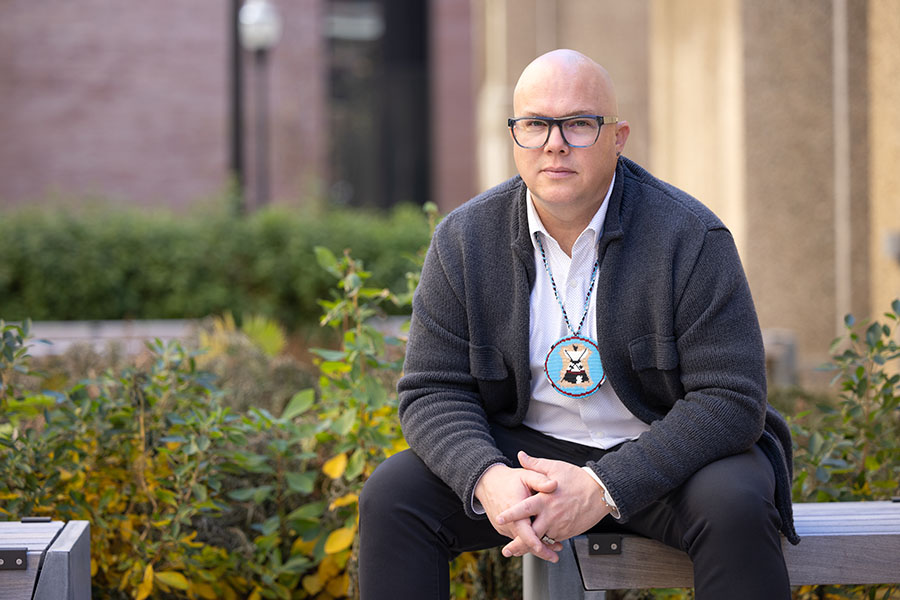 Details

Higher Education
Data gaps in Indian Country have long been a problem, preventing Native Americans from understanding and solving health crises facing their communities.
To address this issue, in 2021 the University of Minnesota's School of Public Health launched an effort in to train Native Americans in public health informatics — the application of data, tech and information systems to public health practice and research. The school adapted its existing public health program to offer a master's-level track tailored to informatics education for Native American students. A commitment to funding scholarships for Native students followed.
Never miss the biggest stories and breaking news about the tribal economy. Sign up to get our reporting sent straight to your inbox every Monday morning.
This semester, the school has begun fine tuning the program to better discuss data sovereignty — an increasingly common concern in Indian Country — and struck up a partnership with the University of Minnesota at Duluth's Masters in Tribal Administration and Governance to enable credit transfers for some of that program's classes to the informatics program.
That's in addition to accepting around five Native students a year for full-ride tuition scholarships for the program. So far, that scholarship has supported nine students, four of whom have finished their degrees. That's four students who can take that information and understanding back to their tribes and begin improving health outcomes in their communities, said Feather LaRoche, the Native American student services coordinator at UMN's Public Health Administration and Policy (PHAP) MPH program in the School of Public Health.
"We are looking to educate and train a workforce of Native people who can push for better processes and advocate for their tribe and their tribal members," LaRoche told Tribal Business News. "Through this program, we can have specialists from our communities who better understand how to gather and combine health care data from the Indian Health Service, environmental health and wildlife data from departments of natural resources, and administrative data from Tribal governments, in a way that is sensitive and respectful to tribal members' needs."
The informatics program provides students with the skills to gather, analyze and interpret health data in a way that is culturally sensitive and respectful of tribal sovereignty. Having Native voices and perspectives is crucial in the process of gathering data about Native health, LaRoche said.
The program offers the degree in traditional on-campus classes, through fully remote classes, or through an "executive" program for mid-career learners in a bid to meet students where they are, LaRoche said.
In addition to classes, students can gain practical experience by working with the Minnesota Department of Health, tribal epidemic centers, Native American health clinics, and other practice partners. Students will learn to gather, comprehend, and utilize digital data to understand the origins and potential treatments for poor health outcomes in Native communities, LaRoche said.
LaRoche, himself a member of the Kul Wicasa Oyate Sioux tribe of South Dakota, spoke with Tribal Business News to discuss the importance of Natives gathering and owning their health data.
What makes having Natives in the public health informatics sector so crucial?
Trust. To me the first word that comes to mind is trust. If we could get our elders, our aunties, our uncles, our grandmas and get them to understand and better trust the health system, we could have more memories and share more time together.
You've had personal experience with relatives distrusting IHS?
My auntie. She didn't trust IHS, she didn't trust the health service, and then when she went in, it was a little too late. So stuff like that draws me to (public health informatics). How do we build that trust within our communities? How do we keep control over the information we gather and how the data is used?
And having Natives working in the health system and acting on that data can help solve that issue?
This is data sovereignty at a very personal level — we're talking about our health. We need our own people, our own community in there running these systems and running these processes, and be able to say, "This is how we're going to do it and not have it dictated to us how things are run back home."
Sounds like you're starting a movement as much as you are starting a master's program.
It's a wave that can spread out and touch so many other aspects of what we're trying to do. This gives us a running start on how we work with our own community, but other tribal communities to maximize the potential benefit that lies in front of us.
Have you looked into other areas to continue promoting careers in health informatics?
This is the top-down (approach), and we're looking for a way to go from bottom to top. We're trying to figure out a tribal health model that we can run with high-school students, and show them the importance not only of public health, but also the opportunities. There are so many opportunities to have an impactful career there.
The access, money, and getting accepted — that's almost second, because the students on the reservation might not try to go for something they don't think they can achieve.
But you believe they can make an impact?
I was born and raised on the res, and I know how much potential is there. I've seen how much potential is lost, and we need to put an end to that. We can start growing awareness of the careers and opportunities that lie ahead, and we can say this will save X amount of lives. We can start there. It's a long road ahead, but it's a start.