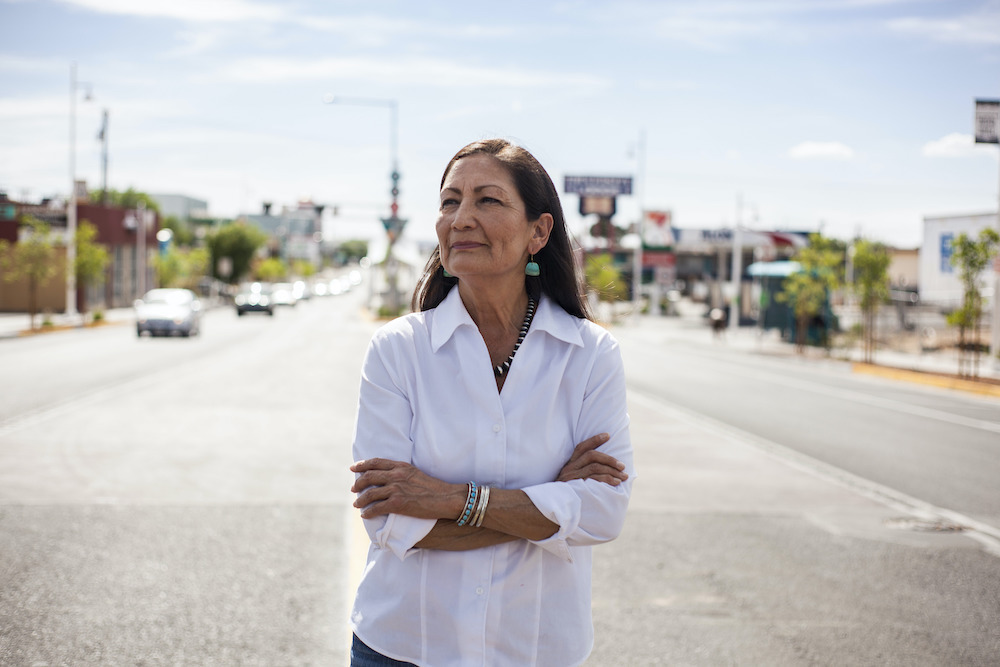 Details

By

Deb Haaland

Opinion | Op-Ed
Guest Opinion. Before I was Secretary of the Interior, or even a member of Congress, I was an organizer. With signs made on my kitchen floor with poster board and markers, I urged our leaders to act for and invest in Indian Country.
Today, my tools for change look different. With documents signed at the desk of the Secretary of the Interior, we are charting a new course for our communities. And with more than $45 billion in funding from President Biden's Investing in America agenda – from the American Rescue Plan, Bipartisan Infrastructure Law, and Inflation Reduction Act – we are acting for and investing in Indian Country.
I feel a great responsibility to take all perspectives into account to leave a better America for future generations. It's a responsibility of the position I hold, but also one that I inherited from my ancestors. With these historic investments, we are empowering Tribes to build long-term resilience for our communities.
Never miss the biggest stories and breaking news about the tribal economy. Sign up to get our reporting sent straight to your inbox every Monday morning.
During a recent visit to the Hopi Tribe in Arizona, I announced a $6.6 million investment that will replace the water distribution system at Keams Canyon. For generations, Hopi people have been exposed to groundwater that contains unsafe levels of arsenic – a hazard we are finally addressing. One Hopi leader shared that while his Tribe has long felt invisible in the eyes of the federal government, "This new project… it makes us feel seen."
Feeling seen also means being appreciated for who we are – the original stewards of our shared lands and waters. It means incorporating our unique perspectives to addressing the greatest challenge of our lifetime: the climate crisis. For many Tribes, existential threats like rising sea levels are already at our doorsteps.
In response, we are leveraging an initial $155 million to advance a Voluntary Community Driven Relocation program for impacted Tribes. In May, Assistant Secretary for Indian Affairs Bryan Newland joined the Quinault Indian Nation in Washington State to see relocation progress underway. With these important resources, the Tribe can remain on its ancestral homelands at higher elevation for future generations to steward.
Our country is finally responding to the climate crisis. That is why we are prioritizing an essential yet globally underutilized solution that must help lead our climate response: Indigenous Knowledge.
This tool is at the core of co-stewardship agreements being made with Tribes across our country.
Our Administration has signed more than 20 agreements, with many more in review. They include one with the Rappahannock Tribe in Virginia, which will now manage 465 acres of re-acquired ancestral homelands at Fones Cliff, a sacred site and essential habitat for bald eagles. While visiting, I learned from Chief Anne Richardson how this agreement will strengthen the Tribe's sovereignty and protection of its homelands. Her words of love and dedication to her people and their future resonates with me deeply.
This long-overdue change has only begun, but it cannot happen in a vacuum. If we want everyone to thrive, we must address the intergenerational pain our people still carry.
Through the Federal Indian Boarding School Initiative, we are unraveling the era of assimilation that has scarred every Indigenous person I know. Part of this work is about giving space for survivors and their descendants to share their stories. "The Road to Healing" is a year-long tour with Assistant Secretary Newland and I, that brings trauma-informed resources and a forum to grieve and heal together. To date, we've held eight sessions, with more to come. By telling our stories, we will honor this shared trauma and move forward.
Our healing initiatives include efforts to elevate the Missing and Murdered Indigenous Peoples and Human Trafficking crises through inter- and intra-agency law enforcement coordination and increased resources, and our support for the Not Invisible Act Commission. Since the first pangs of colonization on this continent, Indigenous people have gone missing and worse. This 500-year-old crisis must come to an end. I am grateful to the professionals who carry out this mission, and to the families who assist us in this painful but essential endeavor.
As I reflect on our path together, I am filled with gratitude for President Biden's dedication to Indigenous peoples. I am grateful for his willingness to put someone who has lived on the receiving end of federal Indian policy in a position of influence. Our work for Indian Country is far from over. We may not agree on every decision, but the progress we've accomplished – with investments made possible by this Administration – can never be taken from us.
The tools I carry may look different now, but my perspective is unchanged: With Indigenous wisdom, resilience and worldview at every decision-making table, we will usher in a future that our children and grandchildren deserve to inherit.
Deb Haaland is the United States Secretary of the Interior. A member of the Laguna Pueblo, she is the first Native American to serve as a cabinet secretary.