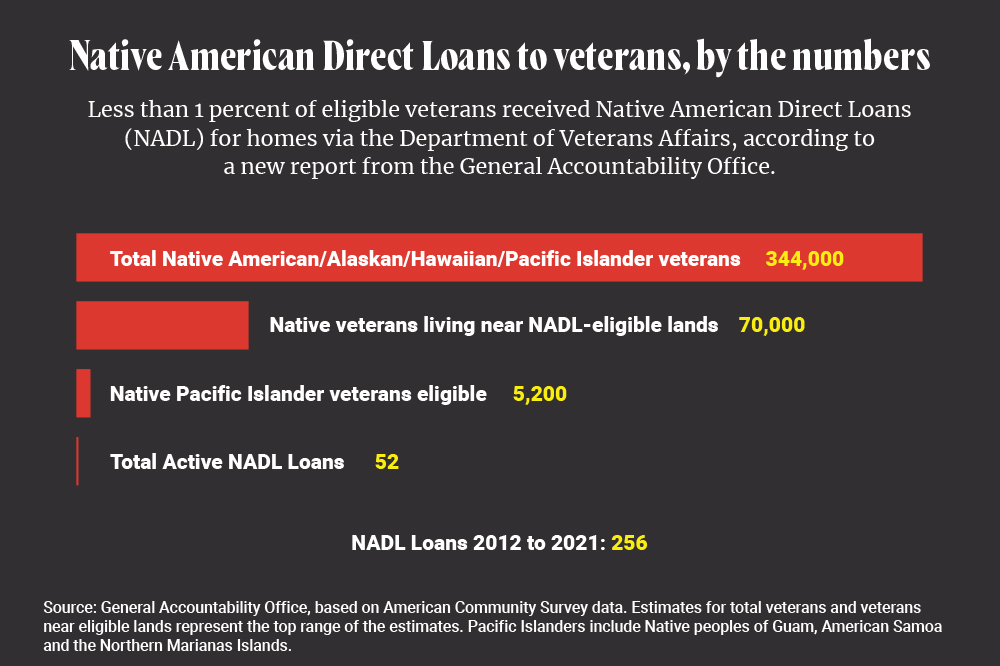 Details

By

Mark Fogarty

Real Estate
The Department of Veterans Affairs Native American Direct Loan (NADL) program is seriously out of whack.
That's according to a new report from the Government Accountability Office that found the home loan program has made "relatively few loans" — just 256 loans over a decade. Moreover, the findings noted that two-thirds of the loans went to Native veterans in Hawaii or the American Pacific Islands, including Guam or the Northern Marianas. Just one-third of the loans went to vets in the 48 contiguous states, and none at all in Alaska.
Never miss the biggest stories and breaking news about the tribal economy. Sign up to get our reporting sent straight to your inbox every Monday morning.
In all, less than 1 percent of Native veterans eligible for the NADL program have received loans, the agency reported. The GAO estimated that as many as 75,000 Native vets are eligible for the program, which only has 527 active loans.
One obstacle for a Native veteran to get an NADL loan is that his or her tribe must have a memorandum of understanding (MOU) with Veterans Affairs, but relatively few tribes have them. GAO said 70 percent of tribes in the Lower 48 states did not have them, and only one tribe in Alaska and four governments in the Pacific have them.
"Relatively few NADL-eligible entities with MOUs also have veterans in their communities with NADL loans," the GAO said in the report.
"For example, 60 of the 108 entities with MOUs (through September 2019) did not have any veterans with active NADL loans, as of September 30, 2021. Similarly, 17 of the 23 entities with which VA signed an MOU from October 2011 through September 2019 had no veterans in their communities who had received a NADL loan. This suggests that signing an MOU is not sufficient to generate NADL loan applications from qualified veterans."
As the accounting arm of the U.S. Congress, the GAO made 10 recommendations for the VA to get this program back on track. Veterans Affairs for its part has concurred with all of the recommendations and says it has implemented four of them already. However, GAO does not agree with that self-assessment.
Importantly, all Native American veterans can apply for the regular VA mortgage to which any U.S. veteran is entitled. The NADL is designed to help vets who want to build or buy a home on reservations or Native areas, where banks often do not want to lend because of the more complicated status of Native trust lands.
In its scathing analysis, the GAO said the agency lacked information and processes and staff to have an effective program: "Although the NADL program was intended to ensure Native American veterans can use the home loan benefit earned through their service, VA does not have the information or processes to fully meet that responsibility. Additionally, until recently, the NADL program did not have staff working full time on it, and the program has made relatively few loans to Native American veterans."
Currently, it says the program has seven full-time staff, after having no full-time staff as recently as September 2021. Before then, VA staff in regional loan centers ran NADL as a secondary priority based on the volume of activity.
As to why the bulk of the lending has gone to Native Hawaiians and other Pacific Islanders, the GAO found that "(t)he relatively higher volume of NADL loans in Hawaii and the Pacific territories (compared to the contiguous United States and Alaska) may reflect broader differences in the utilization rate of VA services."
"A 2020 study of veterans' use of VA benefits and services found that in fiscal years 2008–2017, Native Hawaiian and Native Pacific Islander veterans had the highest rate of benefit utilization among racial groups (59 percent). American Indian and Alaska Native veterans had the lowest rate (42 percent)," the GAO said in the report. "VA officials said that the NADL-eligible land in Hawaii tends to be in locations closer to employment centers, which also may contribute to the demand for NADL loans in Hawaii. In addition, veterans in the Pacific territories may have fewer options."
When it considered why the VA has made no loans in Alaska, which has more than 200 Native villages, the GAO offered a stunning conclusion: "VA staff have not developed a plan for operating NADL in Alaska."
GAO's recommendations to revamp the program include:
The VA should develop a plan for implementation of NADL activities under the new staffing structure, to include staff priorities, resource needs, time frames and assessment of the changes made.
The VA should comprehensively assess its needs for collecting and using data to monitor and oversee NADL outreach and MOU negotiation.
The agency should develop and implement mechanisms, such as surveys or focus groups, to collect feedback from Native American veterans, NADL-eligible entities, and other knowledgeable groups on NADL activities and identify any opportunities for improvement.
The VA should develop and implement program performance goals and measures for NADL outreach, MOU negotiation and lending activities.
The VA should develop and implement processes to routinely and consistently review NADL program documents (including MOUs and policies and procedures) to help ensure they are current, complete, and accurate, and also identify parties to help conduct the reviews, such as VA's Office of General Counsel.
The agency should develop a NADL outreach plan based on sound planning practices.
It should develop a plan for conducting NADL outreach, MOU negotiation, and lending activities in Alaska, including how to assist eligible veterans with interests in land owned by Alaska Native regional and village corporations or, if eligible, Alaska Native allotments and townsites.
It should develop and implement a mechanism for NADL staff to routinely consult on outreach, MOU negotiation, and lending activities with staff from other VA offices serving Native American veterans.
It should develop policies and procedures for staff to determine whether eligible entities without a NADL MOU previously received approvals from other federal agencies to participate in their mortgage programs and use such information to inform its approach to outreach.
The VA should partner with organizations in Alaska and the contiguous United States to conduct NADL outreach or assist with program activities and assess which partnership models are most effective.
In a comment letter back to GAO, the VA said it "has redoubled its commitment to serving veterans who want to participate in the NADL Program, as is evidenced by its complete reengineering of the NAPL process.
"VA continues to be committed to assisting Native veterans who want to participate in the NADL program to obtain home ownership in any location they desire, whether by using the VA-guaranteed loan program or the NADL program."