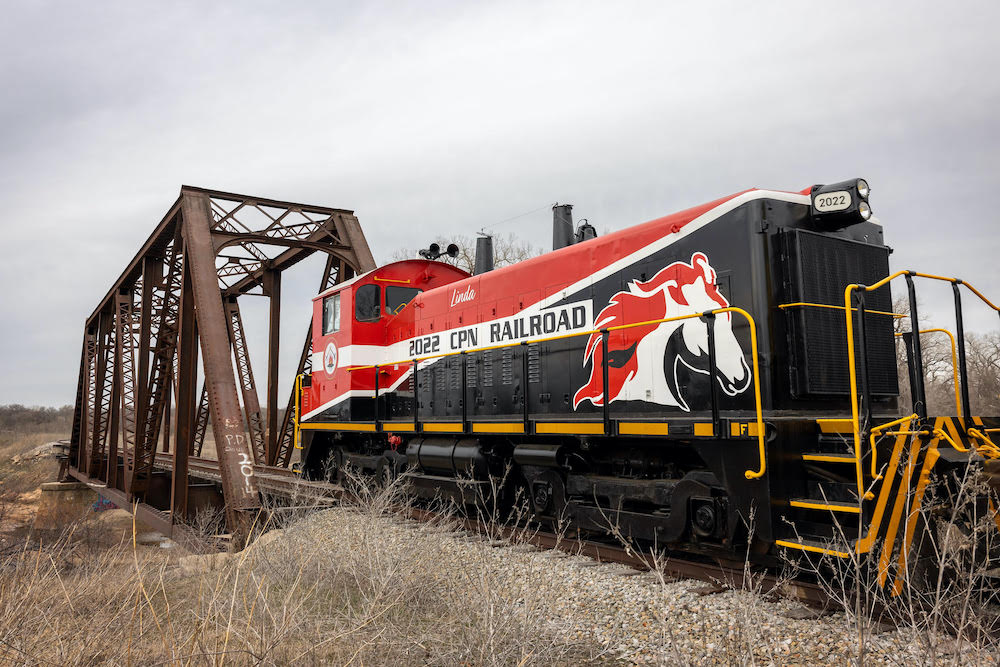 Details

By

John Wiegand

Real Estate
When Dr. James Collard first stood on the ground that would become the Iron Horse Industrial Park in Shawnee, Oklahoma, the site was little more than a cornfield along the southern banks of the North Canadian River.
Now, 15 years later, Iron Horse sports a pair of buildings, a concrete transloading pad, and new railroad tracks, complete with a locomotive. In March 2023, Iron Horse, which is wholly owned by the Citizen Potawatomi Nation (CPN), signed its first permanent tenant, Sovereign Pipe Technologies, a manufacturing firm also owned by the CPN.
The 15-year saga of taking Iron Horse from a concept to inking a deal with its first permanent tenant may not seem like a runaway success. Not in an age when industrial parks such as the 2,700-acre Savannah Gateway Industrial Hub in Georgia go from paper to having multiple large tenants in roughly half that time. But for Collard and the rest of the CPN, Iron Horse represents a symbol of perseverance, focus, and vision – a model for economic diversification that other tribes may adopt.
"We've taken our time," Collard, the Citizen Potawatomi Nation's director of economic development, told Tribal Business News. "The strength of the tribal business model is that it thinks multigenerational, rather than [in] quarterly income statements. While you don't get as much splash, you get much more substance that way. Iron Horse is small, but it is on a rock-solid foundation."
Much of the work done by the Iron Horse team during the past decade-plus focused on building that foundation. Of the park's 700 acres, some 400 acres are built on trust land owned by Citizen Potawatomi Nation (CPN) and designated as a foreign-trade zone. That provides tenants with potential tax savings while still giving them access to state or local economic development incentives.
The CPN also built a Class I rail line through the park, which connects to the Union Pacific through the Arkansas-Oklahoma Railroad Co. shortline. The park has all major utilities installed, including modern telecommunications, with plenty of capacity to expand, Collard said. Overall, CPN invested approximately $15 million in developing the park, including roughly $5 million in grant funding, according to Collard.
For prospective tenants, Iron Horse offers access to conducting business with a sovereign nation. The park's status as a foreign-trade zone also enables companies to reduce tariff costs significantly on materials and components shipped from overseas, while speeding up delivery. Those aspects, combined with the park's access to rail and its 750-acre footprint, make it a significant resource for the region.
"One of the things that's unique to Iron Horse is that it sets aside a tremendous amount of inventory for land development, which, oddly enough, in Oklahoma is hard to find," said Jeff Seymour, executive vice president of economic development for the Greater Oklahoma City Chamber. "[Collard] has done a really great job of taking the show on the road and thinking about the unique relationship of a tribal nation to have some additional flexibility or deal making capabilities that other partners don't."
Creating a Model
During the project's early stages, Collard studied large-scale industrial developments like the 9,600-acre Alliance Business Park north of Fort Worth, Texas and international projects of similar size. There were few tribally owned industrial parks that could have been models for Iron Horse, he said.
Only a handful of tribes appear to own industrial parks or partner in developing them. The Arizona-based Gila River Indian Community has operated a 823-acre industrial park in the Phoenix metropolitan area since 1968. The tribe manages the park through its development arm, Lone Butte Development Corp. Lone Butte currently houses more than 60 tenants in both the heavy and light industrial sectors, including companies such as Freightliner and Classy Closets, general manager Esther Manuel told Tribal Business News.
For the MidAmerica Industrial Park (MAIP), a 162-acre development in Pryor Creek, Oklahoma, the Cherokee Nation struck a strategic partnership with its owners instead of owning it directly. MAIP is built on land within the Cherokee Nation Reservation, about 50 miles east of Tulsa, and it partners with the tribe on various workforce development and other initiatives, said Cherokee Nation communications director Julie Hubbard. In September 2022, MAIP and the Cherokee Nation announced plans to build the Cherokee National Child Development Center, a $16 million, 27,000-square-foot child-care facility, on land donated to the tribe by MAIP. The Cherokee Nation did not disclose additional details regarding the partnership with MAIP.
Chris James, president and CEO of the National Center for American Indian Enterprise Development, views Iron Horse and other tribal-owned industrial parks as part of an economic diversification strategy by tribes across the country.
"Diversification is how you build out the infrastructure for your own communities to succeed," James said. "If you look at a circle and think of all the slices of that circle as Citizen Potowatomi's businesses, they're pretty well diversified. Then having that availability to bring in a company that could use the foreign-trade zone as an anchor site and develop more into manufacturing is huge."
Several other tribes have recently announced plans for industrial developments. In March, the Forest County Potawatomi invested $2.86 million to purchase 23 acres in Kenosha County, Wisconsin with the intent of developing part of it for "industrial real estate." The purchase builds on the work of the Tribe's Sagewind Development, a unit of the Potawatomi Business Development Corp. Sagewind's first project is the transformation of a former dog-racing track into a mixed-use development that includes apartments, a convenience store and a new industrial park.The tribe is partnering with Milwaukee-based industrial developer Zilber Property Group on the project, according to media reports.
In November 2022, the Shelbyville, Michigan-based Gun Lake Tribe identified plans to dedicate a portion of a newly purchased 1,200-acre parcel to "industrial use," specifically for projects of 100,000 to 200,000 square feet. Representatives from the Forest County Potawatomi and Gun Lake Tribe did not respond to multiple attempts for comment.
Collard says he's fielded several calls from tribes interested in adopting the Iron Horse model. "You really need a diversified base to protect you when one particular sector is sagging," he said.
Fits and Starts
The history of Iron Horse began 15 years ago, when Collard was tasked with repairing a rail bridge across the North Canadian River that had been washed out in the 1980s. After several grant applications were rejected by various government organizations, the U.S. Economic Development Administration eventually awarded Iron Horse $1 million to start the park. That investment spurred subsequent dollars from the Arkansas-Oklahoma Railroad Co. to fix the bridge.
From there, Collard and the CPN battled mountains of paperwork and skepticism to establish a portion of Iron Horse as a foreign-trade zone. In 2017, rail lines were installed there, and they expected to start courting tenants soon. The following year, Iron Horse had a near miss with an international business that ultimately decided the park was not large enough. There was also a deal with a major Chinese tire manufacturer that fell through due to souring geopolitical relations under the Trump administration, Collard said.
In 2019, a Canadian company announced its intent to open a 45,000-square-foot high-density polyethylene (HDPE) pipe manufacturing facility in Iron Horse. The CPN built a facility to accommodate the project only to have the company abandon the project after its funding fell through during the COVID-19 pandemic. Iron Horse was left with a vacant building. Not to be dissuaded, Iron Horse marketed the building for a year before the CPN opted to create a HDPE facility of its own. In March 2023, Sovereign Pipe Technologies opened for production. It joined a 10,500-square-foot warehouse approved by U.S. Customs and Border Protection as the two actively used buildings on the property.
"There were some ups and downs," Collard said. "It's not easy building an industrial park from a cornfield. There were some discouraging moments along the way. Everything takes a lot longer than we would hope it would take."
With its first permanent tenant on the books and operations cooking along, Iron Horse executives hope to continue attracting new companies to the site. Collard noted he is currently in negotiations with two potential clients and is having "discussions" with a number of other prospects.
The CPN maintains fairly stringent criteria for the companies it accepts into Iron Horse, Collard said. They avoid "the big nasties," which, according to Collard, include any company considered high-polluting or that uses large amounts of water. Iron Horse also plans to avoid cannabis-related industries and has turned down four separate proposals to establish Bitcoin operations in the park, Collard said. Instead, it is actively seeking renewable-energy projects, and would generally rather have companies looking to expand than startups.
"Certainly to do economic development successfully, you have to have a certain amount of clairvoyance in reading where the economy is going," Collard said. "Don't recruit companies from a past economy, but even that has so many nuances and complications. It comes down to a very thorough analysis and asking deep questions."
Ultimately, Collard and the CPN plan to maintain the same sort of perseverance that has gotten Iron Horse to the place it is today. Collard forecasts the next 15 years will be "very significant" for the industrial park.
"I tell my students, if you have a good idea and it meets with some resistance, that's okay," said Collard, who also teaches at the University of Oklahoma. "Just hide it for a while and let it go quiet, but never stop…. Just wait for windows of opportunity to open. That's what we've done."
John Wiegand is a freelance journalist based in Michigan. Previously, he covered manufacturing, agriculture and economic development for regional business publication MiBiz.