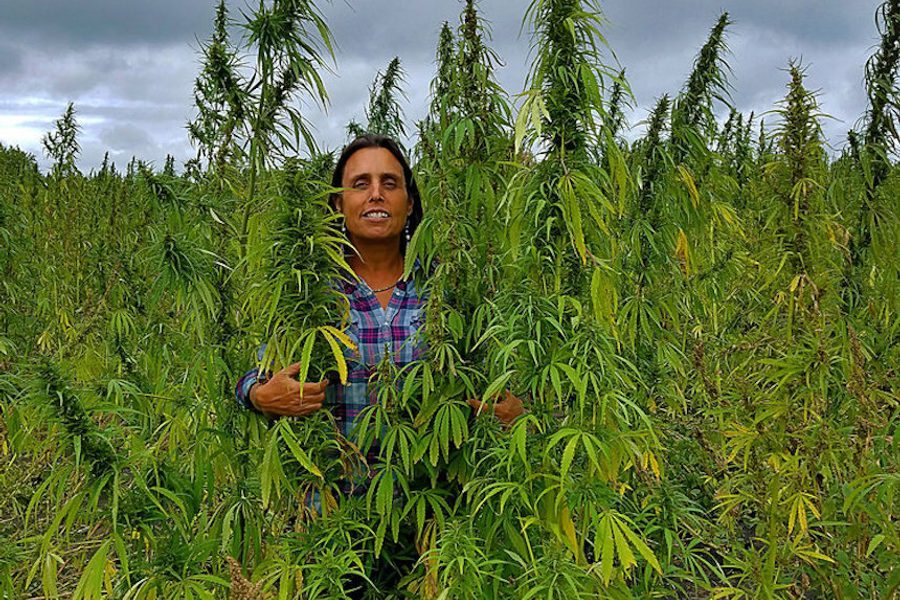 Details

Real Estate
The future of Native housing could be hemp.
That's the vision of economist, environmental activist, and entrepreneur Winona LaDuke, who is also founder and research director of the Osage, Minn.-based Anishinaabe Agriculture Institute (AAI).
Never miss the biggest stories and breaking news about the tribal economy. Sign up to get our reporting sent straight to your inbox every Monday morning.
LaDuke joined with members of the White Earth Nation in mid-August to build a hempcrete addition to the farmhouse at her hemp and heritage farm — the first such installation in Minnesota. All told, it took four hours to put up walls, she told Tribal Business News.
"This project could be an example of what the future looks like," LaDuke told Tribal Business News. "We put up walls in a single afternoon. Each of the panels weighs like 400 to 500 pounds — a few guys could lift them. I've never seen anything like it."
Hempcrete is a lightweight, energy-efficient building material created by mixing the unused stems of hemp plants — called herd — with lime. It's already caught on in some places in Indian Country, per prior Tribal Business News reporting.
The material has potential uses in building quick, affordable housing with lowered energy costs thanks to its energy efficiency, LaDuke said. Moreover, hempcrete is light and easy to handle, meaning smaller crews with fewer hands could still build new structures.
A new horizon
Housing has always been a major issue on Native American reservations. A lack of long-term housing has curtailed economic growth and helped drive cycles of poverty.
COVID-19 and climate change only exacerbated the issue by driving up construction costs, disrupting supply lines for important materials, and necessitating changes and rehabilitation to existing houses to build climate resilience. One way to speed up that process and begin getting people in homes quicker, LaDuke said, is to find new alternatives to existing processes.
"Most tribal housing is in dire situations, and a lot of it is not really set up for climate change related disasters — and that is kind of what we're looking at right now," LaDuke said. "There's more storms, more heat, more wind, and so you not only need housing, but you need housing that's not flimsy."
Enter hempcrete, or more specifically, prefabricated hemp panels such as the ones used to build the installation at Winona's Hemp and Heritage Farm. The panels used in that build were orchestrated by Bismarck, N.D.-based Homeland Hempcrete.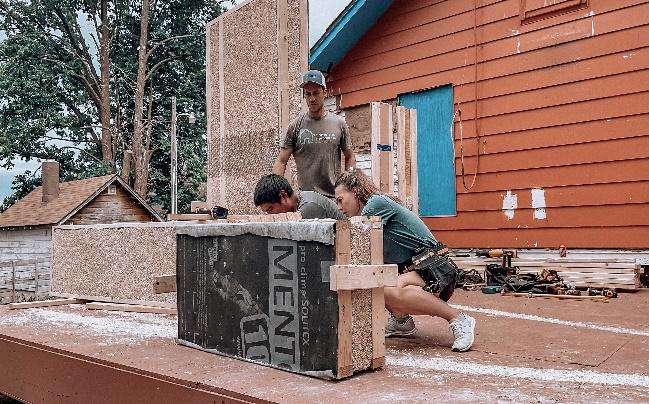 Builders at Winona's Hemp and Heritage Farm in Minnesota work to stand up the first-ever hempcrete installation in the state. (Courtesy photo) Co-owner Samantha Marino said the use of hempcrete enables quick and agile builds that can adapt to shifting climate and labor needs.
"The goal with using the prefabricated panels is to simplify and speed up a normally labor-intensive process, which we hope can make hempcrete more easily adoptable," Marino told Tribal Business News.
The remaining barrier would be cost. LaDuke admits there remains a premium on hemp-built projects that would create a hurdle for those looking to employ hempcrete in the future.
U.S. hemp production has plummeted from 2021 going into 2022, falling a full 71 percent from $824 million to $238 million, per a 2023 USDA report. The report attributes the fall to regulatory murk regarding the legality of the plant and its potential uses, as well as market overload in the wake of a sweep of states legalizing CBD products.
The fall in local production has only driven the price of processed products — including the herd used to make hempcrete — higher.
Of course, LaDuke has plans for that, too. She plans to use hemp grown at her 40-acre farm and another farm within the White Earth Nation to make the panels going forward.
At the moment, White Earth Nation hemp has to be sent off for processing, meaning the Nation doesn't see its full value after handing the product off to processors in North Carolina, Virginia, and elsewhere.
"Even with our current hemp acreage, processing fiber hemp is a challenge today, as the equipment and technology to capture the full value-added potential of the fiber hemp plant is just becoming available in the United States," LaDuke said. "But AAI and the emergent Indigenous Hemp and Cannabis Cooperative are keen on securing the correct equipment to process hemp for building and for use in textile fabric manufacturing."
By widening existing hemp operations and leaping into the hemp market, LaDuke said, the White Earth Nation stands to make a lot of money while creating access to hempcrete for their own buildings. It's a win-win-win situation, and the hemp herd is selling at a premium price, she said. And housing will always be needed.
"We want to make these panels for our community," LaDuke said. "You're always going to be building, that's a constant."