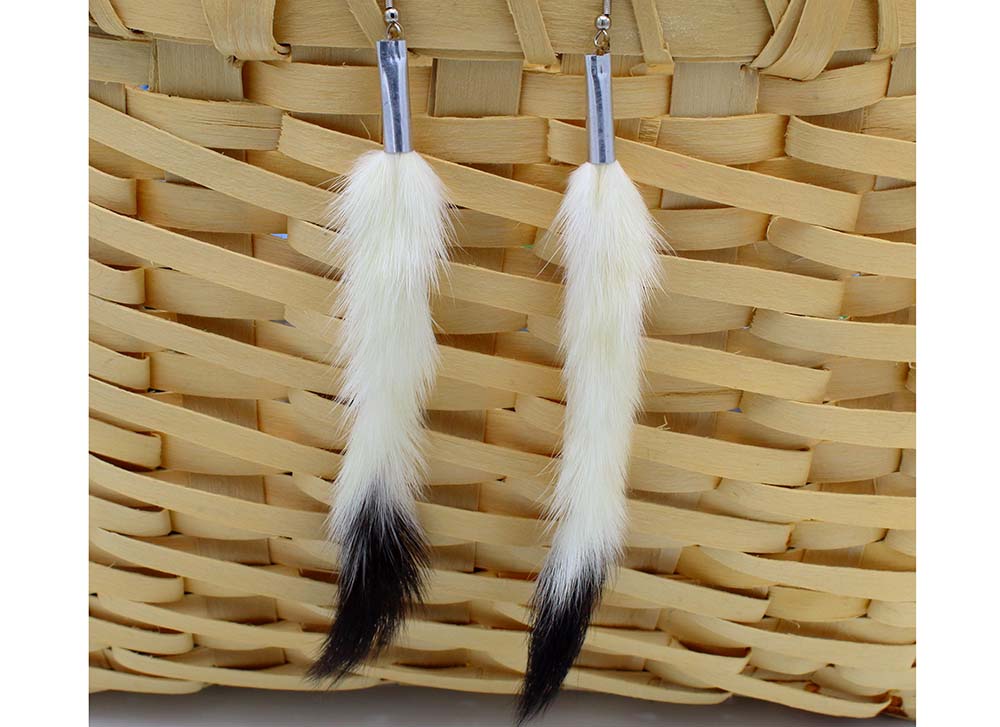 Details

Arts and Culture
Welcome to day eight of Tribal Business News' 12 days of Indigenous holiday gifts guide. In the spirit of supporting Indigenous artists and entrepreneurs and drawing attention to some truly gorgeous and inspired items, we are presenting 12 consecutive days of Native-made products perfect for holiday gift-giving, including giving to yourself.
Day 8:
Wawezhi ermine tail earrings, $25-$50, [email protected]
Glam up your gift-giving game with a plush pair of ermine tail earrings.
Odawa designer Riley Diehlman, a citizen of the Little River Band of Ottawa Indians, makes pairs in varying lengths, from 2.5 inches, to a dramatic, shoulder-skimming 5 inches.
"The 5-inch are my favorite length. The earrings make a great gift because they're beautiful, lightweight and reasonably priced, and because of their cultural importance and history," Diehlman said. "I incorporate ermine and other furs into my art because of my family's personal history with fur trapping. My grandfather traps and taught me how to as well. My family have been hunters, trappers and growers for generations."
Diehlman's wearable art brand is called Wawezhi, which means "adorn" in Ojibwe, and all of her adornments are made with traditional Indigenous integrity and pride.
For instance, Diehlman gathers her ermine tails in a sustainable and environmentally friendly fashion.
"Ermine skin is very thin and fragile and sometimes the tails fall off in the process of skinning or tanning," she said. "Incorporating tails in jewelry and clothing adornments is important to me as I've been taught when you harvest a living thing to use all parts of it to honor the spirit of the living thing that offered itself to us for use."
As an independent artist using skills passed down by the generations to express her personal style and heritage, Diehlman has a valuable perspective on shopping Indigenous.
"It is important to support Native artists as so many of our cultural artistry practices, styles and designs have been appropriated and sold without consent or repayment to the tribes, artists and families they have been taken from," she said. "When we support Indigenous artists and businesses, we stimulate our local indigenous economies providing resources for further development of art and business, further education, and encourage the indigenizing of our day to day clothing and spaces."
Previous gift ideas
Day 1: Quirky, comical calendar by Ricardo Caté
Day 2: Stationery and scarf set by B. Yellowtail and Debbie Desjarlais Design
Day 3: Baby Yoda power by M Reed Designs Boutique
Day 4: Alaska Native ornaments by Trickster Company
Day 5: Sleek Salish jacket by Ay Lelum
Day 6: Far-out wall art by Johnnie Diacon Art
Day 7: Striking T-shirt by Kevin Coochwytewa
Want more news about the $130 billion tribal economy?
Tribal Business News publishes thoroughly reported and well-crafted stories about Native businesses and entrepreneurs, growth and expansion strategies, best practices, economic data, government policy and other relevant business news. Tribal Business News is required reading for tribal council members and leaders of Native businesses, as well as state and federal legislators, policymakers, economic developers, entrepreneurs, bankers, lawyers and anyone interested in doing business in Indian Country.
Sign up for our free newsletter to track Native business and the tribal economy. Or sign up for a premium digital subscription ($99/year or $10/month— cancel anytime) to gain full 24/7/365 access to our business news reporting. Megwetch.