Here's a round up of business news from around Indian Country.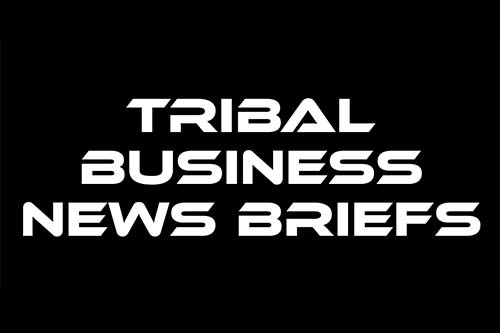 Law
• Washington, D.C.-based law firm Venable LLP has launched a Native American law and policy practice to represent the interests of tribes and Alaska Native corporations, as well as governments and non-Native groups doing business in Indian Country. Kyle Scherer, previously the principal deputy general counsel for the White House Council on Environmental Quality and former counselor to the assistant secretary for Indian Affairs at the Department of the Interior, also joined the firm as partner and co-chair of the practice, along with Venable partner David Mullon Jr.. Mullon has focused his legal career on tribal matters. An enrolled member of the Munsee Delaware Nation and a descendent of the Chippewa of the Thames First Nation, Scherer is a graduate of Harvard College and Harvard Law School, and is a veteran of the wars in Afghanistan and Iraq. "I look forward to growing the firm's Native American practice and helping tribes, tribal businesses, and Alaska Native corporations confront complex legal, political, and development challenges by providing high-quality representation before federal agencies and courts," Scherer said in a statement.
Federal 8(a) contracting
• Sunik LLC, an information technology contractor and subsidiary of Alaska Native-owned Akima LLC, was awarded a five-year contract to support materiel management for the Special Operations Forces, according to a statement. Under the terms of the contract that's valued at up to $23.9 million, Herndon, Va.-based Sunik will provide 30 to 50 support personnel in Tampa, Fla. and Lexington, Ky. The project aims to improve the stability, agility and reach of the Special Operations Forces enterprise. "(The Defense Property Accountability System) plays a significant role in the facilitation of rapid and focused acquisition, technology, and logistics support to today's warfighters," Scott Rauer, president of Akima's Facilities Solutions Group, said in a statement. Akima is a division of NANA Regional Corporation Inc., which is owned by 14,300 Iñupiat shareholders with roots in a 38,000-square-mile section of northwest Alaska, much of which is located above the Arctic Circle. In addition to federal contracting, NANA also maintains a diversified portfolio of commercial businesses in mining, oil and gas, health care, education, construction and exploration.
Health care
• Manassas, Va.-based Concentric Methods, LLC, a subsidiary of Cape Fox Corporation, the Alaska Native corporation for the village of Saxman, was recognized by outsourcing firm Kelly Outsourcing and Consulting Group with a 2020 Supplier Excellence G.E.M. (Going the Extra Mile) Award. The honor recognizes Concentric Methods as a top-performing supplier for its work as a subcontractor to Kelly on a National Institutes of Health (NIH) Scientific, Technical, and Other Professional Support Services (STOPS). To that end, a Concentric Methods employee administered the first dose of the COVID-19 vaccine to Dr. Anthony Facui, while another employee in February administered the 5 millionth dose of the vaccine while at the White House, according to a statement.
Economic development
• NAFOA, the former Native American Financial Officers Association, is seeking candidates to fill the role of executive director, following the departure earlier this year of Dante Desiderio, who is now serving as CEO of the National Congress of American Indians. The executive director at NAFOA is charged with fulfilling the organization's mission of "growing tribal economies and strengthening tribal finance." Applications are due before 5 p.m. CDT on Wednesday, June 9.
• The Picayune Rancheria of Chukchansi Indians opened a new Sonic Drive-In restaurant at the Chukchansi Crossing Fuel Station & Travel Center in Coarsegold, Calif., according to a report in the Fresno Bee. The location is the first Sonic to be owned by a tribe and "likely" the first to operate on tribal land, a tribal representative told the publication. The tribe expects to employ 55 people at the business.
Higher education
• Northern Arizona University's Institute for Native-serving Educators (INE) received a $1 million award from the Arizona Department of Education to help grow teachers' capacity to develop and teach "culturally responsive" curriculum. The award will allow INE to partner with additional tribal communities on professional development programs and fellowships for tribal educators, according to a statement. The effort fits with NAU's strategic goal "to become the leading university serving Native Americans," and allows the university to expand on the concept it started in 2016 with the creation of the Diné Institute for Navajo Nation Educators (DINÉ). The funding also will increase the number of teachers the DINÉ program can support to apply for fellowships with the Yale National Initiative. "By investing in our Indigenous educators' development, we invest in the Indigenous youth," said Ann Marie Chischilly, interim vice president for Native American initiatives and director of the Institute for Tribal Environmental Professionals at NAU. "The younger we can reach our youth, the more they will be prepared and excited to attend college. I was raised on the Navajo Nation, I know how hard it is to make the transition to college. This award will allow that transition to be less of an obstacle and more of a journey to support themselves and their communities."
• Rhiannon Sorrell, an assistant professor in the Diné College School of Arts, was selected for the Rare Books School's Andrew W. Mellon Fellowship for Diversity, Inclusion & Cultural Heritage. Sorrell, who also serves as the instruction and digital services librarian at Diné College, is one of 15 fellows in the cohort, the second for the program. The fellowship follows a three-year track to help advance multicultural collections. Sorrell also is involved in a National Endowment for the Humanities-funded project to digitize an image collection at the Kinyaa'áanii Library in Tsaile, Ariz.
Want more news about the $130 billion tribal economy?
Tribal Business News publishes thoroughly reported and well-crafted stories about Native businesses and entrepreneurs, growth and expansion strategies, best practices, economic data, government policy and other relevant business news. Tribal Business News is required reading for tribal council members and leaders of Native businesses, as well as state and federal legislators, policymakers, economic developers, entrepreneurs, bankers, lawyers and anyone interested in doing business in Indian Country.
Sign up for our free newsletter to track Native business and the tribal economy. Or sign up for a discounted subscription ($99/year — use coupon code "TBN21") to gain full 24/7/365 access to our business news reporting. Megwetch.