Here is a round up of business news from around Indian Country.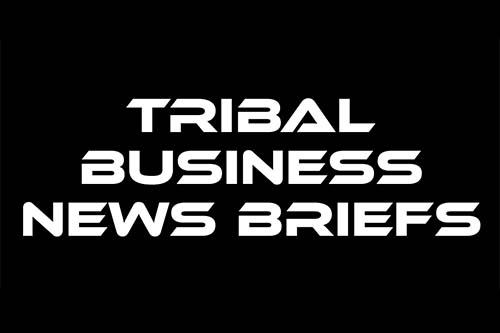 Government
• Lauren King, a citizen of the Muscogee Nation, was confirmed by Congress to serve as a federal judge in the U.S. District Court of Washington Western District. King is the third active Native American federal district court judge in the United States, the fifth in the history of the federal judiciary. She's also the first Native American federal judge in the state of Washington. Previously, King served as a judge for the Northwest Intertribal Court System and currently serves on the board of the Northwest Tribal Court Judges Association. She also formerly chaired Foster Garvey P.C.'s Native American Law Practice Group and served as chair of the Washington State Bar Association Indian Law Section Board. King was also an adjunct professor of Federal Indian Law at the Seattle University School of Law.
• Shelly Lowe, a citizen of the Navajo Nation, was nominated by President Biden to become the chair of the National Endowment for the Humanities. Lowe presently serves as a member of the National Council on the Humanities, an advisory body to NEH to which she was appointed under President Obama. Lowe's career in higher education has included serving as executive director of the Harvard University Native American Program, assistant dean in the Yale College Dean's Office, and director of the Native American Cultural Center at Yale University. She also formerly worked as the graduate education program facilitator for the University of Arizona American Indian Studies Program. "My time serving on the National Council on the Humanities has been immensely rewarding, and I look forward to continuing to serve and advance the humanities in this new role," Lowe said in a statement. "Ensuring the American people have access to humanities institutions, resources, and programs is absolutely critical in addressing the challenges of the 21st century."
Economic development
• Juneau-based Sealaska Corp. acquired a pair of Iceland-based seafood companies, IceMar and AG Seafood, while divesting its stake in Seattle-based portfolio company Orca Bay Foods. The Icelandic deals allow Sealaska to build on the 2020 acquisition of New England Seafood International Ltd., a U.K.-based seafood importer and processor, and strengthens its capacity in premium, chilled fish and seafood, according to a statement. IceMar is a global seller and marketer of Icelandic seafood, while AG Seafood is a processing company for cod, haddock and other species. The founders of both companies will continue to operate the businesses. Meanwhile, Sealaska sold Orca Bay Foods to company president Phil Crean. Sealaska's Odyssey Enterprises merged with Orca Bay Foods as part of a 2017 deal. "We're in seafood because it's a powerful way to care for the oceans," Sealaska COO Terry Downes said in a statement. "Ocean-based foods have a fraction of the carbon footprint of land-based proteins. And the rapid growth of the chilled category proves it is a key path to consumers' tables." Sealaska is an Alaska Native regional corporation owned by 23,000 Tlingit, Haida, and Tsimshian shareholders.
Gaming
• The Puyallup Tribe of Indians has partnered with BetMGM to offer retail sports betting at the tribe's Emerald Queen Casino properties in Washington state at Tacoma and Fife, pending regulatory approvals, according to a statement. The sportsbook in Tacoma will feature six ticket windows and 30 self-service kiosks, while the location in Fife will offer 22 betting kiosks. "We are very excited to be working with BetMGM to bring legal sports betting to sports fans in the Pacific Northwest," Emerald Queen General Manager Frank Wright Jr. said in a statement. "As industry leaders, EQC and BetMGM are two entertainment powerhouses, and combined we will deliver the ultimate fan experience in sports betting."
• The Northern Arapaho Tribe has partnered with London-based Amelco to operate a retail sportsbook at the Wind River Hotel and Casino in Riverton, Wyo., according to a report in SBC Americas. The partnership expands Amelco's reach to seven states. "Amelco's comprehensive solution gives us a huge boost as we look to expand our sports betting offering in the state of Wyoming," Wind River Hotel and Casino Managing Director Sean Ridge Bear said in the report. "With market-leading sports betting services and a large presence in the industry, they are one of the most progressive and exciting providers around, and we're delighted to partner with them as we continue to expand."
• The Tunica-Biloxi Tribe inked a deal with an affiliate of U.K.-based Betfred Sports to offer a retail sportsbook at its Paragon Casino Resort in Marksville, La. The Draft Room sportsbook opened Oct. 6 and features theater seating, a custom video wall, betting counters and kiosks, as well as a bar and restaurant. The deal expands Betfred Sports' reach to four states after prior successful launches in Iowa, Colorado and Pennsylvania. "As a native Louisianan and Chairman of the Tunica-Biloxi Tribe of Louisiana, I am thrilled to help usher in sports betting to our state," Chairman Marshall Pierite said in a statement. "This partnership with Betfred Sports promises continued success for Paragon as we continue our mission to provide a first-class gaming destination and vacation experience to our neighbors and guests coming to Central Louisiana."
Higher education
• Alumnus Chris Goeckel has provided a financial gift that will enable the University of Georgia Franklin College of Arts and Sciences Institute for Native American Studies to recruit and offer scholarships to Native American students across the country. The UGA Institute of Native American Studies offers students a chance to pursue a certificate in Native American studies alongside traditional disciplines and majors. "My great-grandmother was a strong woman that had a significant influence in my maternal family lives, and I wanted to support and honor Ruth Pack and the Cherokee nation," stated Goeckel, a veteran banking and software industry executive.
Philanthropy
• The San Manuel Band of Mission Indians donated $100,000 to the Las Vegas-based Three Square Food Bank as part of its drive to assist underserved populations in the communities where the tribe operates. The donation will enable Three Square to provide more than 300,000 meals, according to a statement. With the gift, the tribe has donated more than $9.3 million to educational and charitable organizations in Las Vegas since the start of 2020. The tribe made headlines earlier this year when it announced a $650 million deal to acquire the Las Vegas-based Palms Casino Resort from a subsidiary of Red Rock Resorts Inc. The deal is subject to regulatory approval and licensing, and is expected to close later this year, according to the tribe. "Our Tribe is proud of the community involvement and support we have provided in Southern California and across Indian country, and we are humbled and honored to continue this tradition of giving here in Las Vegas," San Manuel Band of Mission Indians Chairman Ken Ramirez said in a statement.
• Denver, Colo.-based American Indian College Fund has received a $5.3 million grant from the Seattle-based Bezos Family Foundation to support the Indigenous Early Childhood Education program over the next four years, according to a statement. The College Fund works with 10 tribal colleges and universities on a program focused on creating early childhood education programs, training faculty, empowering parents and community, and educating students. "The College Fund is pleased that our relationship with the Bezos Family Foundation blossomed into this investment in our children and their families," American Indian College Fund President and CEO Cheryl Crazy Bull said in a statement. "As Indigenous people, we have traditional knowledge about how to raise and teach children that helps us to be better citizens of our Tribal Nations and of American society. We are looking forward to building on that knowledge and on the dreams of our families and Tribal Colleges and Universities for even better social and educational experiences for our children."
Want more news about the $130 billion tribal economy?
Tribal Business News publishes thoroughly reported and well-crafted stories about Native businesses and entrepreneurs, growth and expansion strategies, best practices, economic data, government policy and other relevant business news. Tribal Business News is required reading for tribal council members and leaders of Native businesses, as well as state and federal legislators, policymakers, economic developers, entrepreneurs, bankers, lawyers and anyone interested in doing business in Indian Country.
Sign up for our free newsletter to track Native business and the tribal economy. Or sign up for a discounted subscription ($99/year — use coupon code "TBN21") to gain full 24/7/365 access to our business news reporting. Megwetch.