Here is a round up of business news from around Indian Country.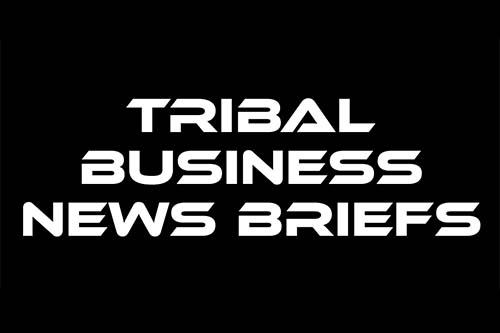 Economic development
• The Montana Department of Commerce awarded eight Tribal Business Planning Grant totalling $240,000 to help tribes prepare for business development and economic growth. Tribal governments and organizations can use the funding for business plan development, market analysis, feasibility studies, physical business infrastructure planning, such as zoning and can be used to match other funding sources to accomplish business growth activities. Awardees receiving $30,000 each included:
Blackfeet Tribe, for an update to an existing Economic Development Master Plan for land use evaluation;
Chippewa Cree Tribe, for a feasibility study for an elder care facility;
Confederated Salish and Kootenai Tribes, to complete a Tribal Secured Transaction System and Uniform Commercial Code;
Plenty Doors Community Development Corporation on the Crow Reservation, for a feasibility study and business plan for a food market;
Fort Belknap Indian Community, for an environmental assessment to develop a small business incubator;
Fort Peck Assiniboine and Sioux Tribes, for a preliminary physical business infrastructure plan to develop a small business incubator;
Little Shell Chippewa Tribe, for business plans to provide Starlink broadband services to tribal members and a mobile medical unit; and
The Peoples Partner for Community Development on the Northern Cheyenne Reservation, for developing a business plan for a beef mobile unit.
The program is one of three within the Office of Indian Country Economic Development (OICED) at the state Commerce Department.
Gaming
• Seminole Tribe of Florida-owned Hard Rock International Chairman and Seminole Gaming CEO Jim Allen was named the next chairman of the American Gaming Association in a two term that starts in January 2022. Allen has been on the board since 2015. Over the last 20 years, he's led the gaming, hospitality and entertainment operations for the Seminole Tribe of Florida. "This is a pivotal juncture for the gaming industry and I'm honored to serve as the AGA's next chairman," Allen said in a statement.
• Mount Pleasant, Mich.-based Saginaw Chippewa Gaming Enterprises, the gaming venture of the Saginaw Chippewa Indian Tribe of Michigan, has partnered with Kambi Group plc to use the firm's platform for retail sportsbooks at the tribe's Soaring Eagle Casino & Resort and Saganing Eagles Landing Casino & Hotel. Under the terms of the long-term agreement, the tribe will also leverage Kambi's technology for an online sportsbook, according to a statement. "Our loyal guests and Soaring Eagle team have been anxiously looking forward to sports betting at our casinos," Saginaw Chippewa Gaming Enterprises CEO Melinda Coffin said in a statement. "We look forward to working with Kambi Group and providing a great experience for our guests."
Communications
• The communications team of the Cape Fox Corporation, the Alaska Native corporation for the Village of Saxman, won a pair of awards and two honorable mentions as part of the international MarCom Awards, which recognizes outstanding achievements by marketing and communication professionals. The awards are administered by the Association of Marketing and Communication Professionals, who weighed more than 6,000 entries from 41 countries. The team at Cape Fox won platinum honors for its Faces of Ketchikan website, a gold award for the Bar Harbor Ale House website and honorable mentions for a motorcycle training video and the 2021 Totem Times Q1 report.
Government
• National Congress of American Indians President Fawn Sharp was the first tribal elected leader to receive diplomatic recognition from the U.S. Department of State. Sharp was credentialed as a delegate for the 26th United Nations Climate Change Conference of the Parties (COP26). "As I accept the honor of being the first tribal leader to receive full credentials as a delegate to the United Nations Conference of Parties, I do so with an incredible sense of optimism, because I know the invaluable contributions to the fight against Climate Change that Native Americans and our Indigenous relatives globally will make to turn the tide," Sharp said in a statement. "It is impossible to confront the global existential crisis of climate change without the active leadership and engagement of the world's Indigenous peoples, and the Tribal Nations of the United States of America have an incomparable brain trust of leaders, scientists, and policymakers who are ready to lead that effort. Indigenous communities globally have one thing in common: we are resilient survivors, and we will help lead the world through this challenge to a brighter, more just, and more sustainable future."
• Chris James, president and CEO of The National Center for American Indian Enterprise Development, was appointed as a member of the Federal Communications Commission's Communications Equity and Diversity Council. The group had been known as the Advisory Committee on Diversity and Digital Empowerment. FCC Chairwoman Jessica Rosenworcel rechartered the group in 2021 to focus on diversity and equity. James previously served on the FCC's Diversity in Tech working group, according to a statement. "I applaud Chairwoman Rosenworcel's unwavering commitment to ensuring historically underserved communities are represented at the FCC. Indian Country faces unique barriers to broadband access that have kept tribes and their citizens disconnected from an increasingly connected world. These barriers to high quality internet access have also made it harder for Native and other diverse small business owners to enter the growing technology sector. I look forward to helping address some of these long-standing barriers and to being a strong advocate for Native Americans, Alaska Natives, and Native Hawaiians on the CEDC," James said in a statement.
Want more news about the $130 billion tribal economy?
Tribal Business News publishes thoroughly reported and well-crafted stories about Native businesses and entrepreneurs, growth and expansion strategies, best practices, economic data, government policy and other relevant business news. Tribal Business News is required reading for tribal council members and leaders of Native businesses, as well as state and federal legislators, policymakers, economic developers, entrepreneurs, bankers, lawyers and anyone interested in doing business in Indian Country.
Sign up for our free newsletter to track Native business and the tribal economy. Or sign up for a discounted subscription ($99/year — use coupon code "TBN21") to gain full 24/7/365 access to our business news reporting. Megwetch.