Here is a round-up of business news from around Indian Country.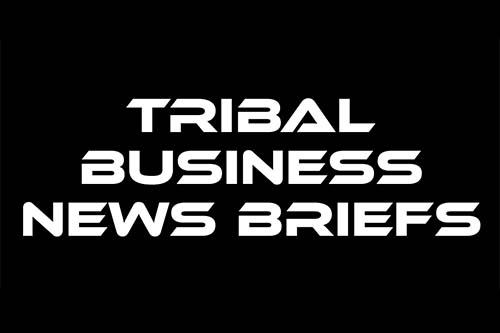 Federal 8(a) contracting
• Oklahoma City, Okla.-based DNI Emerging Technologies, a tribally-owned 8(a)-certified contractor, has received a prime contractor award to provide immunization information systems to the Center for Disease Control and Prevention, National Center for Immunization and Respiratory Diseases. Under the contract, DNI Emerging Technologies, a subsidiary of Delaware Nation Investments, thea business enterprise of Delaware Nation, will support the contract with its team of project managers, statistical analysts and other employees, according to a statement. The company did not disclose the value of the contract.
Law
• Boulder, Colo.-based Native American Rights Fund has appointed former staff attorney Matthew Campbell, an enrolled member of the Native Village of Gambell, as its new deputy director. In the role Campbell will oversee the logistics and organizational strategy to support the caseload of the more than 23 staff attorneys who represent Indian Country from NARF offices in Boulder, Anchorage, Alaska and Washington, D.C. Campbell joined NARF in 2013 and previously worked as an attorney at Cuddy & McCarthy LLP in New Mexico. Campbell has a law degree from the Sandra Day O'Connor College of Law at Arizona State University. "I'm deeply honored to serve Native people in this role," Campbell said in a statement. "I envision this position as a fantastic opportunity to help the Native American Rights Fund build the capacity to broaden our support for Indian Country as well as support our attorneys and staff in undertaking this important work."
• The Women Lawyers Association of Michigan (WLAM) has awarded its Mary S. Coleman Award, in honor of the first female Michigan Supreme Court Justice, to Judge Allie Greenleaf Maldonado, a citizen of the Little Traverse Bay Bands of Odawa Indians who was appointed as the chief Judge of the LTBB Tribal Court in 2012. The honor recognizes Maldonado's contributions as a judiciary role model. WLAM presented the award June 3 at a ceremony at the Detroit Zoo in Royal Oak, Mich. Maldonado is a graduate of the University of Michigan Law School.
Higher ed
• American Indian Graduate Center, now known as Native Forward Scholars Fund, has inked a one-year, $850,000 contract with Wells Fargo to further its efforts to empower Native students in higher education. The investment continues a two-decade relationship between the two organizations. The partnership has led to the fund giving more than $6.5 million in scholarships to Native scholars. "Through this partnership, striving Native students have been able to advance their education with opportunities in obtaining their undergraduate, graduate, and professional degrees," American Indian Graduate Center CEO Angelique Albert (Confederated Salish and Kootenai Tribes) said in a statement.
• The American Indian College Fund has received a nearly $2.6 million grant from the Mellon Foundation for the Native Pathways to College Program, which provides American Indian and Alaska Native students with culturally specific support and programming to ensure they graduate from college. The program initially launched in 2016 and has expanded to include 80 high schools and community partners on or near reservations in 12 states. "As Indigenous students navigate an increasingly complex and global experience and as our young people strengthen their identities as Native people, we are called upon to be there for them, as mentors, supporters, and guides," College Fund President and CEO Cheryl Crazy Bull said in a statement. "With the support of the Mellon Foundation and our many allies on their team, we can be the support that our young people need. We are able, together, to help them on their journeys."
Economic development
• Tribally owned WBK Engineering, a portfolio company in Mno-Bmadsen's Bodwé Professional Services Group, has expanded its office in Battle Creek, Mich. WBK offers civil engineering, planning and environmental resources consulting. The Illinois-based firm doubled the size of its Battle Creek office and redesigned the existing space to better serve clients through Michigan, Indiana and the Midwest, according to a statement. Engineer Justian Crane will continue to lead the office. "We're excited to enhance our capabilities and continue to work closely with our clients throughout the Midwest and the nation," Crane said in a statement. "We've been fortunate to grow deep and meaningful partnerships with municipalities in Illinois and this expansion allows us to take this collaborative approach to benefit new cities in the Midwest to improve the communities in which we live." Mno-Bmadsen, the non-gaming investment arm of the Pokagon Band of Potawatomi, first acquired WBK in 2016.
Gaming
• Wind Creek Hospitality, a subsidiary of the Poarch Band of Creek Indians, officially broke ground on the Wind Creek Chicago Southland casino in an area split by the towns of East Hazel Crest and Homewood, according to a statement. The project includes a 70,000-square-foot casino that will feature 1,350 slot machines and 56 table games, as well as dining options and a 252-room hotel. "Our commitment to this community has already begun and will only be strengthened as we move our focus to job creation and finalizing the details of the Southland Public Benefit Fund," Wind Creek Hospitality President and CEO Jay Dorris said in a statement. "People across the Southland have been waiting for this casino and the community investment that comes along with it, and we're happy to be taking concrete steps to see this dream realized." The Illinois Gaming Board selected Wind Creek as the recipient of a new commercial gaming license intended for the south suburbs of Chicago, beating out three other proposals, as Tribal Business News reported in December.
Sovereignty
• Longmont, Colo.-based First Nations Development Institute appointment of Shaun Grassel, Ph.D., as its Director of Programs – Stewarding Native Lands. Grassel is an enrolled member of the Lower Brule Sioux Tribe. In the role, he will lead First Nation's work in supporting Native ecological stewardship and improving Native control of ancestral lands and resources. He's also tasked with launching the First Nations' Tribal Lands Conservation Fund, according to a statement. Previously, Grassel served as a wildlife biologist for the Department of Wildlife, Fish and Recreation for the Lower Brule Sioux Tribe in South Dakota. He also served in various capacities at the Nez Perce Tribe Department of Fisheries Resources Management. "When we launched the Stewarding Native Lands program in 2020, we knew there was an inherent and immediate need to invest in the traditional stewards of our lands, not just to promote the well-being of Native communities, but also to protect the planet for everyone," First Nations President and CEO Michael Roberts said in a statement. "From our years of working with Dr. Grassel, we know his experience and knowledge make him ideally positioned to advance ecological stewardship in Native communities and to identify strategies to increase control of land stewardship by Native people."
Want more news about the $130 billion tribal economy?
Tribal Business News publishes thoroughly reported and well-crafted stories about Native businesses and entrepreneurs, growth and expansion strategies, best practices, economic data, government policy and other relevant business news. Tribal Business News is required reading for tribal council members and leaders of Native businesses, as well as state and federal legislators, policymakers, economic developers, entrepreneurs, bankers, lawyers and anyone interested in doing business in Indian Country.
Sign up for our free newsletter to track Native business and the tribal economy. Or sign up for a premium digital subscription ($99/year or $10/month— cancel anytime) to gain full 24/7/365 access to our business news reporting. Megwetch.