Here is a round-up of business news from around Indian Country.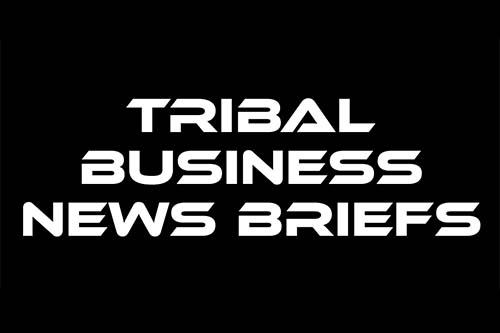 Philanthropy
• The Tunica-Biloxi Tribe of Louisiana has committed $1 million over 10 years to fund a new multi-sport complex in the state's Avoyelles Parish. The tribe's gift includes $300,000 for this year, according to a statement. The tribe opted to get involved with the project after community members approached leaders about the need to have a complex that can host a range of sporting events and activities. Tribal leaders also worked with legislators to secure $350,000 in state funds and other donations. Partners now are working with the Avoyelles Recreation Board to identify property in the parish that can accommodate the new facility. "The Tunica-Biloxi Tribe has always taken the stance that we must continue to invest in our communities and our younger generations so that we as a people, and our neighbors, may continue to thrive," Tunica-Biloxi Chairman Marshall Pierite said in a statement. "This sports complex will bring much needed opportunities for recreation to the youth of Avoyelles Parish."
• The Sycuan Band of the Kumeyaay Nation and Sycuan Casino Resort donated $1.1 million to the San Diego Symphony's The Future is HEAR campaign and for operational support of its artistic and community programs. The donation was described by the Symphony as the single largest cash gift ever from a tribe to a cultural arts organization in Southern California. Sycuan will serve as the lead sponsor of the Symphony's Music Connects program, which provides access to musical experiences for the entire San Diego region. With the tribe's gift, The Future is HEAR campaign has raised $123.5 million of its $125 million goal. As a result of the donation, the Symphony established the Sycuan Community Plaza at The Rady Shell at Jacobs Park. "We are honored to present this donation to the San Diego Symphony in support of their many local artistic community programs," Sycuan Band of the Kumeyaay Nation Chairman Cody Martinez said in a statement. "Through the Kumeyaay spirit of giving, it is very important for us to invest in all aspects of our community, especially arts and culture. We are very proud of our longstanding partnership with the Symphony and look forward to being a part of the different musical events and experiences that they continue to bring to life for the San Diego community."
Infrastructure
• The Coeur d'Alene Tribe in Idaho has received a $3 million grant from the Commerce Department's Economic Development Administration for infrastructure improvements to the water supply system of De Smet, Idaho. This grant is funded by the American Rescue Plan. The tribe plans to use the funding to replace De Smet's aging and undersized water supply system, creating the potential for business growth and establishing a strong foundation for tribal economic development and job creation efforts, according to a statement. "The Coeur d'Alene Tribe is our partner in stewarding North Idaho waterways and ensuring their long-term economic benefit to rural communities," Idaho Governor Brad Little said in a statement. "This project, coupled with the $80 million investments in Coeur d'Alene Lake from my Leading Idaho plan, will enable the tribe to continue making meaningful improvements to North Idaho's most valuable resource – water."
• Telecom giant Verizon says it plans to invest in a network plan to connect 80 Bureau of Indian Education schools operated by Native American tribes on 64 reservations in 13 states to reliable high-speed internet access. The connectivity will better enable the BIA to provide educational opportunities to students in those areas. Work will take place in the 13 states through 2023. Previously, Verizon upgraded more than 100 sites to 100MB connections via a Networx contract from the U.S. General Services Administration. The telecom plans to increase internet speeds to 1Gb as part of an extension of another task order. The added bandwidth will be available starting this fall. "A quality, high-bandwidth connection is critical for students to be able to learn from wherever they are — especially in more remote areas," Maggie Hallbach, senior vice president for Verizon Public Sector, said in a statement. "We believe this is a fundamental right for all students, and by upgrading the technology and infrastructure across these tribal lands, including many with Gigabit connections, we're helping BIE with its mission to enable a more comprehensive learning experience, preparing these students for the future."
Cultural arts
• The National Endowment for the Arts selected Navajo textile artist and weaver TahNibaa Naataanii of Shiprock, N.M. for its 2022 class of National Heritage Fellows, one of the highest honors in the folk and traditional arts. Naataanii drew inspiration from her grandmother's wool and carding tool and learned traditional weaving. According to the NEA, Naataanii is a prolific mentor and teacher of holistic Diné weaving practice, which starts with farming sheep to harvesting and dyeing wool, and through the complex techniques of developing and weaving textiles on a loom. Naataanii received the Bess Lomax Hawes National Heritage Fellowship, which NEA presents to an individual who has made a significant contribution to the preservation and awareness of cultural heritage. The fellowship includes a $25,000 award. The recipients will be featured in a film that will premiere in November 2022.
M&A
• Private equity-backed Ulrich Investment Consultants, based in San Antonio, Texas, has acquired Strategic Wealth Management, a registered investment advisory firm based in Kirkland, Wash. Both firms specialize in offering investment services to Native American tribes in addition to wealthy individuals and families. The deal allows Ulrich Investment Consultants, which also has offices in Albuquerque, N.M. and Spokane, Wash., to expand its Native American tribal practice, according to a statement. Strategic Wealth Management CFO and Director of Native American Services James Sizemore has been named a partner in Ulrich, where he will lead the firm's Native American Consulting business, which offers strategic financial planning and debt management; the development of fiscal and financial management policies and budget and administration processes; and assists on credit and financing and with coordinating at the Office of Trust Funds Management, among other services. "We understand the dynamics of our tribal communities. These growing communities are seeking resources to help protect and grow their wealth. We believe there is a significant opportunity to serve these groups. We want to be an ally in their financial future," CEO John Ulrich said in a statement. Ulrich Investment Consultants is backed by Emigrant Partners, a Greenwich, Conn.-based private equity firm.
Higher education
• The Department of History and International Studies at the University of Wisconsin-Stevens Point launched a new 12-credit program that will allow undergraduate students to supplement their major with a Native American and Indigenous Studies (NAIS) Certificate. The university designed the program "to enrich student understanding of sovereign Indigenous nations," which will prepare students to work in tribal businesses, agencies and communities. "UW-Stevens Point is well known for preparing successful educators, resource managers, health care professionals and more. In all these areas, working effectively with Native communities requires familiarity with specific legal, historical, and cultural issues," Rob Harper, program coordinator and professor of history, said in a statement. "We want students to understand the constitutional relationships between tribal, state and federal governments, as well as the legacies of boarding schools and other U.S. policies. Above all, we want to help students learn how they can apply that knowledge in their chosen professions."
Food and agriculture
• Native American Agriculture Fund CEO Toni Stanger-McLaughlin, a citizen of the Colville Confederated Tribes, was elected to the national board of directors for Chicago-based Feeding America, the country's preeminent hunger-relief organization. Stanger-McLaughlin and other new board members will serve on the board for two-year terms. Stanger-McLaughlin has a background in agricultural law and policy, and has worked in various capacities at several nonprofit, university and government organizations.
Want more news about the $130 billion tribal economy?
Tribal Business News publishes thoroughly reported and well-crafted stories about Native businesses and entrepreneurs, growth and expansion strategies, best practices, economic data, government policy and other relevant business news. Tribal Business News is required reading for tribal council members and leaders of Native businesses, as well as state and federal legislators, policymakers, economic developers, entrepreneurs, bankers, lawyers and anyone interested in doing business in Indian Country.
Sign up for our free newsletter to track Native business and the tribal economy. Or sign up for a premium digital subscription ($99/year or $10/month— cancel anytime) to gain full 24/7/365 access to our business news reporting. Megwetch.