Here is a round-up of business news from around Indian Country.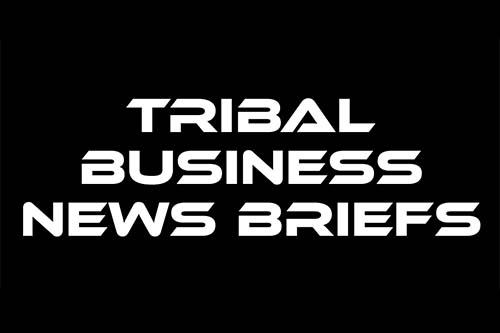 Finance
• The Saint Regis Mohawk Tribe (SRMT) in Akwesasne, N.Y., has hired Heather Henry as the tribal government's new Chief Financial Officer. Henry, an enrolled member of the tribe, came to the tribe as finance director and later was named assistant CFO in January 2021. "She has been a driving force for many process improvements within the Finance Department that have helped our Tribe present information to community members in a clear and concise fashion," SRMT Executive Director Tsiorasa Barreiro said in a statement. "She has tracked our cash flow throughout the pandemic and has been a critical asset in the strategic management of our CARES and ARPA funds." Before working for the tribe, Henry served as associate controller at Clarkson University, senior financial analyst at Alcoa and financial analyst at General Motors. In her new role, Henry will be responsible for the tribal government's financial affairs, investments, audits, financing arrangements and economic forecasting. Henry earned a bachelor's degree in industrial engineering from Kettering University and a master's degree in finance from Indiana University. "I'm very excited for the opportunity to use my financial management skills and experience to strengthen economic diversification and self-sufficiency," Henry said in a statement. "It's a huge task and challenge, but the Tribe has done a tremendous job of coalescing a professional team of financial analysts and accountants who have the best interests of the community at heart."
Government
• Cynthia Ruiz, a member of the Cherokee Nation, became the first Native American member of a federally recognized tribe to serve on the Los Angeles Board of Water and Power Commissioners in its 122-year history. She was appointed to the board by LA Mayor Eric Garcetti. Previously, Ruiz served as commission president for the Los Angeles City Employee Retirement System, where she oversaw a multibillion-dollar pension portfolio. She also previously served on the City of Los Angeles' Board of Public Works, including a stint as president from 2005 to 2011. Ruiz currently is a professor at the University of West Los Angeles School of Business. "As a lifelong Angeleno, it is an honor to continue my service to the City of Los Angeles by joining the all-female Board, as LADWP continues to grow a sustainable future for the nation's largest municipal utility," Ruiz said in a statement.
Venture capital
• Brentwood, Tenn.-based Relevance Ventures, a Native American-owned and -operated venture capital fund, was among the participants in the $12.4 million Series A funding round for Charlotte, N.C.-based CivicEye, a provider of cloud-based public safety software. Bellevue, Wash.-based Cercano Management, a privately held investment management firm working exclusively with ultra-high net worth investors and their family foundations, led the funding round, which also included a consortium of angel investors, according to a statement. CivicEye plans to use the funds to expand its operations to meet growing demand for its software. The company hopes to expand its reach throughout the United States and continue to invest in product development.
Gaming
• The Pamunkey Indian Tribe will build a temporary casino in Norfolk, Va. as the tribe continues to develop plans for the HeadWaters Resort & Casino, which voters in the city approved in 2020. The temporary casino will be located on a parking lot east of Harbor Park Stadium, with the tribe expected to submit plans in the coming weeks. The tribe expects to begin construction immediately following city approval, with a targeted opening of the temporary casino slated for as soon as March 2023. "When we first announced this project with the City of Norfolk, we described it as not only a major private investment in the City, but a partnership between the Tribe, the City, and this community," Robert Gray, chief of the Pamunkey Indian Tribe, said in a statement. "We will be providing a major capital investment, creating thousands of jobs, and generating millions of local tax dollars that can be used to address aging schools and other critical City priorities. But equally important, we will be in the community, working with so many organizations in Norfolk to address food insecurity and supporting other organizations in need."
Federal 8(a) contracting
• Alaska Native-owned Akima Logistics Services, a Herndon, Va.-based subsidiary of Akima LLC, was awarded a 10-year contract to provide contractor logistics services to the U.S. Air Force Academy in Colorado Springs, Colo. The contract could reach up to $109.7 million if the Academy exercises all of the options, according to a statement. Under the contract, Akima will support three flying training squadrons: the 94th FTS Glider/Soaring Training, the 98th FTS Parachute Training, 557th FTS Powered Flight Training. The agreement also includes base support services, organizational and depot maintenance, sortie support, scheduling, maintenance, and aircraft recovery. Akima Logistics Services will also perform work at Peterson Air Force Base, and the Academy's auxiliary airfield, also located in Colorado Springs. "We are honored to prepare cadets for their future missions by supporting the Academy's three major flying training programs and over 15,000 sorties a year," Scott Rauer, president of Akima's Facilities Solutions Group, said in a statement. "This award demonstrates the confidence the Air Force continues to show in Akima as a trusted provider of aviation maintenance, logistics, and supply chain services." Akima Logistics Services is a wholly owned subsidiary of Akima, an enterprise of NANA Regional Corporation created for the benefit of more than 14,000 Iñupiat shareholders.
Want more news about the $130 billion tribal economy?
Tribal Business News publishes thoroughly reported and well-crafted stories about Native businesses and entrepreneurs, growth and expansion strategies, best practices, economic data, government policy and other relevant business news. Tribal Business News is required reading for tribal council members and leaders of Native businesses, as well as state and federal legislators, policymakers, economic developers, entrepreneurs, bankers, lawyers and anyone interested in doing business in Indian Country.
Sign up for our free newsletter to track Native business and the tribal economy. Or sign up for a premium digital subscription ($99/year or $10/month— cancel anytime) to gain full 24/7/365 access to our business news reporting. Megwetch.