Here is a round-up of business news from around Indian Country.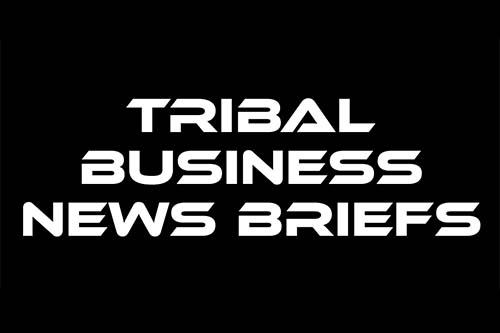 Entrepreneurship
• Kurtis Trevan, a member of the Match-E-Be-Nash-She-Wish Band of Pottawatomi Indians, or Gun Lake Tribe, has been tapped to serve as a consultant to the National Minority Supplier Development Council as its vice president of Minority Business Enterprise growth and entrepreneur-in-residence. Previously, Trevan served as founder and CEO of Gun Lake Investments, where he developed a portfolio of 12 platform investments spanning private equity, credit, and commercial real estate. At NMSDC, Trevan will be responsible for developing a growth strategy to help certified MBEs reach $1 trillion in annual revenue. Trevan is the first Native American executive in NMSDC's ranks.
Government
• The U.S. Department of Labor awarded Cherokee Nation an incremental $1.3 million to support continued disaster-relief employment and training services in response to the coronavirus pandemic's effects on the tribe. In July 2020, the department's Employment and Training Administration provided Cherokee Nation with $3 million in emergency funding, and later awarded supplemental funding of up to $4 million with an initial release of $1.3 million. With the most recent award, the Labor Department has provided the tribe $5.6 million in total project funds. Cherokee Nation is deploying the awards to offer employment and training services and provide humanitarian support, according to a statement.
Nonprofit
• The Crazy Horse Memorial Foundation board of directors has appointed Whitney Rencountre II as its new CEO, effective Sept. 15. Rencountre serves as associate director of the Indian University of North America at the Crazy Horse Memorial and has assisted the foundation with education and cultural programming over the last five years. Previously, he served as development director and Ateyapi program director for Rural America Initiatives. Other experience includes serving as chairman of the South Dakota Humanities Council and the board of Visit Rapid City. He's also currently a commissioner on the Rapid City Human Relations Commission. "At all times I am mindful of Henry Standing Bear and his fellow chiefs and elders, who asked Korczak Ziolkowski to establish a place where people from around the world could learn about the culture and traditions of Native American people, and to preserve the history and heritage for future generations," Rencountre said in a statement.
Law
• The Federated Indians of Graton Rancheria donated nearly $4.3 million to create two new endowed faculty chairs in Native American law at UCLA. The chairs will recruit, retain and support faculty members to advance the study and practice of tribal law. The gift follows the tribe's $15 million donation to UCLA Law in 2020 to fund scholarships. "The establishment of these two important chairs reflects our tribe's commitment to supporting and defending the legal standing and rights of Native Nations," Tribal Chairman Greg Sarris said in a statement. "This gift enshrines UCLA Law's commitment to advancing the rights of Native American people and to help ensure that Native American law remains a central priority for the school."
Gaming
• The Bureau of Indian Affairs within the Department of the Interior approved a tribal-state gaming compact for the Yavapai-Prescott Indian Tribe in Arizona, according to a posting in the Federal Register. The amended compact will allow the tribe to pursue various types of gaming — including sports wagering, fantasy sports contests and live table games — on the tribe's Indian lands in the state. With the BIA approval, the tribe will end a lawsuit it filed after the state approved sports betting and event wagering last year. The amendments clarify that the tribe can accept sports and event wagers from outside its gaming facility, but within its own lands.
Agriculture
• Omaha Tribe of Nebraska received $671,000 in grant funding from the U.S. Department of Agriculture to develop a hydroponics initiative. The funding for the Omaha Nation Hydroponics Initiative will cover the first stage of the project, including building three greenhouses over a year to grow leafy greens and other vegetables such as tomatoes and cucumbers, as well as herbs. "We're well aware that we want to go through the traditional methods of crop farming — corns, beans, squash — but we also want to go into the nontraditional, which is the hydroponics," Tribal Planner Mike Grant said in a statement. "We want to make sure we are taking full advantage of any opportunity that comes to us to feed our people, our families and our children. The flipside of that is they learn proper nutrition." The tribe is working on the initiative with the University of Nebraska–Lincoln's Rural Prosperity Nebraska program. A second phase could include programming to train tribal members on developing their own hydroponics systems and serve as a business incubator for their ventures, according to a statement from the university.
Want more news about the $130 billion tribal economy?
Tribal Business News publishes thoroughly reported and well-crafted stories about Native businesses and entrepreneurs, growth and expansion strategies, best practices, economic data, government policy and other relevant business news. Tribal Business News is required reading for tribal council members and leaders of Native businesses, as well as state and federal legislators, policymakers, economic developers, entrepreneurs, bankers, lawyers and anyone interested in doing business in Indian Country.
Sign up for our free newsletter to track Native business and the tribal economy. Or sign up for a premium digital subscription ($99/year or $10/month— cancel anytime) to gain full 24/7/365 access to our business news reporting. Megwetch.