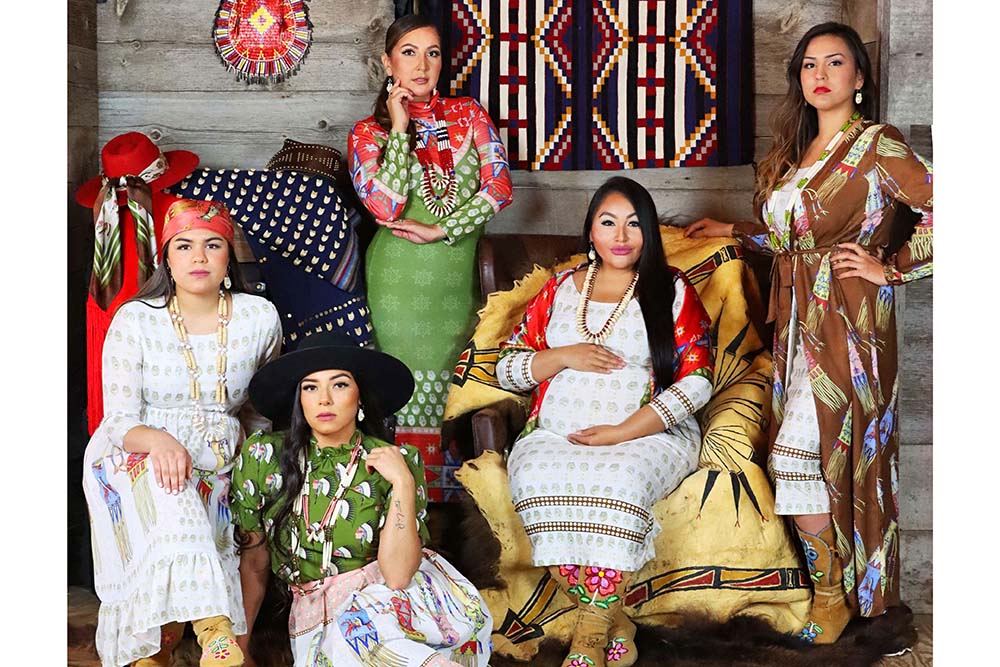 Details

Entrepreneurism
NEW TOWN, N.D. — Few entrepreneurs combine commerce and community quite like Lauren Good Day.
Last summer, the artist and designer assembled an all-MHA Nation cast and crew, and aligned with MHA Tourism, to promote her Matriarch collection with an ad campaign shot in and around the Fort Berthold Reservation in western North Dakota.
"I wanted to highlight my own people and where I come from and the beauty of my culture. We're right smack dab in the middle of the Plains, yet a lot of people don't know too much about us," said Good Day (Arikara, Hidatsa, Blackfeet, Cree). "I wanted to show that we still are here, we're living, we're thriving. We're still steeped within our culture and our languages."
Good Day's concept of exclusively using enrolled members of the the Three Affiliated Tribes of the Mandan, Hidatsa and Arikara to bring her collection to life, caught the attention of Ojibwe writer Christian Allaire, who covered the campaign in Vogue.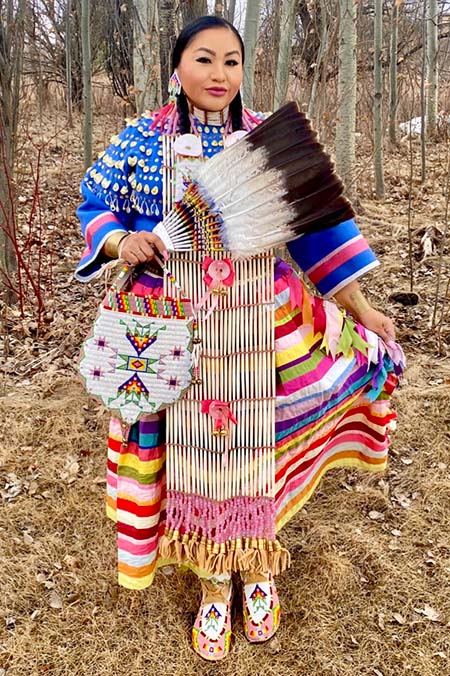 LaurenRegalia: Hidatsa, Arikara, Blackfeet and Cree artist and designer Lauren Good Day. (Bryce DeCory)The Vogue feature provided an extra boost to Good Day's ready-to-wear brand, which the acclaimed artist launched in the summer of 2019. Her current Enduring Legacy collection is a Plains-powered blast of cool wearable art adapted from her original ledger and bead work, including versatile everyday blouses and T-shirts teeming with little warbonnets, form-fitting dresses packed with Plains florals, and skirts and dresses adorned with elk teeth and slender, colorful pipe bags straight from Good Day's drawings.
"Everything I create is totally my style. It's like my dream wardrobe," Good Day said. "I wanted to create clothing that people could actually wear. It's not haute couture. It's something that you can throw on if you need to run to the grocery store or if you're going to a cultural gathering, or if you have a meeting. Some women who have bought the war bonnet frill top told me they wear it with a blazer to work. That's really cool."
Good Day, who earned a bachelor's degree in Indigenous studies, already had a built-in audience of admirers before she entered the world of ready-to-wear clothing. Her artwork is among the collections of many major museums including the National Museum of the American Indian in Washington, D.C. and New York City, and The Heard Museum in Phoenix.
Good Day spoke to Tribal Business News about applying her art and cultural teachings to fashion, MHA Nation style, and building her booming brand.
Was it a tough decision to introduce your Matriarch collection last summer at the height of COVID?
I was initially a little bit apprehensive about launching a collection during the pandemic, but the sales were phenomenal. With every collection, I sell more and I do better, and to meet the demand, I order more. I increase my inventory more. So every time, I'm thinking, 'This is a lot of units of clothing that I'm ordering. They better sell.' And then it sells out and I still have that demand. I actually restocked my star beadwork hoodie and warbonnet frill top twice.
Which types of pieces tend to be the hottest items?
A lot of people are really drawn to the beadwork prints and the beadwork patterns. In my first collection, I had a maxi dress that had a full beaded pattern that I turned into fabric. People love that dress, and I sold a crazy amount of that. Customers also really love the repetitive patterns, and are really drawn to the ledger art. I digitally manipulate my art into patterns, but I'm not totally creating it on the computer. Some graphic designers will totally create imagery on computers, which is neat too. But what's unique about mine is that it's actually the art I've spent hours and hours creating by hand.
What inspired your jump into ready-to-wear pieces?
I've always been a cultural artist and I've always dressed very aesthetically Native, and it just really came naturally to me to continue with my artwork and make ready to wear. Part of the reason I created it was because I made beadwork and ledger drawings that would sell for hundreds or thousands of dollars, and museums or private collectors would buy them. I was missing a whole group of people. I saw that there was a gap between what I was doing and that audience I was really creating for. Since I started doing the ready to wear, I really have been able to reach a larger audience, and I think I'm also reaching a bigger audience because I really ramped up my social media.
What platforms are you on, and which are the most effective?
I'm on Facebook, Instagram and Twitter, but I don't post a lot on Twitter. I can actually break down the numbers of where my website visitors come from. About half are from Facebook and half from Instagram. I'm also testing out TikTok. It's just a new technology and a new way of connecting to customers and collectors. I want to use it not just as an avenue to sell and show my art, but also to show Native art to a new audience, because a lot of what I do is educating about Native art and who we are.
You often model your own clothing on social media and your website and you always are immaculately styled and made-up. What instilled that sense of glamour and self-presentation?
It's just how I am. I've always been extra girly. I take a lot of pride in myself because one of the teachings that I grew up with was that if you always dress your best, then you feel your best and you take care of your family the best way that you can. That has to do with our aesthetic culture. Adorning your family and making things for them and creating for them is how you show your love. Also, wherever you go and whatever you do, you're representing your people and also your family. I've always really been into being a good example. It's based on what I was taught growing up, and it all accumulated into who I am and my brand.
While the Mandan, Hidatsa and Arikara are three different tribes, are there any common MHA Nation aesthetic threads and elements of style?
We have ledger art focused on MHA aesthetic culture, MHA floral beadwork — particularly the Arikara florals, and geometric work as well. Our beadwork is a lot of geometrics and florals, which I call Plains floral. You wouldn't find it in Woodland country or the Southwest. Plains florals are a lot more boxy. They're not as curly or abstract or fluid as Woodland florals; they're not like painting. And Plains florals are done in lane stitch, which is a different stitch than the Woodlands people use for their clothes, which is appliqué.
Did your Matriarch line have any special tie to MHA Nation?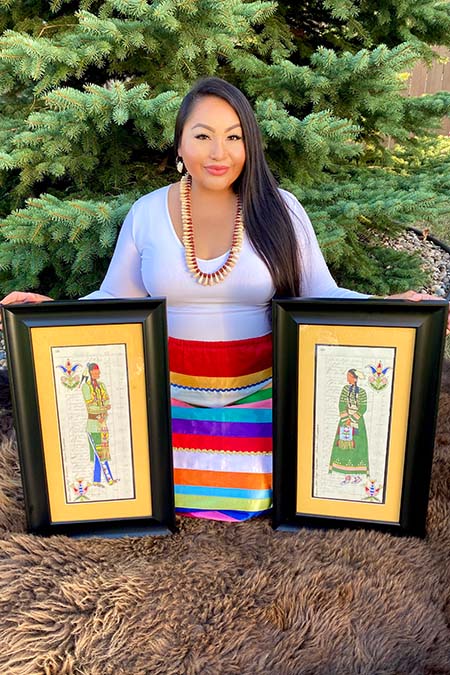 Hidatsa, Arikara, Blackfeet and Cree artist and designer Lauren Good Day with her original ledger art, which she infuses into her ready to wear clothes. (Bryce DeCory)We're all matrilineal and matri-local. So that means that our bloodlines and our lineage is carried by the female. For the Arikara, when we get married, our husbands move with us. We have a very strong, powerful female force within all three of our cultures. I grew up within a family where the women were always very industrious. My mom and my grandmother always had a beading project that was out. If they got a couple of minutes during the day, they'd sit down and work on it and then they get back up, go cook, or go to work, and then they'd come back to it.
How have the women in your family supported your expansion into ready-to-wear?
I got what I guess you'd call a microgrant or microloan from my mom. She invested some money into my business and then I invested some money into my business. Right after I had initially made that first collection, I put everything that I had made from it right back into the business. I kept investing into the business and creating new collections from that art. I'm still doing that. I'm still saving right now. I just purchased a shop outside of my home. I'm going to set up a photography studio there for my clothing and my social media purposes, and it's where I'm going to keep my inventory.
How do you envision your business progressing this year?
I can only see my business continuing to grow. Right now, a majority of my customers are Native. But I do have some non-Natives that purchase from me, which is fine and totally appropriate because everything that I sell is appropriate. I don't ever make anything sacred and post it for sale. All of the things that I do that are really heavily cultural or sacred will never even show up on my social media. Being a Native person, this is who I am, I do make those things, but they'll never show up and they'll never be for sale. I get a lot of questions from non-Native people asking if it's cultural appropriation. That's the number one question that I get asked.
What do you tell them?
I say no. The difference is that when you buy directly from tribally enrolled artists, you are supporting Native businesses and actual, authentic Native art, which is cultural appreciation. If there was a non-Native person selling beadwork and saying it's Native-made, then that's cultural appropriation. I create for my own people and I create for non-Native people that want to appreciate our culture.
--
EDITOR'S NOTE: This story has been updated from its original version.