ITHACA, N.Y. — Brett Bucktooth, the supplier diversity manager at Ongweoweh Corp., has been named one of the 2022 Top 25 Diversity Change Leaders Making Waves by Diversity Plus Magazine.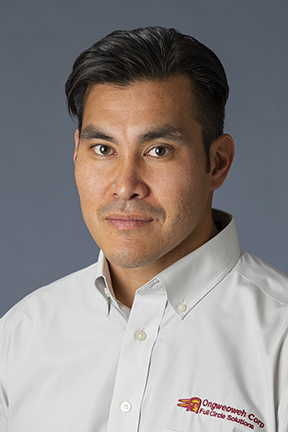 Established in 1978 by Frank Bonamie, an enrolled member of the Cayuga Indian Nation, Ongweoweh Corp. provides pallet and packaging procurement, recycling services, and supply chain optimization programs throughout the U.S. The company also offers custom reporting, data and trend analysis for a wide customer base of Fortune 500 companies in a variety of industries, including food and beverage, oil and technology.
Bucktooth joined Ongweoweh in 2019 as an account manager and has served in his current role since 2020. Last year, Bucktooth's efforts enabled Ongweoweh to grow its diverse supplier spend to approximately $40 million as well as reach a number of monumental environmental goals such as the use of 11.1 million recycled pallets and saving more than 730,000 trees.
"I am truly honored by this recognition and believe that bringing supplier diversity to such an organization was helped in large part by Ongweoweh being a minority business enterprise in its own right as well as the values of diversity and inclusion built and instilled by our owner Frank Bonamie," Bucktooth said in a statement. "As a minority-owned business we understand the adversity and challenges that small businesses can face, which is why we consistently put in the hard work and effort to provide trustworthy service while forging new healthy relationships."
Never miss the biggest stories and breaking news about the tribal economy. Sign up to get our reporting sent straight to your inbox every Monday morning.
In his role, Bucktooth spearheads Ongweoweh's implementation of a diverse supplier standard operating procedure. He also uses analytics to track target goals for new business, which allows Ongweoweh to measure the social and economic effects of its diverse supplier business.
"We are incredibly proud of Brett who is well deserving of this recognition," Ongweoweh President and CEO Sheila Thorton said in a statement. "His skill set, leadership, and passion for helping Ongweoweh reach its mission of diversity are admirable. He is a true asset to our team and we look forward to his continued success as a leader within Ongweoweh."
Bucktooth holds a bachelor's degree in communications and rhetorical studies from Syracuse University and is a former professional lacrosse player. He currently resides in Mohawk Nation, N.Y. with his wife and two children.