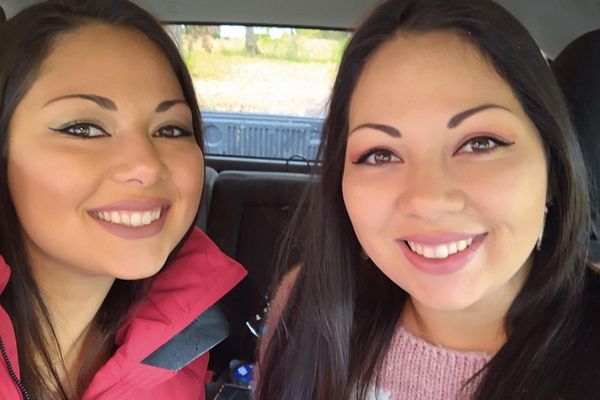 Details

By

Elyse Wild

Entrepreneurism
HARBOR SPRINGS, Mich.—Amber Kilgore and Yarrow Young (Little Traverse Bay Band of Odawa Indians) get a lot of quizzical looks when they tell people the name of their business: Tootsie Bluffins.
But the confusion transforms into delight as soon as people try their products — stunningly decorated and boldly flavored gluten-free cupcakes.
What started as an experiment in 2020 has evolved into a full-time business with a growing fan base and loyal customers who flock to the Harbor Springs Farmers Market in Northern Michigan each weekend to purchase their favorite Tootsie Bluffins cupcake flavors: strawberry rhubarb crumble, orange spice, lemon earl grey, carrot chai and more.
Never miss the biggest stories and breaking news about the tribal economy. Sign up to get our reporting sent straight to your inbox every Monday morning.
"We have customers insert themselves when (another) potential customer is hesitant because it's gluten-free," Kilgore laughed. "They'll say, 'You have to eat it. You can't even tell it's gluten-free, it's the best!'"
Kilgore and Young's dedication to their craft is apparent. Their decorations are as unexpected and thrilling as their flavors, with recent creations including uniform cupcakes topped with swirling piles of dreamy lilac-colored frosting and delicate purple flowers; a crisp white cake wrapped with a blazing flame of crystalized sugar; and a three-tiered cake embellished with an eye-popping flower arrangement.
Tootsie Bluffins is just the latest journey Kilgore and Young have embarked on together: as identical twins, the 26-year old sisters' lives have unfolded in tandem. Both married in the same year and have young children close in age.
Kilgore and Young also have celiac disease, an autoimmune disorder triggered by the consumption of gluten, a protein commonly found in wheat, barley, rye, and other grains. According to the Cleveland Clinic, one percent of the world has celiac disease, while 6 percent of the U.S. population is gluten-intolerant. Nearly 10 percent of Americans limit or restrict their gluten intake for non-medical reasons, according to estimates.
The first gluten-free products debuted on the market in the '90s, and have since suffered a reputation of tasting subpar compared to products that have regular flour. Kilgore said this made her and Young hesitant to "go all in" by putting out gluten-free products.
"Some people are really resistant about gluten-free," Kilgore said. "There have been crappy products on the market for so long."
But, before they launched Tootsie Bluffins, they spent years perfecting their cupcake recipes out of personal necessity.
"We have big sweet tooths," Kilgore said. "For so long, we had to deal with not-so- good substitutions, so we just learned how to do it ourselves."
'We have a long history of strong women'
When asked what inspired them to take the plunge into business ownership, Kilgore and Young describe their grandmother, Harriet Kishigo Booth.
Booth was part of a group of Little Traverse Bay Band tribal citizens who testified for recognition before Congress in 1994. The Tribe received federal recognition that same year, allowing LTBB tribal members to benefit from federal Indian Law and making the tribe eligible for funding and services from the federal government.
Booth was also an entrepreneur — she owned a baking business and was a seamstress. As well, the twins' mother operated a beading business when they were children. Witnessing the Native women around them utilize their skills and creativity to earn a living for their families laid the foundation for the twins to do the same.
"Between Grandma Booth and our mom, they were really the inspiration for us," Kilgore expressed. "We have a long history of strong women that have plowed the way."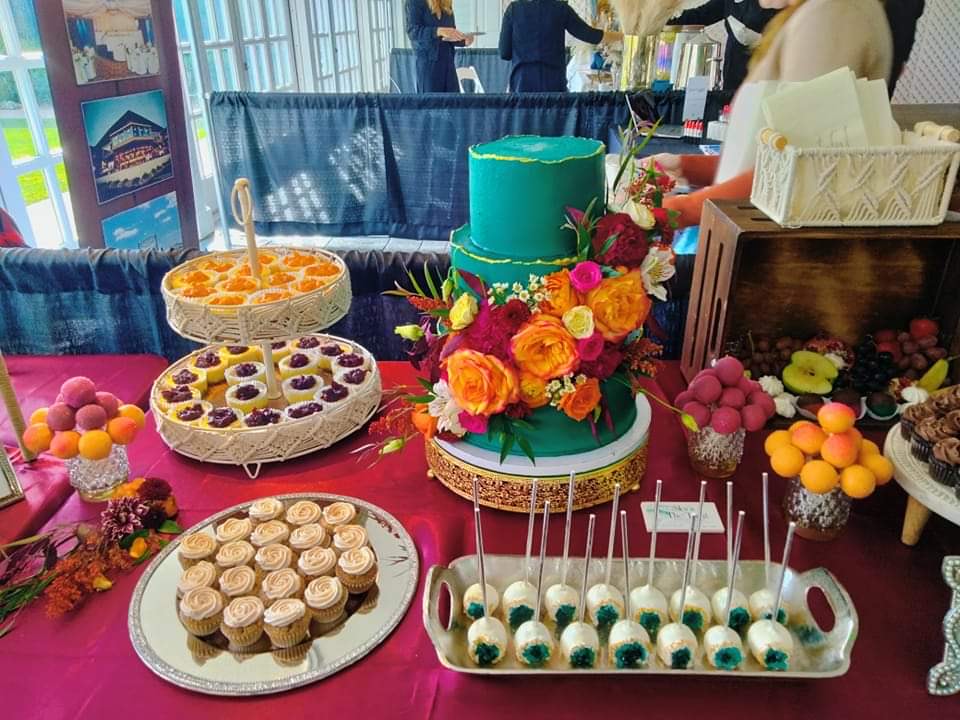 What started as an experiment in 2020 has evolved into a full-time business that specializes in gluten-free cupcakes and baked goods. (Photo: Courtesy Tootsie Bluffins)
Kilgore and Young were born in Alaska and spent the first three years of their lives in Seldovia, a remote city along the Kachemak Bay with a population of roughly 290. When they moved to Michigan, the twins became immersed in their culture and reconnected with the LTBB Tribe.
"We had so many opportunities through our tribe," Kilgore said. "Having the community so closely knit around us helped because in public school, there was prejudice, and we were bullied a bit for being brown. But we have always been proud of our Native heritage."
As they grew up surrounded by their Tribe, playing in tribal youth sports leagues and attending powwows, Grandma Booth taught them how to bake, planting a seed for what would one day grow into Tootsie Bluffins.
What exactly is a Tootsie Bluffins?
Before it evolved into a full-fledged business, Tootsie Bluffins began in 2020 as a vehicle for Kilgore and Young's love of Christmas: They sold custom Christmas stockings and baked goods throughout the holiday season.
Young said as they were brainstorming names for their endeavor, their older brother Claus Newell — who had sustained a traumatic brain injury in 2014 — chimed in with "Tootsie Bluffins!"
"We thought that was so cute, so it stuck," Young laughed. "It is a conversation starter — people at the market are always confused by it, but when we tell them the story, people love it."
In 2021, Young worked for the tribal government office, while Kilgore worked on an organic farm. Both had young toddlers at home — and they were both pregnant with their second babies. The time away from their respective families was wearing on them, and they returned to the idea of Tootsie Bluffins.
"We just started to realize that it was really not what we wanted to be doing, being away 9 to 5, five days a week because we were missing so much time," Kilgore said.
The twins decided to lean into their baking skills and sell gluten-free cupcakes at the Harbor Springs Farms Market to "dip their toes in."
With COVID-19 lockdowns driving people to northern Michigan and away from the heavily populated areas of the state, the farmer's markets were exceptionally busy. During that first market season, the sisters sold between 250-300 cupcakes each weekend.
"That's when we thought, 'We can really make some money at this,'" Kilgore said.
The demand for their baked goods allowed both women to leave their full-time jobs and focus solely on growing the business. Kilgore and Young leaned into their tribal resources to secure start-up funds.
With assistance from the LTBB Department of Commerce, they received a $10,000 grant from the Division of Indian and Native American Programs of Workforce Innovation and Opportunity Act. The sisters recently started taking business classes at North Central Michigan College in Petoskey, with their tuition fully covered through the Michigan Indian Tuition Waiver program.
"That $10,000 was huge," Kilgore said. "It covered most of our start-up costs. And [LTBB] still sends us emails about different grant opportunities —it wasn't one and done, they continue to offer support.
Today, Tootsie Bluffins cupcakes continue to be available at the Harbor Spring Farmers Market, as well as several cafes in Northern Michigan. They also offer custom orders for weddings and special events.
As for the future, Kilgore and Young say they are looking to further secure a foothold in the catering market, as opposed to launching a storefront.
"Catering is nice because there is a set cost," Kilgore said. "Right now, as the kids are little, we aren't thinking about a storefront. We've been growing at a great pace, but want to make sure we can spend as much time with the kids as we can — which was the whole point."
For other young Native entrepreneurs who want to take the plunge, Kilgore and Young advise: "Test the waters and then jump in. It's important not to let fear hold you back. Lean into your community — your community makes all the difference."