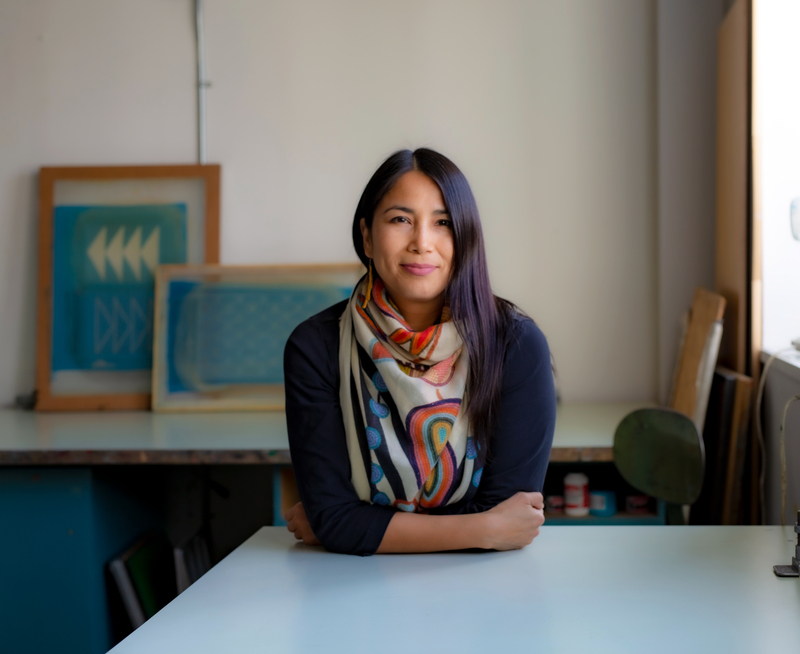 Details

By

Elyse Wild

Entrepreneurism
First Nations, Manitoba-based textile designer Destiny Seymour (Anishinaabe) is on a mission to bring Indigenous designs out of the museum and into homes.
"Featuring Indigenous patterns in home products can be a teaching tool," Seymour said.
An architect by trade, Seymour launched Indigo Arrows in 2016 after recognizing a market gap. While designing a commercial space, she came up short in a search for textiles and other interior products that reflected the history of Manitoba's Indigenous culture.
"In the evenings, I started sketching and looking at ancient ceramics from the Manitoba territory," Seymour said. "We have a rich ceramic history here in Manitoba because our southern rivers have really good clay deposits. We have thousand-year-old ceramics here in our museums."
Never miss the biggest stories and breaking news about the tribal economy. Sign up to get our reporting sent straight to your inbox every Monday morning.
Seymour said studying the local Indigenous ceramic history opened up a new world to her — one she wanted to bring to the general public outside of a museum setting.
"A light bulb kind of went off," she said.
Seymour spent two years studying, sketching, creating patterns, learning how to paint on fabric and how to silkscreen, all while raising two young daughters and working full time as an architect.
From the culmination of that work, Seymour launched Indigo Arrows' first product line: tea towels bearing a pattern inspired by a 400-year-old elk antler scraper tool used by Indigenous families.
Today, the Indigo Arrows line includes various-sized pillows, table linens, quilts and blankets, ceramics, and drum stools — all hand-crafted and dyed in striking red, green, yellows and soothing neutrals, adorned with designs from Anishinaabe pottery and bone tools discovered in Manitoba.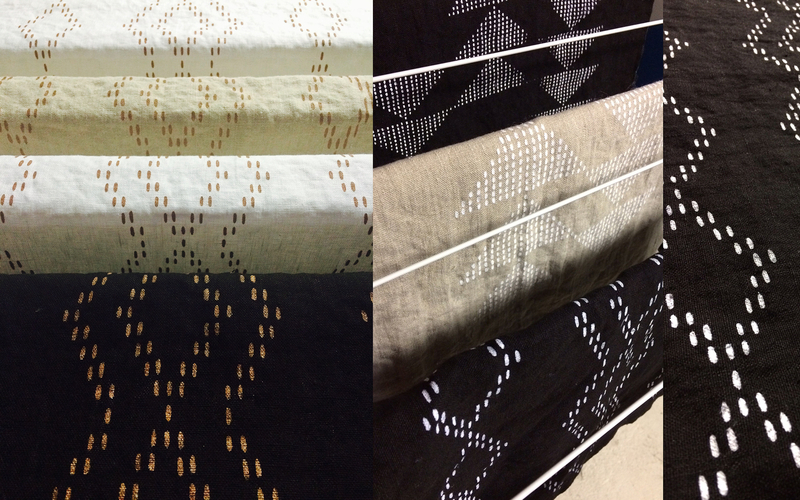 Indigo Arrows textiles feature Anishinaabe designs. (photo by Destiny Seymour)
Seymour says her best seller is the Copper and Black Moons Lumbar Pillow, which is part of a series exploring the four elements. The pillow bears a half-moon pattern representing Nokomis' — or Grandmother Moon's —powerful influence on the tides and our well-being.
Another pillow in the series — Ishkoday Long Lumbar Pillow —represents fire and features an abstract triangle pattern that conveys the flint rocks the Anishinaabe used to make fire. Seymour recalls collecting flint rocks as a child in upper Manitoba.
"I didn't realize a lot of childhood, just being up north a connected to my roots would influence me later in life," she reflected.
For Seymour, Indigo Arrows infuses her love of design with a drive to provide pathways for healing.
Seymour initially pursued psychology, a career path her father encouraged her to take she could help Indigenous communities.
She went as far as completing a bachelor's degree in psychology, and it was when she took a year off to live in Japan that her long-standing love of design was awakened.
"I learned how to do natural dying with indigo and how to make paper and just a bunch of traditional crafts," Seymour said. "I knew my passion was more about making and designing. So, I called my dad from Japan and said, 'Dad, I'm going to get my master's in architecture."
The thing with design is that I still work closely with people, and I still can be part of that healing process because spaces can be healing."
Indigo Arrows is a family affair. Seymour's husband and one of her daughters photograph the products, and her mother helps with shipping. And, through Seymour's father, Indigo Arrows not only honor a legacy of Anishinaabe design but a family legacy, as well.
When Seymour's father was a young boy, his parents hid him from government officials charged with seizing children on Canada's reserves to place them in the country's residential boarding school system.
It's estimated that 150,000 Indigenous children were forcibly placed in residential schools from the 1870s to the 1990s. The schools were designed to strip Indigenous youth of their culture and language and were rife with abuse, neglect and disease that often resulted in death. Due to poor record keeping, the number of student deaths in the boarding school system is currently unknown. However, according to Canada's Truth and Reconciliation Committee of Canada, the number of student deaths in the school system could range from 3,2000 to 30,000.
Since Seymour's father was able to avoid the residential schools, he grew up surrounded by Anishinaabe culture and language.
Today, he works with Seymour on the Indigo Arrows designs and names the products, a process that involves ceremony.
"I give him tobacco, keep dreams on it," Seymour said. "He gives me advice, and he helps me with the language. It's great I get to work with my dad."
"Even though I'm not a psychologist like he wanted me to be, he's happy to see the power and the change that design can bring."