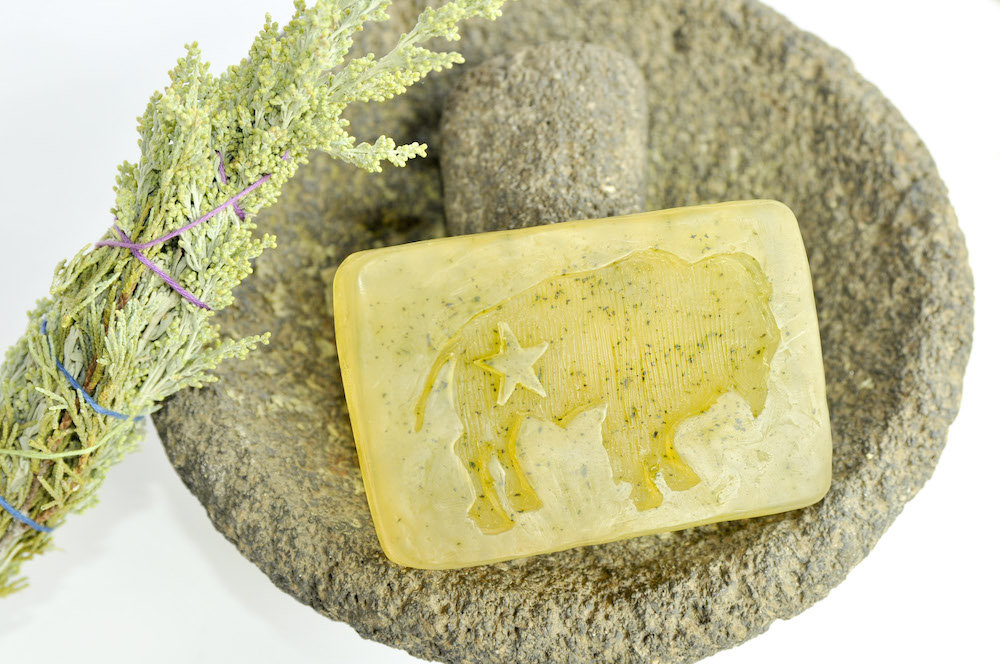 Details

By

Elyse Wild

Entrepreneurism
Angelo and Jacquelene McHorse want to transport their customers to the Southwest through Bison Star Naturals, their richly scented line of natural soaps and lotions made with the region's distinct flora and fauna.
"Our customers can have the Southwest essence at their fingertips," Angelo, a Taos Pueblo tribal member, explained. "They can be back up at their favorite mountain or back along the Rio. All of our scents are endemic to the Southwest."
Bison Star Naturals started in 2013 as a hobby for the couple, who were looking for clean, natural body products. Jacquelene — who has no tribal affiliation — sold handmade soaps at the Red Willow Farmers Market in Taos, N.M., where they live.
While she often received compliments from customers, it wasn't until the birth of their first child in 2017 that the couple began to think about turning positive reception to their handmade goods into a fully-fledged business.
"We realized that being in a small town like Taos, our economic opportunities were kind of limited," Jacquelene said. "We decided to go for it as a future outlet for economic opportunity for our family."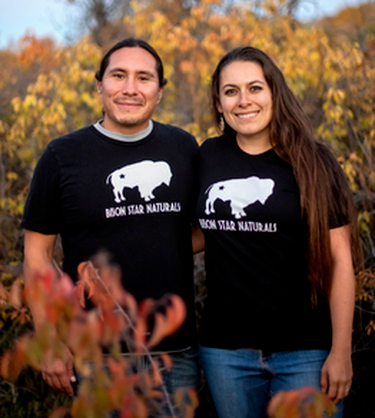 Bison Star Naturals Owners Angelo and Jacquelene McHorse (Courtesy photo)The couple bootstrapped their business finances and began employing a divide-and-conquer approach: Jacquelene manages the brand's wholesale accounts, e-commerce and social media, while Angelo leads operations and small-batch production.
Today, Bison Star Naturals boasts a line of organic, locally sourced, vegan body products. The brand's offerings include vibrant bar soaps stamped with the brand's distinct buffalo-shaped logo, liquid soaps, lotions, and lip balms in vivid scents like sage pine, red lavender, mint and wild rose.
In 2020, the couple opened their first storefront on Veterans Highway in front of Taos Mountain Casino. When COVID-19 hit, the casino closed and the number of visitors to the store crawled to a near halt.
Two years later, in November 2022, the McHorses jumped on an opportunity to rent a storefront in El Prado, an unincorporated suburb of Taos. The original location on Veterans Highway now houses small-batch production and a growing operation for the regional flora and fauna infused into the products.
Taos is located in northern New Mexico, nestled in the Sangre de Cristo Mountains, with a population of roughly 6,500. With a dynamic landscape featuring snow capped mountains, desert canyons and rock formations, the Rio Grande and its watersheds, dense forests and hot springs, the region is a popular destination for outdoor adventure enthusiasts.
The Taos Pueblo people have occupied the region since time immemorial. Today, about 1,900 of the Pueblo's citizens live in the area.
Angelo and Jacquelene hold their Taos Pueblo values and traditions sacred. Angelo says the quality of Bison Star products can stand alone, but if customers choose, the brand can provide a pathway for customers to learn about Taos Pueblo culture.
"We keep that sacred to ourselves," Angelo said. "We don't wear it on our sleeves. We want folks to recognize Bison Star Naturals as a business that has high-quality products (and) that's a family-owned business. But, when they delve deeper into who we are and where we're from, I want them to know that we're a Native business from Taos Pueblo — that is the cherry on top."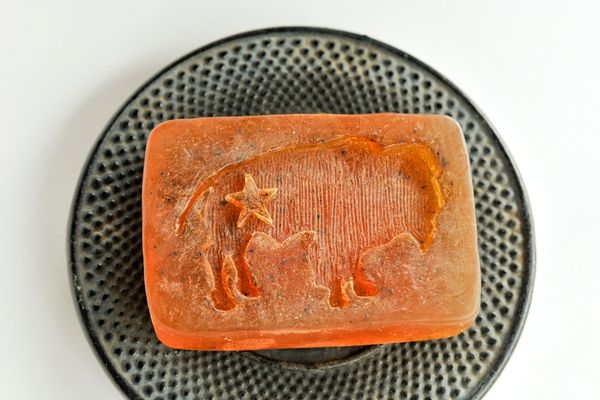 Bison Star Red Lavandar Soap (Bistonstarnatural.com)
Their products are available for purchase online and in more than 40 locations across the U.S., including several unique spots that celebrate Indigenous people like Chicago's Field Museum, the Phoenix International Airport, and even Yellowstone National Park.
The couple landed a wholesale deal with the iconic National Park last year. They celebrated the milestone by driving 15-plus hours from Taos to Yellowstone with their daughter to see Buffalo Star Naturals products on shelves at the park's gift shop with their own eyes.
"I can't even put into words to describe it," Jacquelene said. "It was so magical and made us feel so proud."
Never miss the biggest stories and breaking news about the tribal economy. Sign up to get our reporting sent straight to your inbox every Monday morning.
Magic aside, the unique distribution opportunities have helped the company sell products and build the brand in locales far-removed from Taos.
The brand building will continue in 2023. Bison Star Naturals will debut its first-ever haircare line. As well, the brand will be available at premiere Native American events where it has become a staple: the Denver March Powwow, Gathering of the Nations Powwow in Albuquerque and the Reservation Economic Summit (RES) in Las Vegas in April.
As Bison Star Naturals continues to grow, Angelo and Jacquelene hope to serve as mentors for other Indigenous entrepreneurs. The pair serve as tribal liaisons for the University of New Mexico's Rainforest Innovations Tribal Entrepreneurship Program, helping aspiring Native small business owners access the resources to be successful.
"I'm happy to be a young person and a young family in our community that's contributing to the economic development of our tribal community," Angelo said. "We hope it serves as an example for up-and-coming youth and for existing tribal organizations to partner with so they can have exposure to the economic side of community building."
Want more news about the $130 billion tribal economy?
Tribal Business News publishes thoroughly reported and well-crafted stories about Native businesses and entrepreneurs, growth and expansion strategies, best practices, economic data, government policy and other relevant business news. Tribal Business News is required reading for tribal council members and leaders of Native businesses, as well as state and federal legislators, policymakers, economic developers, entrepreneurs, bankers, lawyers and anyone interested in doing business in Indian Country.
Sign up for our free newsletter to track Native business and the tribal economy. Or sign up for a premium digital subscription ($99/year or $10/month— cancel anytime) to gain full 24/7/365 access to our business news reporting. Megwetch.