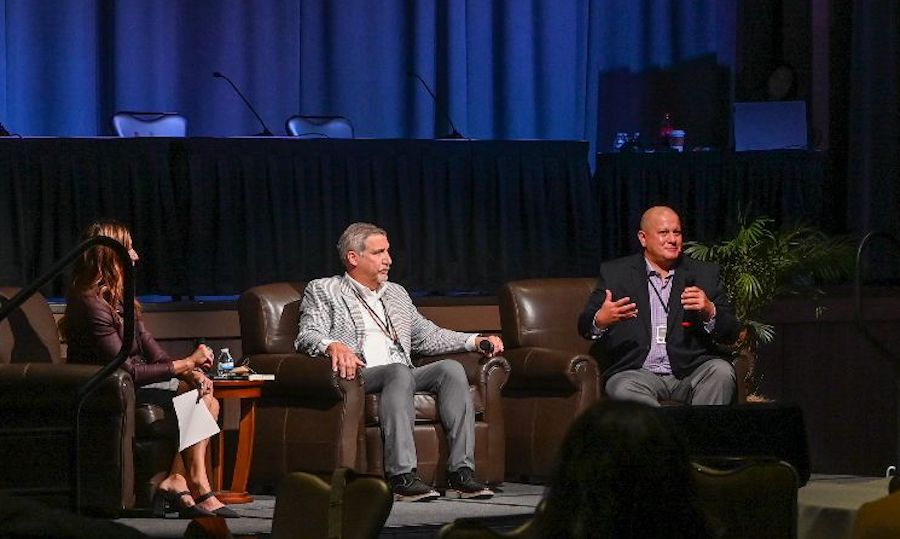 Details

Native Contracting
NEW BUFFALO, Michigan — A group of tribal leaders and economic development executives announced a new national initiative to increase government contracting and corporate supplier opportunities for tribal enterprises and Native-owned business.
The new National Native American Supplier Council (NNASC) announced its public launch yesterday at the 2023 Great Lakes Tribal Economic Summit, hosted by Tribal Business News. The new Grand Rapids, Mich.-based nonprofit organization intends to empower tribal and Native-owned businesses by providing a dedicated process for certification as a minority business enterprise, or MBE.
Never miss the biggest stories and breaking news about the tribal economy. Sign up to get our reporting sent straight to your inbox every Monday morning.
The new organization also plans to provide education and training as part of its mission to increase Native supplier opportunities. As well, NNASC intends to work closely with corporate purchasing offices across the country, as well as corporate diversity, equity and inclusion (DEI) programs nationwide, according to Executive Director Jason Palmer.
"Our certification process provides qualified Native-owned companies with MBE certifications to expand their business reach and opportunity, and further economic equity in our communities," Palmer said. "Public companies, large institutions and state and federal governments have targeted goals for minority business spend, but historically, Native-owned businesses have been overlooked due to challenges obtaining MBE certifications."
NNASC's emergence comes in the wake of concerns leveled at the National Minority Supplier Development Council, another organization that helps businesses obtain minority certification. Those certifications can lead to larger opportunities thanks to set-asides and programmatic support, but prior Tribal Business News reporting points to allegations that the NMSDC hasn't engaged tribal or Native-owned businesses to their fullest potential, leading to the organization's hire of Match-E-Be-Nash-She-Wish Band of Pottawatomi citizen Kurtis Trevan last year.
NNASC plans to provide focused support and advocacy for Native businesses, says Julio Martinez, NNASC board chairman and the CEO of Mno-Bmadsen, the economic development arm of the Pokagon Band of the Potawatomi tribe.
The best advocate for Indian Country, after all, is Indian Country, he said.
"NNASC certification is determined by a thorough and verifiable process with the support of Tribal leaders, governments and economic development corporations, or EDCs," Martinez said. "No one is better equipped to serve the Tribal community than itself. Tribes and Native people are most successful when determining their own best path forward, and we look forward to fulfilling a much-needed presence in the certification process."
The NNASC is offering certifications for three categories of Native businesses: Individual Native-owned businesses; tribally-owned economic development corporations (EDCs) or companies; tribal EDC affiliates or subsidiaries. Fees for certification vary based on the size of the business applying.
The organization also has been set up so that it is "for Natives by Natives" according to the NNASC website. Tribal governments can become members by submitting a certified resolution of their governing body in support or NNASC. There are no annual fees for member tribes.
While the NNASC hopes to increase corporate and state supply-chain opportunities for Native businesses, federal contracting remains large — and growing — source of non-gaming revenue for federally recognized tribes, Alaska Native Corporations (ANCs), and Native Hawaiian Organizations (NHOs).
From 1981 through 2021, Native entities collectively earned about $202 billion in revenue from federal contracts, according to a report by Center for Indian Country Development (CICD) at the Federal Reserve Bank of Minneapolis. During that time frame, tribal entities have also been able to grab a bigger piece of the federal contracting pie.The share of government contracts secured by Native entities has steadily increased since the late 1990s, from zero percent of total contract dollars to about 2.5% by the end of 2021, the CICD analysis shows.
The 8(a) program, in particular, has been a significant source of revenue for Native-owned enterprises, which generated $10.7 billion from prime contracts with set-asides in fiscal 2021, according to data from HigherGov, a privately owned market intelligence platform that tracks federal contracting.