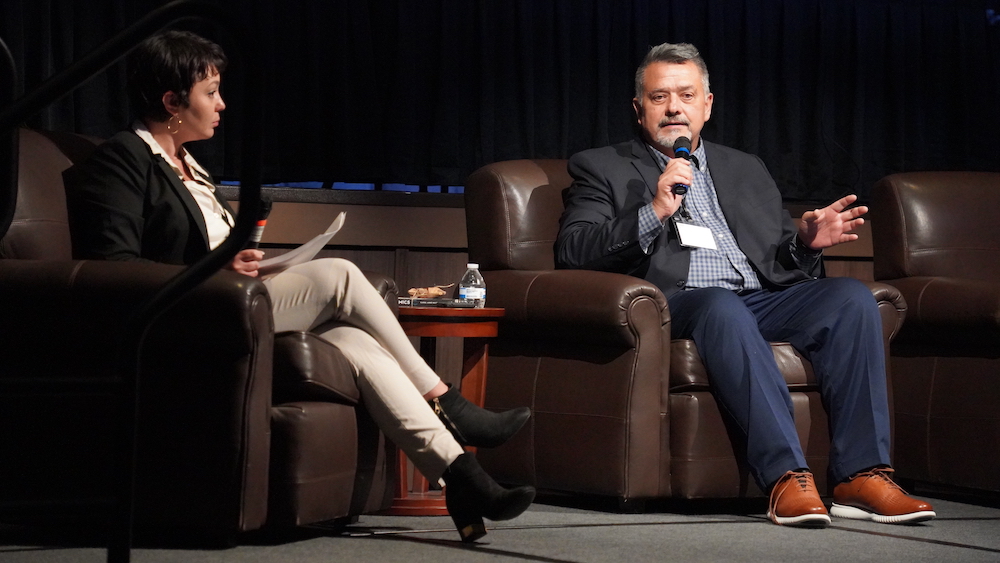 Details

Finance
Native Community Development Financial Institutions (CDFIs) are about to have an eventful October, according to Pete Upton, CEO and chairperson of the national Native CDFI Network.
Native CDFIs face the pending release of potentially disastrous certification updates from the U.S. Treasury this month. At the same time, the Native CDFI Network is working on an application to tap into a $6 billion pot of money through an accelerator program under the Greenhouse Gas Reduction Fund.
Never miss the biggest stories and breaking news about the tribal economy. Sign up to get our reporting sent straight to your inbox every Monday morning.
In either case, big things are happening for these institutions, Upton told an audience of tribal leaders and Native executives during a fireside chat on Sept. 20 at the Great Lakes Tribal Economic Summit, presented by Tribal Business News.
"This is why it's so important we have a seat at the table," Upton told Tribal Business News Senior Editor Elyse Wild during the talk. "We're the only Native-led organization that's going after the Clean Communities Investment Accelerator Fund. If we are not there…then as soon as you mention a project in Indian Country, a lot of roadblocks go up, and maybe a lot of those banks that aren't familiar with Indian Country leave the room."
The proposed U.S. Treasury rule updates for CDFI certification could slash "twenty to thirty percent" of Native CDFIs, Upton said. Announced last fall, those regulations could prevent CDFIs from issuing mortgage loans with balloon payments, terms longer than 30 years, or any interest-only loans.
A letter submitted to the Treasury by the Native CDFI Network attests that curtailing those services would prevent many Native financial institutions from providing much-needed services like home loans, construction loans, and start-up capital.
Balloon payments, which lower regular payments in favor of a larger payment at the end of a term, allow participants to refinance loans late in the amortization period and "enter the financial mainstream," the letter reads. Alongside that, 30-year terms or longer help keep those payments affordable.
There's no telling whether or not the new certification application, due sometime in October, will reflect the requested changes, Upton said. However, the Native CDFI Network has been advocating for these changes for months.
"Last December we had our annual meeting in Washington DC. And about an hour after that I got a call from the Treasury and they weren't happy with us, because their phones blew up," Upton said. "We had a lot of Senators calling, we had a lot of Congressional staff calling and a lot of CDFIs calling them. A lot of times they hear us, but they don't listen to us."
Despite the challenges ahead, Native CDFIs are flourishing. There are roughly 62 certified Native CDFIs across the country, with 25 more set to emerge in the coming years. These institutions have landed in 27 states.
Some of this growth has been accelerated by the release of State Small Business Credit Initiative (SSBCI) funds to tribal organizations beginning in July. Upton called that push a "great opportunity" for tribes to begin spinning up new Native CDFIs or amplify existing efforts.
The Native CDFI Network is also pursuing funding through the GGRF's Clean Communities Investment Accelerator program. That funding opportunity opened in July, allocating $6 billion to two to seven "hub nonprofits" that will, in turn, deliver funding and technical assistance to allow local lenders to support clean technology projects in low-income or disadvantaged communities.
That could be a shot in the arm for Native CDFIs, and by extension Native communities looking to expand green energy projects or new infrastructure. That's why it's so crucial that Natives have a voice in that process, Upton said.
"We had such a calling from Indian Country that we stepped up and led a Native-led organization," Upton said. "That (CCIA) application is a heavy lift, but it's so important for Indian Country to be at that table and really bring the funds to the (institutions) that understand the problems in their community."
Given their relationship with their communities, Native CDFIs are the best way to solve questions of credit and capital in those specific communities, Upton added.
"A lot of times community problems are solved by community members, and that's why we need to get money into the hands of our CDFIs," Upton said. "...that's partnership. You bring the CDFI into the equation and a lot of times we can bring access to capital that might be needed for a project, and a lot of times if we (don't have) it, we start making calls.
"I think the reason you need to create a Native CDFI...is because as a network, we collaborate, and if there's a way to get it done, we're going to get it done."