The National Congress of American Indians will host a webinar next Thursday to launch its new Tribal Food Sovereignty Resource Directory.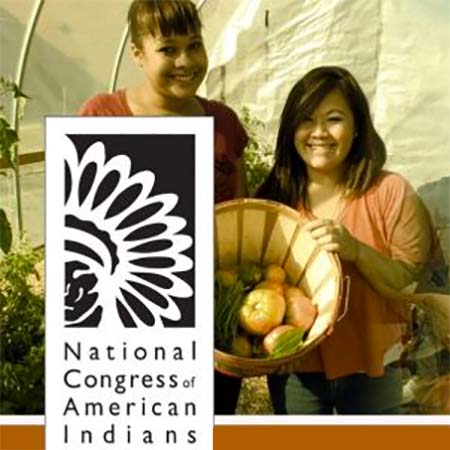 The webinar will be run from 2-3:15 p.m. EST, Jan. 14 on Zoom. Interested viewers can follow this link to register.
During the program, NCAI will introduce a "comprehensive collation" of funding resources, technical assistance, and support available to tribal nations as they establish and maintain food systems, the group stated.
NCAI staff will host a live walk-through of the directory, followed by remarks and discussion from organizational partners, including Diane Cullo, director of the U.S. Department of Agriculture's Office of Tribal Relations; Janie Hipp, CEO of Native American Agriculture Fund; and Zach Ducheneaux, executive director of the Intertribal Agriculture Council.
Other speakers include Sadie Red Eagle, a research associate at NCAI; A-dae Romero-Briones, director of programs for Native agriculture and food systems at First Nations Development Institute; and Cris Stainbrook, president of the Indian Land Tenure Foundation.
Ducheneaux told Tribal Business News the directory was especially important amid the ongoing drive to improve food systems in the wake of the COVID-19 pandemic.
"We've talked about the laying bare of the weakness of our food systems amid COVID-19," Ducheneaux said. "Nearly every tribe was victim to the shortcomings of the food supply chain because of this pandemic. We can capitalize on that attention and bring forward the solutions that we've been talking about for the last couple decades with a fresh, invigorated group of supporters."
Given President-elect Joe Biden's confirmation Wednesday and the Democratic victories in both Senate run-off elections in Georgia, the webinar also will consider food sovereignty under a new administration, Ducheneaux said.
"We will be talking about starting to lay the groundwork for what the future of the food sovereignty movement holds, and doing that through the lens of the new reality where we've got a different party controlling the Senate and the White House," he said. "Hopefully that will expedite the implementation of some of the 2018 Farm Bill initiatives that we were successful in securing."
Want more news about the $130 billion tribal economy?
Tribal Business News publishes thoroughly reported and well-crafted stories about Native businesses and entrepreneurs, growth and expansion strategies, best practices, economic data, government policy and other relevant business news. Tribal Business News is required reading for tribal council members and leaders of Native businesses, as well as state and federal legislators, policymakers, economic developers, entrepreneurs, bankers, lawyers and anyone interested in doing business in Indian Country.
Sign up for our free newsletter to track Native business and the tribal economy. Or sign up for a premium digital subscription ($99/year or $10/month— cancel anytime) to gain full 24/7/365 access to our business news reporting. Megwetch.