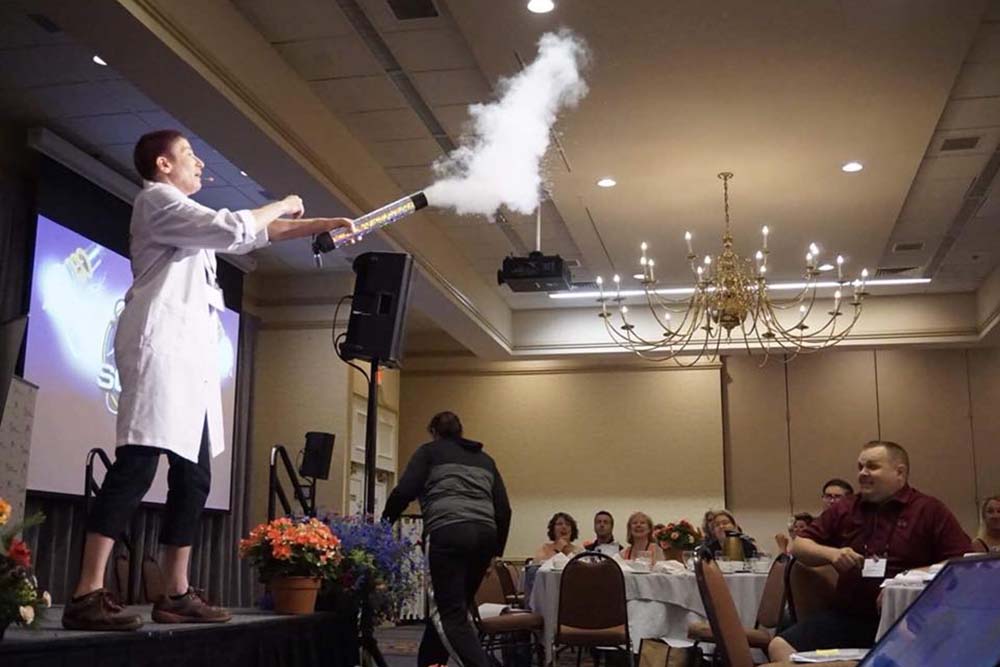 Details

Food/Agriculture
The Native American Agriculture Fund has partnered with education advocacy group National Agriculture in the Classroom Organization to expand Indigenous access to select initiatives.
The partnership will help NAITCO bring more teachers of Native students to its "Field of Dreams" Conference in Des Moines, Iowa in late June. NAAF will sponsor those teachers' registration costs and, if applicable amid COVID-19, travel costs to attend the conference in person.
NAAF will also underwrite the costs for keynote speaker Dr. Anton Treuer, professor of Ojibwe at Bemidji State University and author, who will deliver an address titled "Transformative Teaching: How to Infuse Equity Tools In Your Classroom Delivery."
In addition, NAAF will help NAITCO's Minnesota chapter develop professional workshops that will in turn be used in other Agriculture in the Classroom programs across the country, as well as "AgMag" readers for Native students.
"We really are striving to reach more teachers and students of diverse backgrounds," said NAITCO Executive Director Lisa Gaskalla. "The NAAF has access to that audience, and it's a great partnership to help us broaden our reach."
NAITCO President Tammy Maxey said the partnership would help NAAF build leadership and guidance in Indigenous communities.
"With partners like the Native American Agriculture Fund, we are able to reach more teachers and more Native students, aiding NAAF in its efforts to create Native American youth leaders in the agriculture sector," Maxey said.
NAAF CEO Jamie Simms Hipp (Chickasaw) said partnering with NAITCO to assist teachers educating Native students aligned with the group's mission.
"Educating youth about the value and role of agriculture, and careers in agriculture in their communities is critical," Hipp said in a statement. "We are pleased to work with NAITCO and assist in our joint efforts to encourage more agriculture-focused educational resources available to Native K-12 students and to assist in supporting teachers of Native students, who are such a critical link."
'One of our main priorities'
NAITCO is a conglomerate organization of individual Agriculture in the Classroom groups in all 50 states, Puerto Rico, the District of Columbia, and the U.S. Virgin Islands.
NAAF Communications director Maria Givens said the organization's partnership with NAITCO was part of a broad range of cooperation with non-Native programs in service of improving Native agriculture.
"The landscape of agricultural education is really wide. There are organizations like FFA, 4H, Ag in the Classroom," Givens said. "We want to make sure that all of these food and agriculture education programs are actually reaching Native youth. NAAF really has a belief that our future is in our next generation of agriculturalists."
In addition to its partnerships with other organizations, NAAF distributed roughly $1,000,000 in youth-focused grants in both 2019 and 2020, as Tribal Business News previously reported. The organization was created by the landmark Keepseagle v. Vilsack class-action lawsuit, and provides grants for business assistance and development, agricultural education, technical support and advocacy services.
The efforts represent a wider move in Native agriculture organizations toward engaging and encouraging Indigenous youth to participate in agricultural production.
The U.S. Department of Agriculture's 2017 Census of Agriculture noted that Native farmers represented roughly 2.3 percent of the country's producers. Around 9 percent of those 79,000 farmers were under 35.
"It's one of our main priorities. It's been one of our board of trustees' priorities from day one, really raising up this next generation of agriculturalists," Givens said. "We want to make sure Native youth are entering the workforce and getting educated in everything going on right now."
Want more news about the $130 billion tribal economy?
Tribal Business News publishes thoroughly reported and well-crafted stories about Native businesses and entrepreneurs, growth and expansion strategies, best practices, economic data, government policy and other relevant business news. Tribal Business News is required reading for tribal council members and leaders of Native businesses, as well as state and federal legislators, policymakers, economic developers, entrepreneurs, bankers, lawyers and anyone interested in doing business in Indian Country.
Sign up for our free newsletter to track Native business and the tribal economy. Or sign up for a premium digital subscription ($99/year or $10/month— cancel anytime) to gain full 24/7/365 access to our business news reporting. Megwetch.