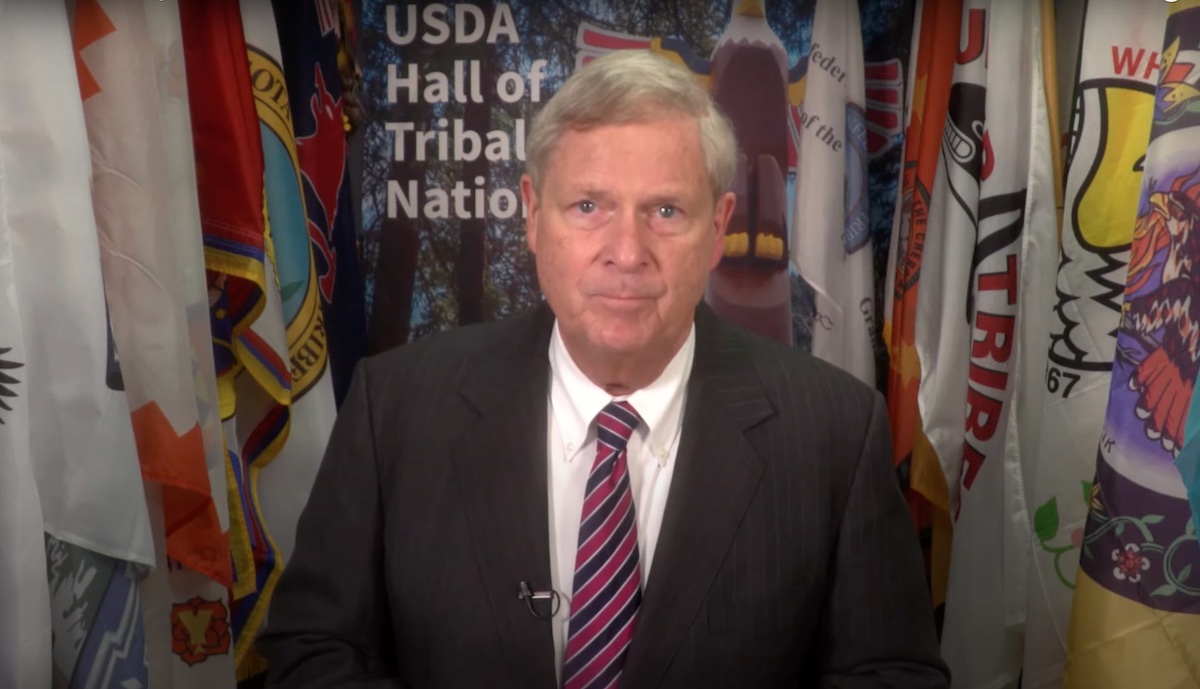 Details

Food | Agriculture
WASHINGTON — The U.S. Department of Agriculture last week announced four new initiatives aimed at improving the agency's relationship with Indian Country.
The package consists of a food sovereignty push, a recommitment to expanding tribal input on agency policy, a tribal treaty database, and a Hall of Tribal Nations meant to honor the nation-to-nation relationship between tribes and the federal government.
Together, these steps represent an "overdue" evaluation of the agency's interactions with tribes, said Native American Agriculture Fund CEO Toni Stanger-McLaughlin (Colville).
"We welcome the advancements within USDA in honoring and utilizing administrative authority to move the needle," Stanger-McLaughlin said in an emailed statement to Tribal Business News.
She noted many of the efforts stemmed from work former NAAF Executive Director and current USDA General Counsel Janie Hipp (Choctaw) started in her prior tenure with the agency.
To that end, Hipp's founding of the Indigenous Food and Agriculture Initiative at Arkansas State University and her work with the Native Farm Bill Coalition laid the groundwork for the consultation policies and procedures currently being expanded.
"Similar legal and policy evaluations throughout the rest of the department have been overdue," Stanger-McLaughlin said. "It could encourage education within the department as well as empower individual Tribal members and their governments in advocating for their rights."
In particular, the USDA Indigenous Food Sovereignty Initiative leverages seven projects aimed at improving access to traditional foods. Those projects range from providing resources on seed saving through the Native Food Sovereignty Alliance to healthy cooking videos created by The Sioux Chef founder Sean Sherman in partnership with North American Traditional Indigenous Food Systems.
Stanger-McLaughlin said NAAF hopes to see more tribes take advantage of the projects and funding available under the initiative to improve both food sovereignty and security.
"With additional funding dedicated to infrastructure development, we hope that more Tribes will look toward agriculture, including traditional foods as a means of strengthening tribal sovereignty, security and overall health and economic development," she said.
The USDA also committed to expanding the input tribes have on the agency's programming and policies in relation to Native nations. The announcement laid out three steps: reviewing USDA's statutory authorities that can "empower" tribal nations, identifying potential increased use cases for those authorities, and reporting which additional statutory authorities might better support self determination.
The agency's announcement pointed to a set of self-determination demonstration projects announced Nov. 1 under the U.S. Forest Service and to an initiative by the USDA Food and Nutrition Service to expand food options available under the Food Distribution Program on Indian Reservations (FDPIR).
"USDA is fully committed to supporting the restoration of indigenous food, to empower indigenous agricultural economies and to improve indigenous health through traditional foods. This FDPIR demonstration project is an important part of that effort," Stacy Dean, deputy under secretary for food, nutrition, and consumer services, said in a statement. "We are embracing this opportunity to make long-term enhancements to FDPIR by learning more about the nutritional needs and preferences of tribal communities."
In partnership with Oklahoma State University, the agency is compiling a database of tribal treaties meant to improve adherence to treaty obligations among federal agencies. The database, which has launched a public beta version, provides users with the ability to search recorded treaties by tribe, state and key words.
Meanwhile, the new USDA Hall of Tribal Nations aims to reflect the government-to-government relationship between tribes and the United States. The hall features a set of tribal nation flags and hopes to include more, as well as Native artwork and Native foods.
"For years, USDA has welcomed state governors from each of the fifty states — and now we can welcome you, with your flags," Agriculture Secretary Tom Vilsack said in a video. "This Hall of Tribal Nations reflects our unique relationship, and trust responsibility with you as dignitaries of your own tribal nations."
Together, the initiatives represent a push by the Biden administration to achieve equity and remove systemic barriers between underserved communities and the USDA's programs and benefits.
As a veteran of the USDA's Office of Tribal Relations, Stanger-McLaughlin pointed to other improvements she hoped to see down the line. Those include an elevated Office of the Assistant Secretary of Tribal Affairs, senior staff dedicated to consultation and legal compliance in tribal matters, agency-wide copy instructing tribes on how to address perceived treaty violations, annual reports on tribal use of USDA services and programs, and consolidation of USDA mapping and related data.
Stanger-McLaughlin noted that the agency made these announcements during Native American Heritage Month, which was intentional.
"Each November during Native American Heritage Month, many departments and agencies make large and small commitments, recognitions, and in some instances sweeping changes," she said. "Although it can seem disingenuous for these actions to largely occur in the spotlight and only during the month of November, any progress is progress."