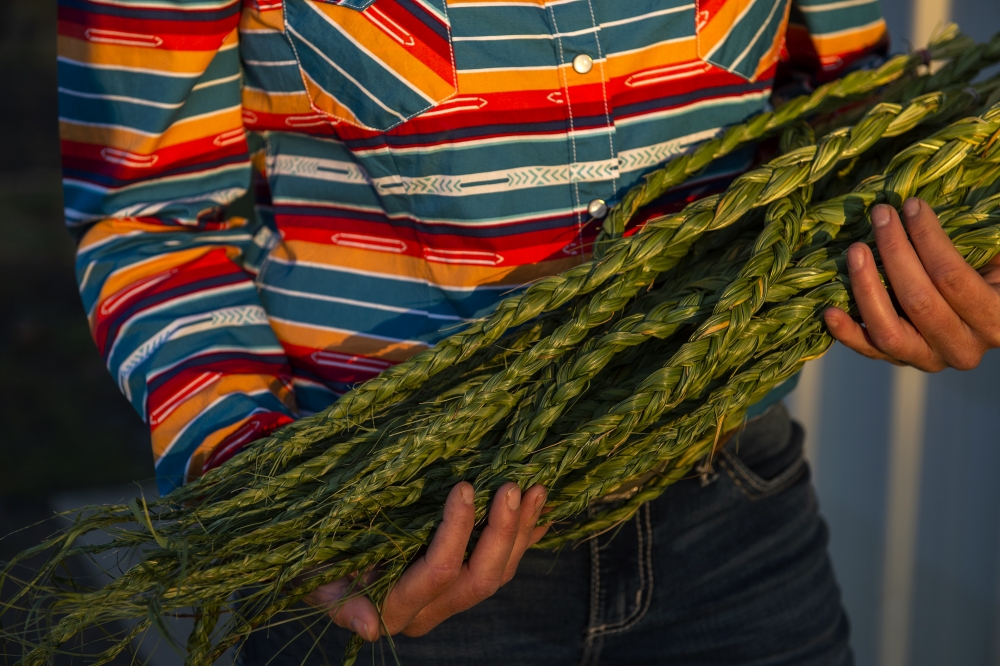 Details

Food | Agriculture
The Cheyenne and Arapaho Tribes in Oklahoma run three pantries within its boundaries to dispense food boxes to elders or other tribal members in need.
While the boxes offer a critical service to those members, the products they contain are often less than ideal, according to Food Distribution Coordinator Eddie Hamilton, who notes the pantries sometimes lack fresh fruits or vegetables to go with the non-perishable goods in each box.
However, the tribe is receiving some new help to address the issue.
The U.S. Department of Agriculture's Agricultural Marketing Services awarded the tribe a two-year, $440,000 grant via the Local Food Purchase Assistance Cooperative Agreement Program, which was established under the American Rescue Plan Act. The program will eventually award a total of $400 million to state and tribal governments to encourage sourcing foods from local producers.
The grant will give the Cheyenne and Arapaho tribes roughly $220,000 per year to purchase foods from producers within 400 miles of its Concho, Okla. headquarters. In addition to providing producers in the area with additional business, the purchases will enable the tribe's food pantries to be well stocked.
"It basically would help in a way to eliminate some of the food insecurities for some of our tribal members in our boundary area," Hamilton told Tribal Business News. "It's basically the benefit of having fresh food. It may help with our populations of folks who have diabetes."
Never miss the biggest stories and breaking news about the tribal economy. Sign up to get our reporting sent straight to your inbox every Monday morning.
So far, the Local Food Purchase Assistance program has awarded grants to 36 states, three U.S. territories, and six Indigenous tribes. The measure aims to provide improved food security for communities, alongside economic security for local producers.
Food security has become a major concern in Indian Country following the supply chain disruptions and social isolation of COVID-19, as Tribal Business News previously reported. In a joint survey between the Native American Agriculture Fund, the Food Research and Action Center, and the Indigenous Food and Agriculture Initiative at the University of Arkansas, roughly half of the respondents reported a lack of food security in their households, which climbed to 59 percent in households with children under 5.
Many of the tribal projects supported by Local Food Purchase Assistance funding take aim at improving food security, most often for tribal elders and needy families.
For example, the Blue Lake Rancheria in Blue Lake, Calif. will use roughly $140,000 to purchase 11,000 pounds of local produce and 4,400 pounds of meat through local socially disadvantaged farmers.
"The Blue Lake Rancheria Tribe is honored to receive grant funds, which will help expand the tribe's food sovereignty programming and increase consumption and purchase of locally grown food on tribal lands," Blue Lake Rancheria Chairman Claudia Brundin said in a statement. "Currently, fresh produce from Daluviwi' Community Garden is used for the tribe's elder nutrition program, which serves about 90 tribal elders in the region. The food boxes will further the tribe's goals to live sustainably, and the programming will exemplify how to strengthen food systems in Indian Country."
Meanwhile, the Central Council of Tlingit and Haida Tribes of Alaska received a $208,000 grant award to purchase 15,000 pounds of Pacific herring roe from 15 tribal citizens in Southeast Alaska.
The tribe then will distribute the roe to more than 3,000 tribal households, many of which face food security issues, according to a statement. Additionally, the initial roe purchase could serve as a blueprint for future food distribution programs for the tribe.
"This funding comes at a critical time as we work to address food insecurity in our region," Tlingit and Haida President Richard Chalyee Éesh Peterson said in a statement. "With the rising cost of food and limited transportation options, our rural communities are experiencing food shortages like never before. This will help us develop the food systems we need by expanding access to locally grown and harvested food."
The Mashantucket Pequot Tribal Community in Mashantucket, Conn. plans to use funding from a Local Food Purchase Assistance grant to purchase food from the tribe's Mechooôk Farm and Sugar Shack and distribute it by way of two new staff members and a cold storage delivery vehicle.
The tribe also plans to purchase locally produced frozen meals for eventual delivery to tribal elders and pick up locally farmed vegetables, fruits and dairy for weekly congregate meals.
"With today's challenging economy, we welcome this USDA grant opportunity because it augments our efforts to ensure nutritious, locally-grown and raised foods remain accessible and available to our community," Rodney Butler, Chairman of the Mashantucket Pequot Tribal Nation, said. "Ensuring our community's basic needs are always met remains a top priority for our Tribal Council, and we are grateful to be able to partner with the Thames Valley Coalition for Community Action, Inc. and local farms to contribute to and support our region's supply chain."
Other recent tribal Local Food Purchasing Assistance grants went to:
the Tuolumne Band of Me-Wuk Indians in Tuolumne, Calif., who will expand food security assistance by signing on local vendors in the distribution program to provide 3,500-4,000 boxes a month to tribal members; and
the Walker River Paiute Tribe in Schurz, Nev., which will source local foods for its distribution and market opportunities for regional producers by a projected 25 percent.
Walker River Paiute Tribal Chair Amber Torres said the tribe was grateful to have the ability to administer and monitor its own food distribution programs, which is also a key tenet in current policy recommendations the Native Farm Bill Coalition has for the 2023 Farm Bill.
"We are happy to be a part of promoting tribal nutrition security, keeping dollars circulating within our local economy and building relationships with local farmers, ranchers, and producers," Torres said. "I truly believe no one knows the needs of our tribal citizens better than the tribe and the people we serve. Despite the challenges the COVID-19 pandemic presented to the tribe over the past two years, this program continues to show our resiliency as a tribal nation. We appreciate the flexibility and trust to administer our own program and the acknowledgment of our tribal sovereignty."
The Cheyenne and Arapaho's grant also will serve to strengthen the tribe's relationships with local farmers and ranchers in the process of securing more food for the expanded program, Hamilton said.
As well, the tribe plans to expand its assistance to previously unreachable members by way of a refrigerated box truck, spreading the pantries' effects to even more people.
"This is a good thing for us," Hamilton said. "Not all of our tribal members may qualify for commodities, or they may come short if they go through the SNAP program, but this will be a choice they can have on a regular basis, accessibility for that.
"I believe it'll help, especially with items that may not be purchased from our tribal members. I think this is a great way to provide those items and improve our health."