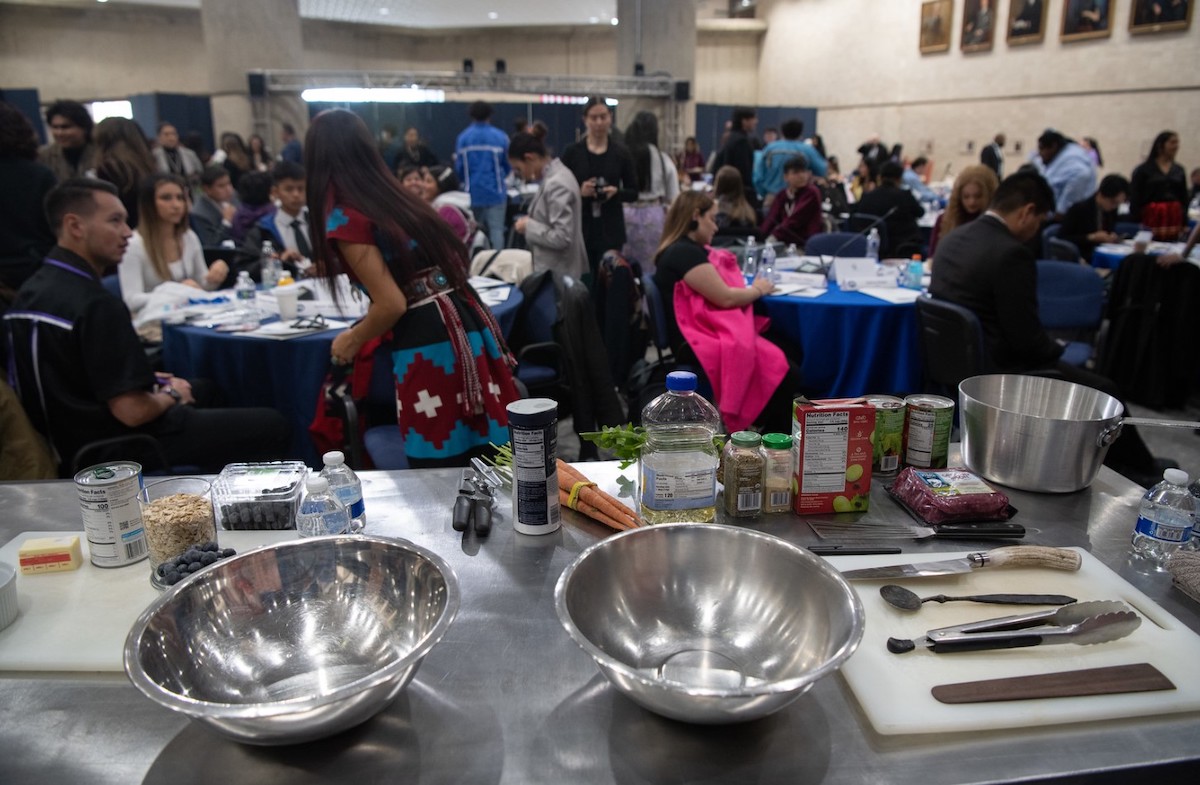 Details

Food/Agriculture
Pandemic-prompted supply chain disruptions and a growing movement to return to traditional diets have fueled a wave of tribal food sovereignty efforts across the country, which are now getting an extra boost from the U.S. Department of Agriculture.
The USDA recently announced a wave of partnerships and funding for food sovereignty projects, working with an array of collaborators to provide training materials, hub organizations, and multimedia productions focused on building insular, self-sufficient food systems.
"The United States government hasn't always incorporated Indigenous views and values into our work, and that's particularly true within the food and agricultural space," said Heather Dawn Thompson, director of the USDA Office of Tribal Relations and a member of the Cheyenne River Sioux tribe. "We're taking this moment to rethink how the United States Department of Agriculture interacts with and thinks about Indigenous foods and Indigenous farming and ranching techniques."
Never miss the biggest stories and breaking news about the tribal economy. Sign up to get our reporting sent straight to your inbox every Monday morning.
Oglala Lakota educator Lisa Iron Cloud, who worked on several foraging educational manuals, said the efforts mark a step in the right direction.
"I think expressing interest is important. Before, it was just forcing food on us, but now they're actually listening to us as Natives and wanting to understand 'what was your diet naturally,'" Iron Cloud said. "It was an interesting experience working with them."
In another example, the USDA worked with the Native-led nonprofit North American Traditional Indigenous Food Systems and Chef Sean Sherman (Oglala Lakota) to create a series of recipe videos using ingredients found in the Food Distribution Program on Indian Reservations.
"At NATIFS, our two main goals are creating Indigenous-focused access to foodways education along with facilitating Indigenous food access to many Indigenous communities across Turtle Island," Sherman said in the video. "We're hoping to work with tribal communities across Turtle Island to help them develop more Indigenous food operations everywhere."
Available recipes, both in video and PDF formats, include bison meatballs, chicken and nettle pozole, and mulberry rosehip bars, among others.
Thompson also pointed to two regional seed processing centers developed in partnership with the Indigenous Seed Keepers Network under the Native American Food Sovereignty Alliance. The agency purchased equipment, including six seed cleaning and fanning mills, to help support those new hubs.
Another project prepared by Iron Cloud and Taos Pueblo/Yaqui member Addelina Lucero lists best practices for harvesting wild foods and plants, including instructions on how to keep operations sustainable. Viewers can also find a list of available plants in particular regions, as well as their potential uses.
Their instructions point to tips like ensuring one only takes what one needs, leaving plants available for the local ecosystem, and to avoid polluted areas like highways or heavily populated regions.
"If you are harvesting watercress from a polluted waterway, you could get a parasitic infection. Or, if you are harvesting cattails from a roadside ditch, the cattails will probably contain heavy metals from vehicular runoff," write Iron Cloud and Lucero in the manual. "Just be aware and ask lots of questions from your local roads department, your parks and recreation department, and your community."
Thompson said the agency was "excited" about this latest approach to food sovereignty initiatives, and planned to expand those efforts in the future.
"It's possibly reversing around 200 years of federal policy," Thompson told Tribal Business News. "These cooperative agreements and training materials are some of the most visible in the deliverables department, but the initiative is multifaceted."
The USDA's support builds on a surge of attention to the food sovereignty movement in the wake of COVID-19.
Tribes across the country have begun building self-sufficient systems in different ways, including educating their members on how to harvest, hunt, or gather traditional foods, or securing their own ingredients for federal food distribution programs.
Meat processing plants, new bison herds, and other agricultural investments have proven a popular use of American Rescue Plan Act and CARES Act funding, as Tribal Business News previously reported.
Tribal and Native-led organizations look to Native health and food security as chief motivators for improving their food sovereignty, often contending that traditional recipes help Natives avoid food-related diseases like skyrocketing diabetes rates.
Secretary of Agriculture Tom Vilsack said the media presentations created through the Food Sovereignty Initiative will support surging self-determination efforts.
"USDA is committed to empowering tribal self-determination and bringing Indigenous perspectives into agriculture, food, and nutrition," Vilsack said in a statement. "These new videos, publications, and guides will support Indian Country and educate the wider agriculture community."
Want more news about the $130 billion tribal economy?
Tribal Business News publishes thoroughly reported and well-crafted stories about Native businesses and entrepreneurs, growth and expansion strategies, best practices, economic data, government policy and other relevant business news. Tribal Business News is required reading for tribal council members and leaders of Native businesses, as well as state and federal legislators, policymakers, economic developers, entrepreneurs, bankers, lawyers and anyone interested in doing business in Indian Country.
Sign up for our free newsletter to track Native business and the tribal economy. Or sign up for a premium digital subscription ($99/year or $10/month— cancel anytime) to gain full 24/7/365 access to our business news reporting. Megwetch.