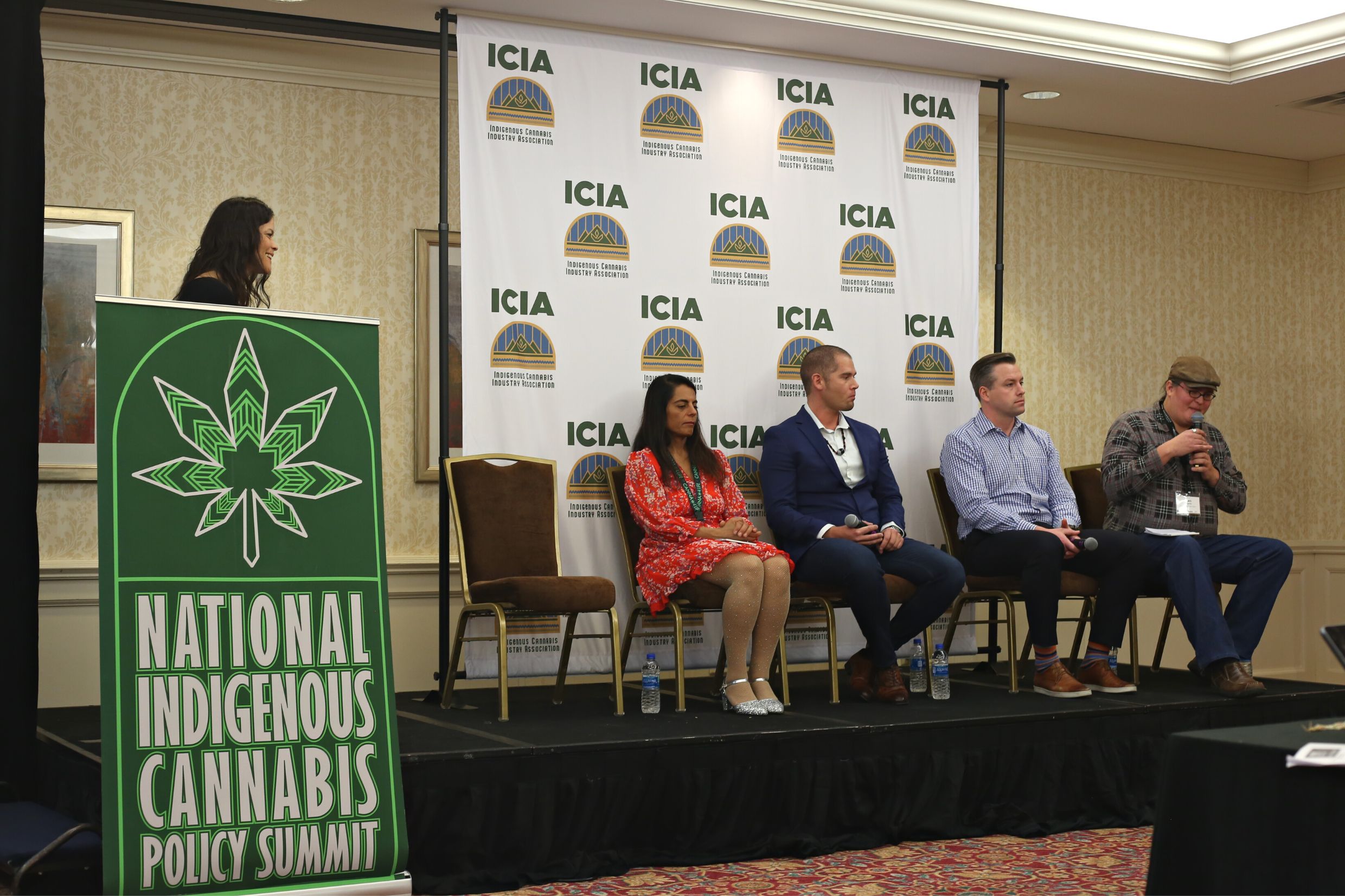 Details

By

Elyse Wild

Food | Agriculture
Tribal leaders, Native cannabis professionals, and industry allies convened in Milwaukee last week for the first-ever Wisconsin Cannabis Industry and Policy Summit.
The two-day conference, produced by the Indigenous Cannabis Industry Association, was abuzz with discussions revolving around economic diversification, Indigenous-driven medical research, data sovereignty and risk.
Ho-chunk Nation Chief Clayton Winneshiek opened the Summit with a prayer and spoke about the potential impact cannabis enterprises could have on diversifying tribal economies away from casino revenues.
"We need to diversify however possible," Winneshiek addressed the crowd. "We've been stuck in looking at one thing for so long: gaming,"
Never miss the biggest stories and breaking news about the tribal economy. Sign up to get our reporting sent straight to your inbox every Monday morning.
ICIA founder Rob Pero (Bad River Tribe) followed Winneshiek's opening remarks. In his address, Pero spoke of the need for substantial, contemporary data on the medical uses of marijuana and emotionally highlighted the people impacted the most by marijuana prohibition: the chronically or terminally ill.
"People are making medicine in their kitchen because they don't know where to get it," he said.
'Healthcare is economic development'
Dr. Rodney Haring, director of the Roswell Park Center for Indigenous Cancer Research, gave the morning's keynote address.
Haring spoke of the need for cannabis research along the cancer continuum from diagnosis to palliative care. And, if tribes exert sovereignty over research parameters, tribes can drive their urgently-needed medical research forward. That research, paired with comprehensive data protection, could see tribes offering cutting-edge treatments that aren't available in the greater United States, Hairing said.
"Healthcare is economic development," Haring said.
The proliferation of opioid overdoses on reservations frequently came up in panel discussions. Rates of opioid deaths in Native Americans are higher than the national average, according to the CDC.
Mike Decorah, St. Croix Chippewa Indians of Wisconsin, senior intergovernmental affairs specialist, spoke about undoing "reefer madness" addressing overdoes on reservations driven by generational trauma.
Stockbridge Munsee Mohican Tribe President Shannon Holsey agreed and emphasized the need for Indian Country to have its own data on the uses and benefits of cannabis to bring to the political negotiating table.
"It's going to take all of us to convince [them] of the benefits and create that data aggregate," Holsey said. "I don't want to build another adolescent treatment facility, and I don't want our children to keep dying. I want to find proactive and holistic ways to heal our children and their families."
'What if we could grow material for houses?'
The afternoon's keynote speaker, renowned Native American economist, environmentalist and industrial hemp grower Winona Laduke spoke about the environmental, economic and spiritual opportunity to transform the materials economy — in which plastic plays a major role — with hemp.
Hemp is one of the fastest-growing plants on earth and can be used to make a range of products, including rope, textiles, clothing, shoes, food, paper, bioplastics, insulation, and biofuel.
Laduke also pointed to hempcrete — a hemp-based composite material that can be used to build sustainable, long-lasting homes — as a solution to tribal housing issues.
"We know there are issues with tribal housing," Laduke said. "Every reservation has so many problems with not enough housing. What if we could grow the materials for our own houses?"
Wednesday concluded with a panel on equitable capitalization and commerce in cannabis.
Paul DiBenedetto, senior vice president and cannabis segment leader of advising firm HUB International, told the crowd that while investors aren't as eager as they were in the early days of the Green Rush, tribes have an opportunity to learn from the failings on the industry — mainly cannabis brands failing to differentiate themselves in an oversaturated market.
"It's hard to find money in cannabis right now for smaller operators," DiBenedetto said. "Investors are as risk-inclined as they were early on. But, the nice part is that a lot of mistakes have already been made by other people; you can learn from them and really learn the business and find the right partners."
Tina Begay, owner of Red Tail Accounting, spoke about the tax benefits of investors partnering with tribes on cannabis enterprises and that tribes may, in fact, be the ideal partners from a tax perspective.
"If you are not a tribal member, your part of it will be taxed at the corporate tax rate of 21%," Begay said. "But the tribe's part is not. That is the magic of partnering with a tribe. The best opportunity [in the market] is for tribes— they don't have to pay that 21% or even state taxes other than their permitting fees or whatever the compact says."
'We Know How to Do This'
Thursday's panel asked, "What's Next?" as Indian Country navigates a young industry in which opportunity extends beyond revenue and into healthcare, addiction recovery, housing and much more.
Marcus Grignon, executive director of Hempstead Project Heart and enrolled member of the Menominee Indian Tribe of Wisconsin, advocated for the state's passing of the 2017 Wisconsin Act 100, allowing for the growth and process of industrial hemp. Gringon advised the crowd on how to lobby for cannabis on a tribal level and at the state level, underscoring the importance of igniting a supportive base.
"When it comes to working with your tribes, educate your membership," Gringon said. "Figure out who your allies are, find who your legislators are, and start educating their constituents. And for tribes, get a really good lobbyist. And, start engaging young people on social media."
The Summit concluded Thursday morning with an address from Chris James, president and CEO of the National Center for American Indian Economic Development. James said Indian Country is primed for success in emerging and hard-to-navigate cannabis markets.
"Tribes know how to thrive in difficult markets," James said. "We know how to succeed when access to capital is a barrier or not an option. Tribes have worked — and thrived — in highly regulated spaces. We know how to do this."