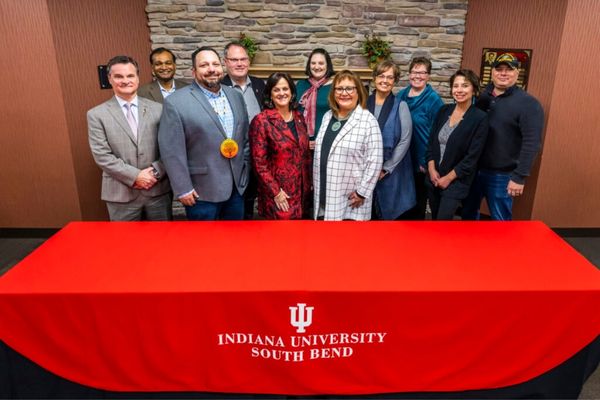 Details

By

Tribal Business News Staff

Higher Education
SOUTH BEND, Ind. — The Pokagon Band of Potawatomi Indians and Indiana University South Bend (IU South Bend) have renewed and expanded a tuition grant award for eligible citizens of the tribe.
Under the renewed and expanded Institutional Award Program, IU South Bend will reduce or eliminate the difference between in-state and out-of-state tuition rates for Pokagon Band citizens and employees.
The parties held a ceremonial signing event Thursday, Dec. 8, at the IU South Bend campus, featuring Pokagon Band Chairwoman Rebecca Richards and IU South Bend Chancellor Susan Elrod. Members of IU South Bend's faculty and staff were in attendance, along with members of the Pokagon Band Tribal Council, Pokagon Band tribal government, and Pokagon students currently attending IU South Bend.
To be eligible for the Institutional Award, Pokagon citizens and employees must qualify for admission into IU South Bend, consistent with the university's usual admission procedures. Qualifying individuals may participate in any IU South Bend undergraduate or graduate program, degree or non-degree, offered in online, in-person and hybrid formats. Under the new agreement, IU South Bend's online courses were added to the award.
"The Pokagon Tribal Government strives to make investments that will have a positive impact for our Tribe, seven generations into the future," Chairwoman Richards said in a statement. "Access to higher education opportunities and life-long learning are critical to the long-term success of our Pokagon Citizens and the individuals that are employed by our various business entities. Despite having hundreds of Pokagon Citizens and employees that reside in the state of Indiana, we have thousands more that reside in Michigan and other states. We are extremely pleased to renew and expand our partnership with IU South Bend, to ensure that all of our citizens and employees have access to the same high-quality educational opportunities from one of the top universities in the region."
According to the university's website, IU South Bend's total student body is 4,942, with 37 percent being first-generation college students.
The in-state tuition rate is currently $3,534 per semester, with out-of-state tuition running $9,963 per semester.
"We are thrilled to partner with the Pokagon Band to create more opportunities for Pokagon Citizens to access higher education," IU South Bend Chancellor Susan Elrod said in a statement. "A college degree helps students transform their lives and the lives of those around them. IU South Bend students graduate and become difference-makers in their community, which we know is important to the tribe. We welcome Pokagon Citizens and employees as students who enrich our campus community with their talents and traditions and look forward to supporting them as they pursue their degrees and their passions."
Want more news about the $130 billion tribal economy?
Tribal Business News publishes thoroughly reported and well-crafted stories about Native businesses and entrepreneurs, growth and expansion strategies, best practices, economic data, government policy and other relevant business news. Tribal Business News is required reading for tribal council members and leaders of Native businesses, as well as state and federal legislators, policymakers, economic developers, entrepreneurs, bankers, lawyers and anyone interested in doing business in Indian Country.
Sign up for our free newsletter to track Native business and the tribal economy. Or sign up for a premium digital subscription ($99/year or $10/month— cancel anytime) to gain full 24/7/365 access to our business news reporting. Megwetch.