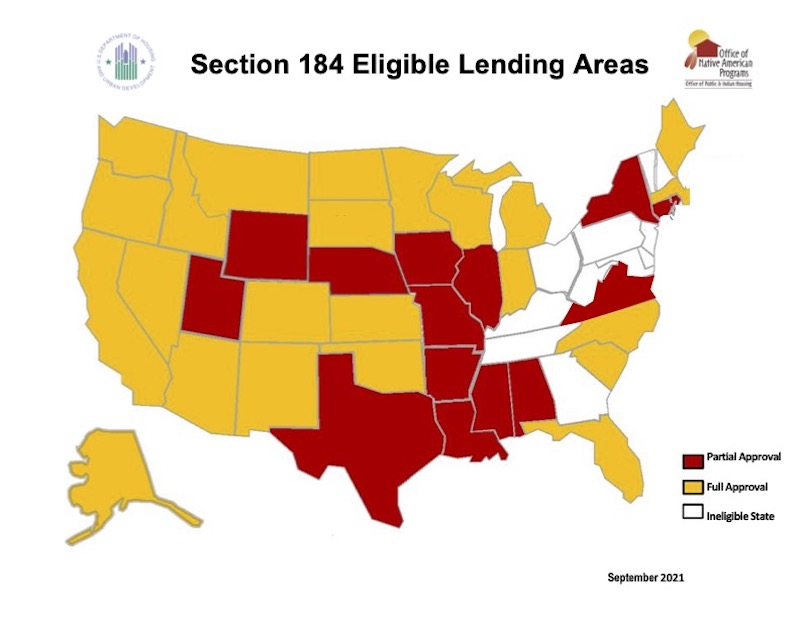 Details

By

Mark Fogarty

Real Estate
An extensive new rule for the U.S. Department of Housing and Urban Development's section 184 American Indian guaranteed mortgage that's designed to make lenders more comfortable using it also includes an outreach to Native community development financial institutions.
HUD also is looking to get Native CDFIs involved in other lending programs, such as the Federal Housing Administration's huge FHA mortgage program.
Deana O'Hara, a senior advisor to the deputy assistant secretary at HUD's Office of Native American Programs (ONAP), told a press briefing last week that during tribal consultations HUD has completed with tribes, they "asked that we specifically call out Native CDFIs."
"So, we make it very clear in the new regulation and in the proposed rule that Native CDFIs are eligible to be lenders in the program," O'Hara said. "They can choose to be lenders that just do origination, or they can go one step further and become direct guarantee underwriters, lenders that do the actual underwriting."
Never miss the biggest stories and breaking news about the tribal economy. Sign up to get our reporting sent straight to your inbox every Monday morning.
Outsourcing the underwriting of loans would appear to be a big step for HUD, which guarantees 100 percent of lender outlays under the HUD 184 program.
Native CDFIs, which number more than 70, do both housing and business loans.
Heidi Frechette, the ONAP deputy assistant secretary, said HUD's goal has always been to get more mortgage lending done on Native homelands.
The new rule, she said, has language on increasing lending on tribal trust land, and she is hoping to get feedback from tribes about this at upcoming consultations.
O'Hara said feedback from lenders has included them holding back from joining the program because of a lack of rules, which the new rule and a proposed handbook should be addressing.
HUD will conduct nine additional regional consultations, Freschette said, which come in addition to 18 local ones, apparently done in 2018 and 2019. They will start in Las Vegas on Dec. 7 and extend, tentatively, through Feb. 6 or 7.
HUD also said during the call that it was actively looking at how to provide training so Native CDFIs can participate in Federal Housing Administration lending, as well as participate in Government National Mortgage Association secondary marketing. (HUD 184s and FHA mortgages are packaged into Ginnie Mae securities.)
The HUD 184, which started lending in 1994, has been quite a successful program, compared to its predecessor, the FHA 248, which did minimal business.
But the HUD 184 has drawn criticism because the bulk of its lending has been off reservation land. Reservation trust land is held in trust for tribes or individual Indians by the federal government, and can't easily be mortgaged, as opposed to fee simple land (private property).
When asked how much HUD 184 lending has been on fee simple versus trust land since inception, a spokesperson referred Tribal Business News to a link to the 225-page rule. HUD also did not directly reply to an inquiry about loan delinquencies.
Overall, though, the agency said 55,000 HUD 184s have been extended since inception, for a dollar amount approaching $10 billion. In fiscal 2022, HUD said 3,600 loans worth more than $860 million were issued.
A 2017 report on the HUD 184 program offered a breakout of lending through 2015 found loans on fee simple land, $4.3 billion, were ten times the amount done on tribal trust land ($340 million) and trust allotments to individual Indians ($85 million).
HUD officials in the past have deflected the reservation versus off-reservation numbers by claiming much of the lending is done near reservations where many Indians live outside tribal nation borders.
Another wrinkle is that two of the most popular states in HUD 184 lending, Alaska and Oklahoma, have little to no reservation trust land, and an argument can be made that a lot of HUD 184 lending is done to Native people in "Indian areas" in those states.
Tribes have until March 6, 2023 to send comment letters on the proposed rule to HUD. The rule was released on Nov. 30, the same day as a highly-publicized Tribal Summit was held at the White House.
In a letter, Frechette wrote that the rules for the HUD 184 have remained largely unchanged since it was started.
"Given the growth and maturity of the program, HUD finds it necessary to expand and revise the regulations to meet the program's growing demands," Frechette wrote.
The President's 2023 budget request asks for $5.5 million in subsidies for the program, which would support up to $1.1 billion in lending. It also asks to expand the HUD 184 service area to anywhere a tribal member wants to purchase or rehab a home.