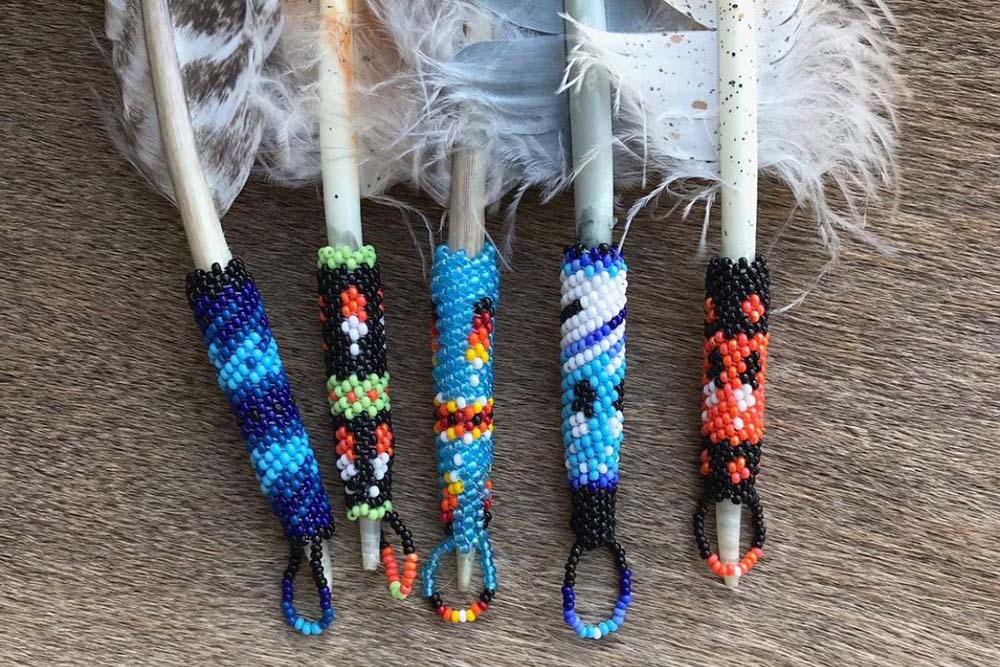 Details

Arts and Culture
Welcome to day 10 of Tribal Business News' 12 days of Indigenous holiday gifts guide. In the spirit of supporting Indigenous artists and entrepreneurs and drawing attention to some truly gorgeous and inspired items, we are presenting 12 consecutive days of Native-made products perfect for holiday gift-giving, including giving to yourself.
Day 10:
Peyote Stitch Beaded Imitation Eagle Feathers, $40 each, Nez Perce Traditions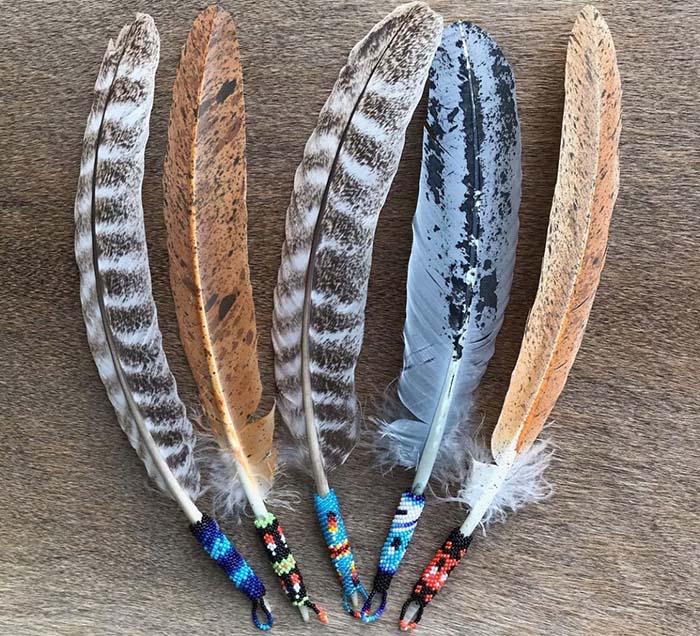 Peyote stitch beaded eagle feathers by Nez Perce artist Amy Wilson are available at Nez Perce-owned Traditions Gift Shop in Lewiston, Idaho. (Nez Perce Tourism, LLC)Everyone needs an extra smidgen of safety and security these days.
Hanging a beaded eagle feather above your bedroom door or on your car's rear view mirror is a uniquely beautiful way to ward off the bad stuff.
"It's a gift very rarely given," said Nez Perce artist Amy Wilson. "You can use them for luck, a blessing, positive prayers and energy."
Wilson, whose beaded feathers are available at Nez Perce-owned Traditions Gift Shop in Lewiston, Idaho, has been beading since she was about 7 years old, and was taught by her father.
Her preferred beading method is peyote-stitch, which is featured on her feathers.
"It's done one bead at a time and it's got a specific pattern," Wilson said. "I've been doing it for so long, I could do it while watching TV and knowing where my colors are."
Wilson said adorned eagle feathers are also ideal for smudging.
"I have a specific tray and it has my sweet grass, my sage and my cedar," Wilson said. "When I light it and smoke comes out, I use the eagle feather to spread the smudge around the house."
Wilson also offered some more feather-smudging tips: "You don't just smudge your house, you also smudge yourself and your family members. So you're using that feather to go over yourself and your house. You're blessing your home."
With a helpful husband who sometimes assists with her art and friends and fans who praise and purchase her work, Wilson considers herself fortunate, and wishes all Indigenous artists had a similar support system.
"It's always a good thing to see family members and friends encouraging each other," Wilson said. "Honestly, I don't see or hear many different people talking about arts and crafts from Native Americans. It would be nice to have tribal members from all around the world recognized and see their work out there."
Previous gift ideas
Day 1: Quirky, comical calendar by Ricardo Caté
Day 2: Stationery and scarf set by B. Yellowtail and Debbie Desjarlais Design
Day 3: Baby Yoda power by M Reed Designs Boutique
Day 4: Alaska Native ornaments by Trickster Company
Day 5: Sleek Salish jacket by Ay Lelum
Day 6: Far-out wall art by Johnnie Diacon Art
Day 7: Striking T-shirt by Kevin Coochwytewa
Day 8: Ermine earrings by Wawezhi Designs
Day 9: Legendary art by Karen Clarkson